PASSING THROUGH
Home Bass
Jazz superstar Esperanza Spalding returns to her Portland roots. (For one night, at least.)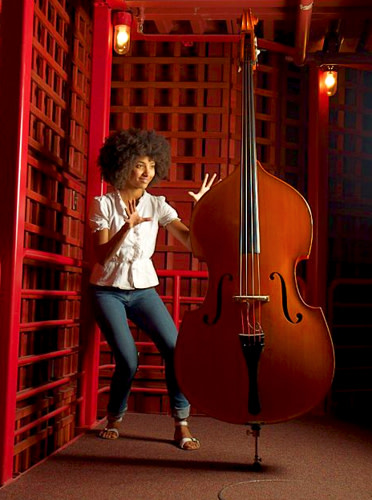 I'VE GOT Esperanza Spalding's phone number memorized. Or rather, her publicist's. I've been trying to reach the 23-year-old jazz-singing, bass-playing phenom whose album, Esperanza, just hit No. 2 on Billboard's jazz charts, since she performed in her native Portland on June 14. We missed one another that weekend, so now I'm calling for what seems like the 19th time.
"I had eight interviews yesterday, and then a show," she says apologetically.
It's hard to be upset with her—after all, she's got some pretty good excuses: gigs in Spain and late-night TV appearances with Jimmy Kimmel and David Letterman.
Not too bad for someone who dropped out of Portland's Northwest Academy in 2000. "High school just moved too slow," Spalding says. She preferred to spend time playing the upright bass (which she learned as a teenager) and singing with a host of local bands, including the pop band Noise for Pretend and Black Science Tribe, a hip-hop group.
Her devotion to music paid off: After getting her GED and attending Portland State University's jazz program for two years, Spalding won a scholarship to Boston's prestigious Berklee College of Music, becoming its youngest faculty member ever at the age of 20. Since then, she's blossomed into the hottest pop-jazz crossover artist since Norah Jones. Critics lavish well-deserved praise on the charismatic bandleader, who sings sweetly in English, Spanish, and Portuguese while plucking thoughtful bass lines on an instrument that's 9 inches taller than she is.
Although she now calls New Jersey home, Spalding speaks warmly of her formative years in Portland, recalling how local musicians like trumpeter Thara Memory and drummer Ron Steen showed her that jazz is not an anachronistic art form. "I can count hundreds of nights just being at somebody's house, listening to records, hanging, calling up someone—they bring their axe over and you play," she says. "You want to play more, but there's no gig, so you just go to a restaurant and play for food and tips. It's a beautiful thing."
So is a warm homecoming reception, like the one Spalding got from her fans, friends, and a few former bandmates in the audience at the Dolores Winningstad Theatre back in June. "It was really exciting," Spalding says. "I didn't have to cater my music to them. They're already on my team."
This article appeared in the
August 2008
issue of
Portland Monthly.