Savor
Iberian Grinder
A Spanish-style bocadillo puts the greens of the season on display.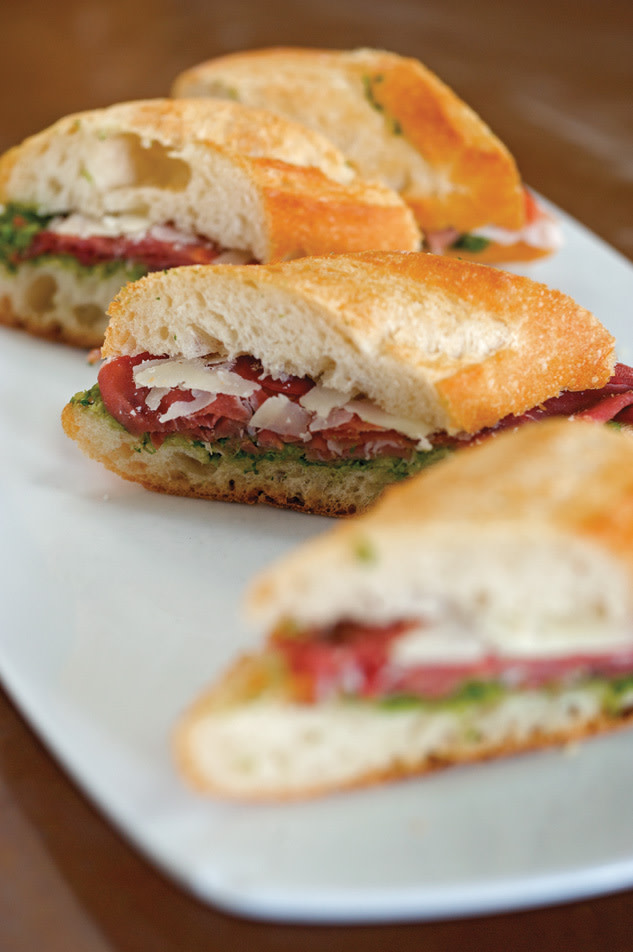 LONG–SIMMERED SOUPS, slow roasts, braised ribs—winter cooking certainly has its charms. Such classic dishes warm the kitchen, the home, and many a sun–starved Northwest soul. But once the vernal equinox draws its seasonal line in the sand and the itch for something lighter—and greener—sets in, these decadent meals add a bit too much ballast in the belly.
Luckily, we Portlanders can thank our temperate climate for allowing us year–round access to a canon of leafier alternatives. Spring is high season for flavor–packed veggies like mustards, kale, chard, and turnip greens, all of which prefer cooler temperatures to the heat of summer. And while they're often relegated to the salad bowl, these greens add a bright kick—and a healthy dose of phytochemicals—to any dish.
Anthony Cafiero, the chef de cuisine at Tabla Mediterranean Bistro in Northeast Portland, has long been smitten with these shoulder–season greens. "I'm not one of those chefs who just thinks about pork belly," he says, laughing. "I want to showcase vegetables." At Tabla, Cafiero explores the cuisine of Western Europe, dreaming up creative, modern dishes for a three–course sampling of seasonal ingredients. In the summer, he scours the Portland Farmers Market relentlessly for greens like chickweed, purslane, and ice lettuce. In the colder months of winter and spring, he turns to local farms for veggies with a bit more bite: "I go for greens with a lot of character—dandelion, rapini, mustards—that really stand up to winter flavors," he says.
Cafiero puts the spotlight on his favorite greens in this Spanish sandwich, or bocadillo. Like American sandwiches, he explains, bocadillos can be "everything and nothing—they're utilitarian." Just don't expect stateside standby ingredients like Hellmann's mayonnaise and iceberg lettuce. Instead, the Spaniards stuff their bocadillos with delights like pickled anchovies, fried squid, sliced eggs, cured meats, rubbed tomatoes, and most importantly, greens of every stripe.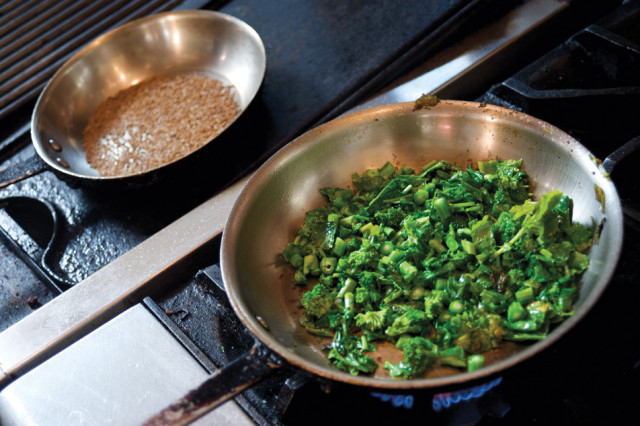 In this version, Cafiero pairs a slightly bitter rapini (also known as broccoli raab) with a firm smoked sheep's milk cheese and a savory dry–cured Spanish ham. Riffing on the traditional salsa of the Canary Islands, he transforms the mustardy rapini into a silky mojo verde, usually made with cilantro. (As a bonus, any leftover mojo verde can be thoroughly enjoyed atop fish, or thinned with oil and used to dress potatoes). One nibble of such refreshing, exotic flavors, and you'll be convinced it's time to shelve the slow cooker.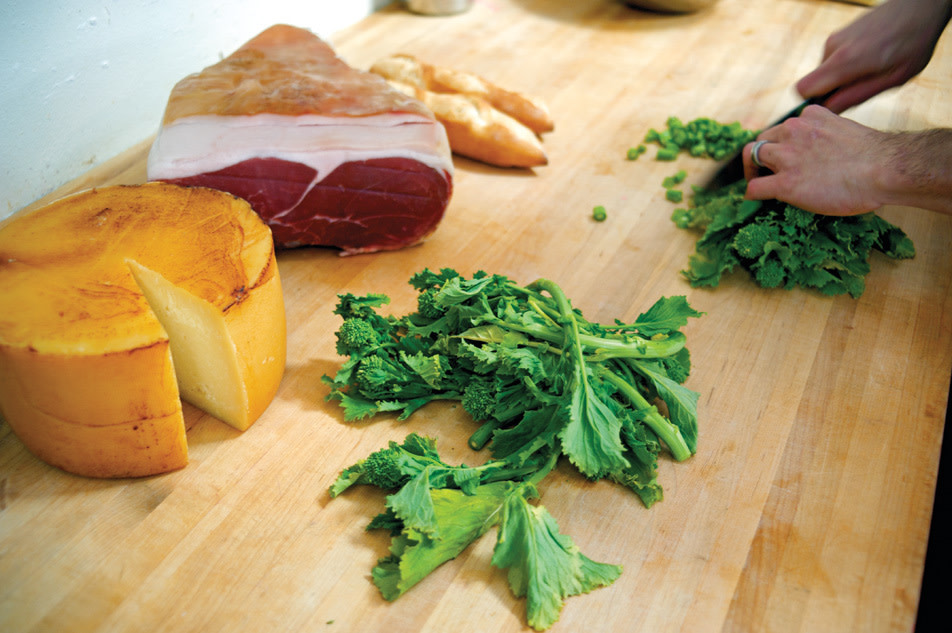 Fried Morels with Fava Bean Purée
Ingredients
1 lb fava beans
2–3 tbsp olive oil
1–2 tsp Meyer lemon juice; salt and pepper
20–30 medium morels
2 eggs
1–2 thick slices of stale brioche (or dry out fresh brioche in a 200-degree oven heat 15 minutes on each side)
4 cups canola oil
Fava bean Purée
(1) Unzip pods and remove the beans. 
(2) Blanch beans in boiling water for 2–3 minutes, remove with a slotted spoon, and immerse in ice bath. 
(3) Remove shell from each bean by pinching the end and squeezing (be patient, this part takes time). 
(4) Purée strained beans in a food processor, adding olive oil, salt, pepper, and lemon juice to taste.
(5) Transfer to a bowl and drizzle lightly with high-quality olive oil and sprinkle with salt and pepper.
Fried Morels
(1) Pulverize brioche in a food processor until it's the texture of sand (makes about 1 cup). 
(2) Cut the smooth bottoms off the morels and chop lengthwise in half. 
(3) Beat 2 eggs together with a tablespoon of cool water and a pinch of salt and dip mushrooms in egg/water mixture. 
(4) Coat mushrooms evenly with brioche crumbs. 
(5) Pour enough canola oil into a heavy-bottomed pan to completely cover the mushrooms (about 2 inches) and heat oil to 350 degrees (use a candy thermometer to track temperature). 
(6) Immerse a portion of the mushrooms in oil for about a minute, until golden brown. 
(7) Remove and repeat until all mushrooms are fried (you may need to allow the oil to come back up to temperature between each batch). 
(8) Place mushrooms on a paper towel to drip, add salt, and serve hot.
This article appeared in the
March 2010
issue of
Portland Monthly.