Great Neighborhoods: Taking the Long View
Where the Animals Roam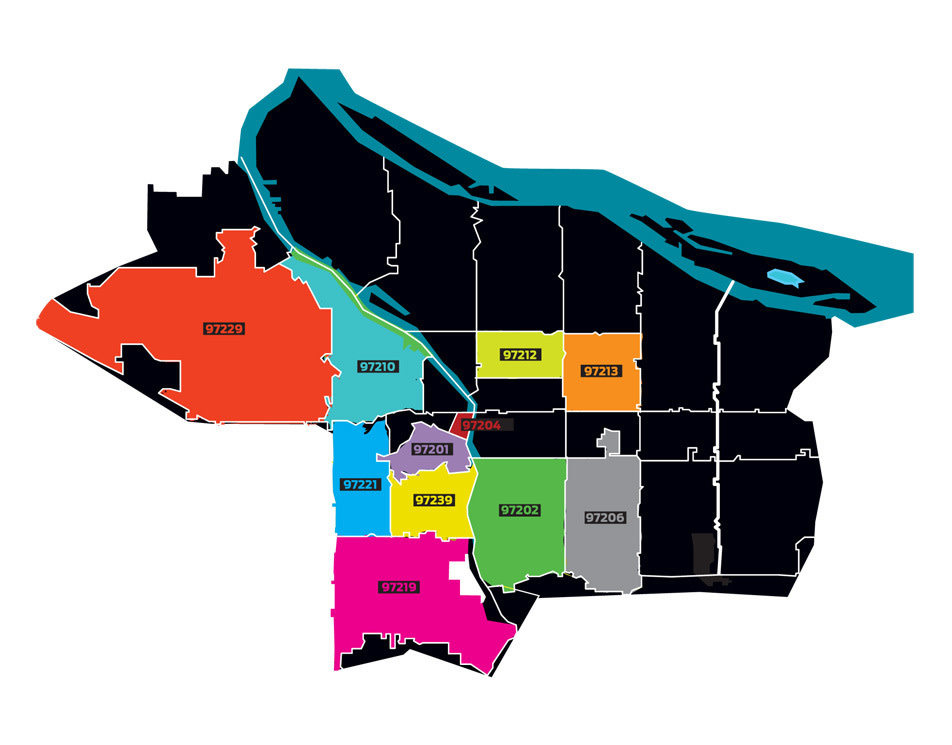 DOGS AND CATS, ELEPHANTS AND DONKEYS—in which Portland neighborhoods do birds of a feather flock together? A-hunting we went. We searched the databases of Multnomah County Animal Services for the zip codes with the largest number of active animal licenses and tabulated stats on campaign contributions to Democrats and Republicans during the 2008 federal election cycle. Here are the top three zips in each category, as well as a look at the political cage-fight downtown. We take no responsibility for anyone scratched, bitten, stomped, or kicked while observing the native wildlife.
Democrats
97210 Northwest Industrial, Northwest District, Hillside, Forest Park 186 donors/ $156,542
97239 Homestead, South Portland, Hillsdale, Healy Heights 133 donors/ $131,905
97212 Irvington, Grant Park, Alameda, Sabin, Beaumont-Wilshire, Eliot 176 donors/ $75,430
Republicans
97219 Collins View, South Bur-lingame, Multnomah, Marshall Park, Maplewood, Ashcreek, Arnold Creek, West Portland Park, Markham, Far Southwest 234 donors/ $185,650
97229 Forest Park, Linnton, Northwest Heights 241 donors/ $148,906
97221 Sylvan Highlands, Bridlemile, Hayhurst, Southwest Hills 161 donors/ $140,859
97204/97201
Downtown/Southwest Hills
Republicans: 287 Donors/$477,728
Democrats: 265 Donors/$333,375?
Dogs
97206 South Tabor, Mt Scott-Arleta, Brentwood-Darlington, Woodstock, Creston-Kenilworth Licenses: 3,610
97202 Reed, Eastmoreland, Sellwood-Moreland, Brooklyn, Richmond, Hosford-Abernethy, Ardenwald-?Johnson Creek, Creston-Kenilworth ?*Licenses: 3,166*
97219 Collins View, South Bur-lingame, Multnomah, Marshall Park, Maplewood, Ashcreek, Arnold Creek, West Portland Park, Markham, Far Southwest Licenses: 2,814
Cats
97202 Reed, Eastmoreland, Sellwood-Moreland, Brooklyn, Hosford-Abernethy, Richmond, Ardenwald-Johnson Creek, Creston-Kenilworth Licenses: 2,231
97206 South Tabor, Mt Scott-Arleta, Brentwood-Darlington, Woodstock, Creston-Kenilworth Licenses: 1,981
97213 Rose City Park, Roseway, Hollywood, North Tabor Licenses: 1,624