Portland Plated
Coffee Confidential
Five coffee connoisseurs rank the Northwest's finest roasts. May the best sip win.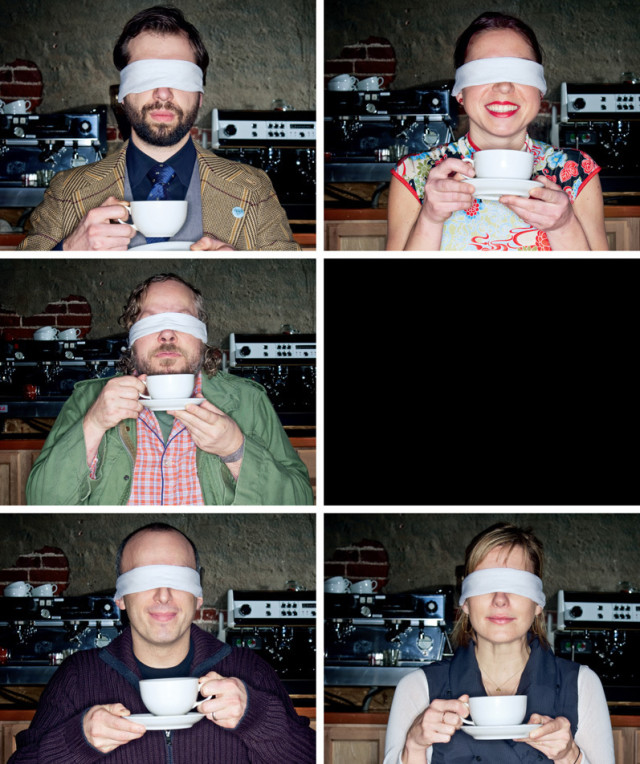 PORTLAND MAY HAVE the lowest rate of churchgoers of any American city, but that doesn't mean our citizens don't worship—it's just that our ministers are called baristas, and they pontificate from the pulpit of $12,000 espresso machines. And whether the faithful prefer Emerald City giant Starbucks, its popular indie brother Caffé Vita, Italy's Illy, or Portland's own Stumptown, converting coffee drinkers from one brand to another is about as easy as persuading Louis Farrakhan to eat pork.
So to test the influence of the reigning sects, Portland Monthly assembled a group of local food-and-drink high priests. With the cups free of logos, catchphrases, and hipper-than-thou reputations, this was a lesson in blind faith. And with regional barista champion Charlotte Deason pulling perfect espresso shots and whipping up creamy cappuccinos, and one of the country's top coffee consultants—Matt Milletto of the American Barista & Coffee School—policing the entire affair, our crusade was clear: find Portland's supreme bean.
1.

THE

COFFEES
Caffé Vita One of the original so-called "third wave" coffee companies, the Seattle-based outfit is finding love in Portland despite its fierce rivalry with Stumptown. The company has a Portland café in the works, and is the exclusive coffee ?of all Bruce Carey Restaurants (23 Hoyt, Saucebox, Bluehour, and Clarklewis).
Illy Before Stumptown arrived, Illy was the longtime go-to brand for Portland's upscale restaurants. Many good PDX eateries still hold tightly to the Italian company.
Stumptown Outside of fixed-gear bikes and indie rock, Stumptown Coffee Roasters is Portland's most renowned contribution to hip popular urban culture.
Caffé Umbria In the beginning there was Seattle's Torrefazione, a private company owned by the Bizzari family. It was swallowed by Seattle's Best, which was gulped down in turn by Starbucks. The Bizzari family debuted Umbria in 2002.
Starbucks Say what you will about the jolly green giant—it's probably the most widely consumed coffee in Portland. Stumptown has five Portland venues. Starbucks? Hundreds.
2. How They Rated
The judges critiqued each coffee on a scale of 1 to 5 for flavor, finish, mouthfeel, and overall enjoyment. Final scores reflect the average of the categories. (Criteria developed by Matt Milletto, a frequent judge of international barista competitions.)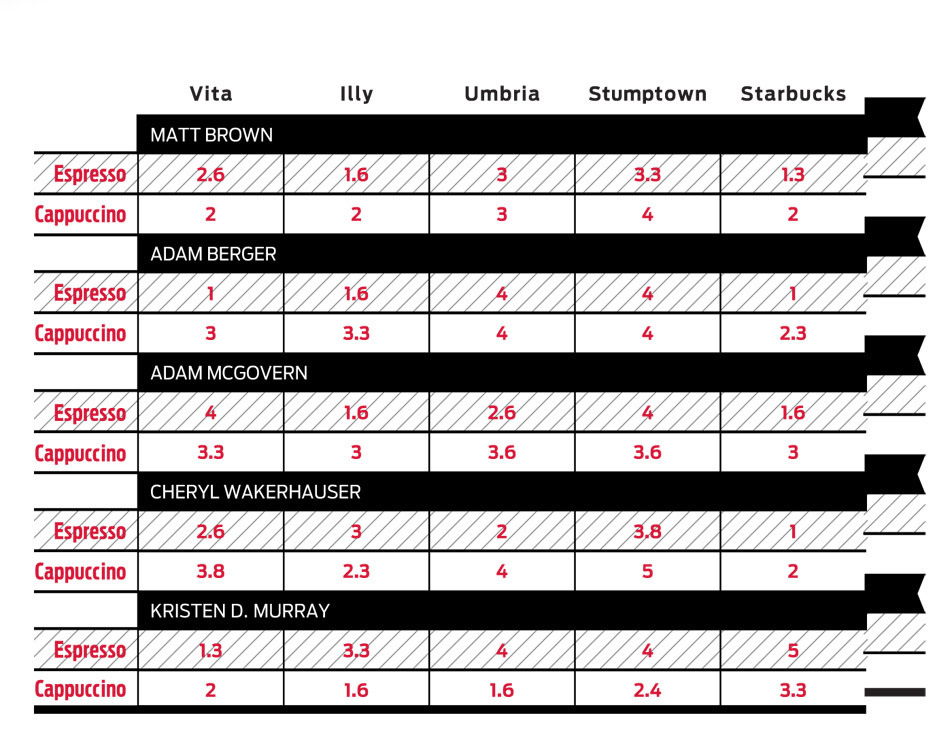 3. The Results
Stumptown
Winner
"Bitter with hints of chocolate, citrus, and a good mouthfeel. Pleasant." —AM
"Perfect." —CW
"Pleasantly railroad-y, with a hint of brimstone." —MB
Caffé Umbria
Runner Up
"Bright and bold." —AB
"Buttery and chocolaty with hints of orange peels. Round and mellow." —KM
Caffé Vita
Third
"Good balance, sweet, and a strong finish." —AM
"Very bitter and astringent." —KM
"A bit like durian." —MB
Illy
Fourth
"Creamy yet woody." —CW
"Tastes like blueberries." —AB
"Chocolate with bits of peppered jerky." —MB
Starbucks
Fifth
"What seemed nice at first quickly became terrible." —AM
"Not an exciting flavor profile. Boring and bitter." —CW
"Moldy with a gust of Victorian underskirt." —MB
This article appeared in the
May 2010
issue of
Portland Monthly.