Prêt-À-Portland
In the Flesh
Style Essentials – Nude Shoes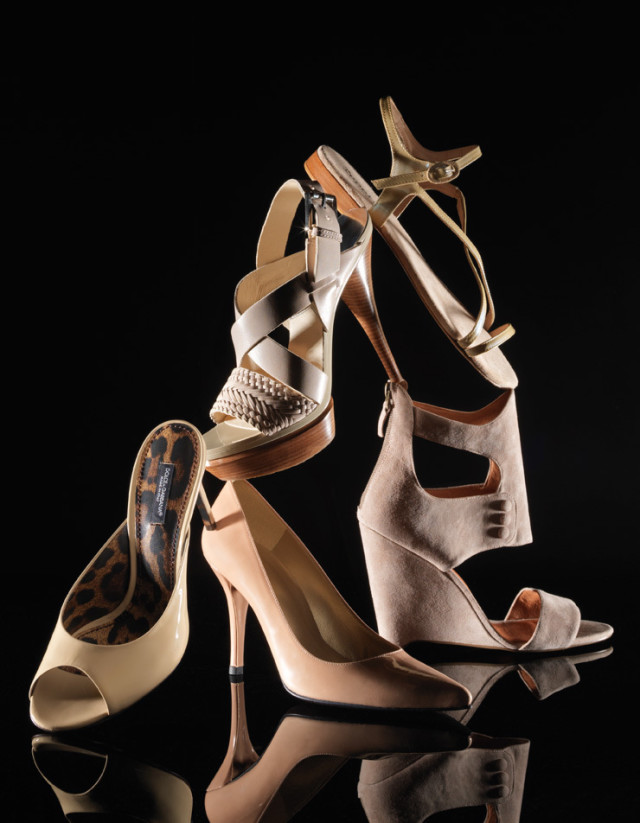 WHEN THE SUMMER HEAT sets in, make a fashion statement that looks good with everything: go nude. (Keep your shirt on, people—we're talking about shoes.) This season, lighten up your wardrobe with peep-toes and polished pumps in barely-there shades of beige, camel, and pink. You'll be in good company: A-listers like Penelope Cruz and Angelina Jolie have been strutting their nude-hued heels on red carpets from Hollywood to Cannes.
These skin-toned neutrals pair famously with prints and pastels, not to mention perennially hard-to-complement colors like navy and red. Best of all, flesh-colored footwear adds critical length to those bare summer legs.
Clockwise From Top
Repetto 'Carat' sandal, $239, Halo Shoes, 1425 NE Broadway, 503-331-0366; Rosegold 'Shawna' wedge, $158, Halo Shoes; Stuart Weitzman 'Daisy' pump, $265, Nordstrom, 701 SW Broadway, 503-224-6666; Dolce & Gabbana patent-leather slide, $475, Nordstrom; Michael Kors 'Juniper' platform, $149, Miss Meers, 7347 SW Bridgeport Rd, Tigard, 503-726-0701
This article appeared in the
June 2010
issue of
Portland Monthly.