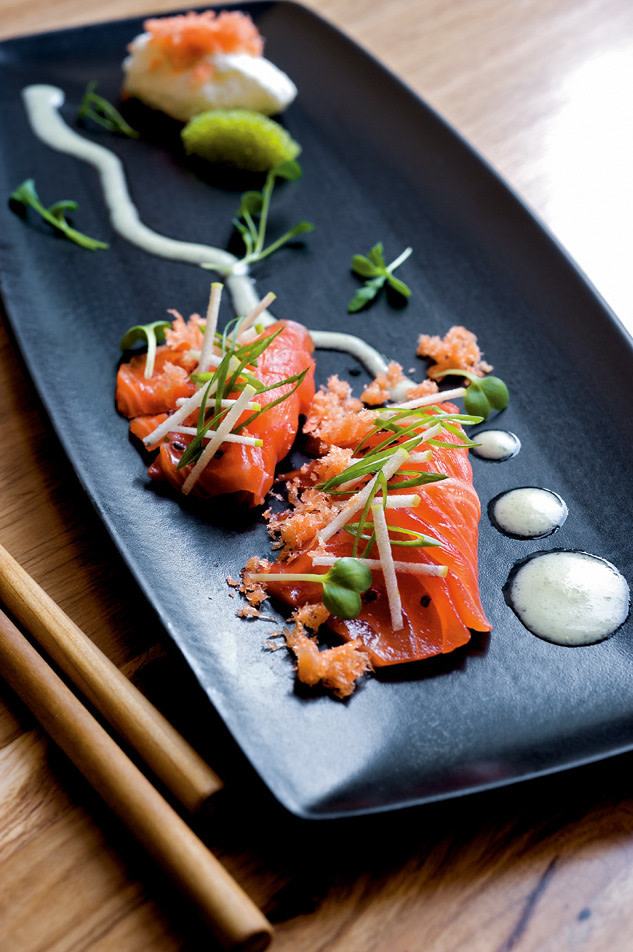 WHEN FIN OPENED this summer in the smoke-damaged hull that was formerly Sel Gris, the self-styled "eco-modern" eatery seemed to answer the call for a seafood restaurant in a city that, given its rivers and nearby ocean, has shockingly few. Serving only sustainably caught seafood wrangled from the Pacific, Yakuza alum Trent Pierce aims to make a big splash with a fresh concept and inventive execution in an airy, upscale setting.
At Fin, Pierce draws on Mediterranean, Asian, and South American influences to create bold combinations of flavor and texture. Most exciting here is an exotic selection of fish that you don't often see in town, such as blue marlin and walu. The kitchen, though, can lean toward gimmicky preparations—as witnessed in tasty but overwrought dishes like a king salmon sashimi served with a green apple-wasabi emulsion, crème fraîche sorbet, and shavings of flash-frozen house-smoked salmon.
Three menu categories—whet, wade, and plunge—invite a progression from sashimi-style small plates to lightly cooked, medium-size servings. Start with a chilled snapper ceviche, brightened with tomato and cilantro, and move on to two "plunge"-worthy scallops prepared on a ceramic grill over clean-burning Japanese charcoal and served with guanciale. A house-made rocoto pepper Sriracha drizzled alongside cuts nicely through the richness of a creamy poached egg and miso-butter sauce. The last bite will leave you wishing there were another scallop to savor (or a smaller price tag).

While the concept overreaches at times, dishes are often flavorful and elegant. Now if only the portions were as big as the ideas.
This article appeared in the
October 2010
issue of
Portland Monthly.