Mud Room
State of Wonder
Is Oregon the most romantically flexible place in the nation?
A red-to-blue heat map of the US made the rounds recently, documenting not the usual political divides, but love. (Or, at least, love's goth sister, lust.) On this map, Mississippi isn't Republican ruby, but frigid aqua. Vermont, ideologically indigo, appears as a hot-orange spark. And Oregon? The Beaver State glows red, like a raging hormonal blemish on prom night.
Produced by the popular online dating site OK Cupid, the map is based on a survey of more than 250,000 site users who describe themselves as "straight." The colors derive from these self-avowed heteros' answer to a question: have you ever had—or wanted to have—sex with someone of the same sex?
The map thus gauges the tendency known to personal-ad writers as "bicuriosity," and Oregon's rosy hue marks it as the survey's most bicurious state of all. A pulse-quickening 47 percent of Oregonian respondents reported contemplating switching teams. Boring Washington? 41 percent. Staid California stalled at 38 percent. Mississippi's 28 percent makes it bi-Siberia.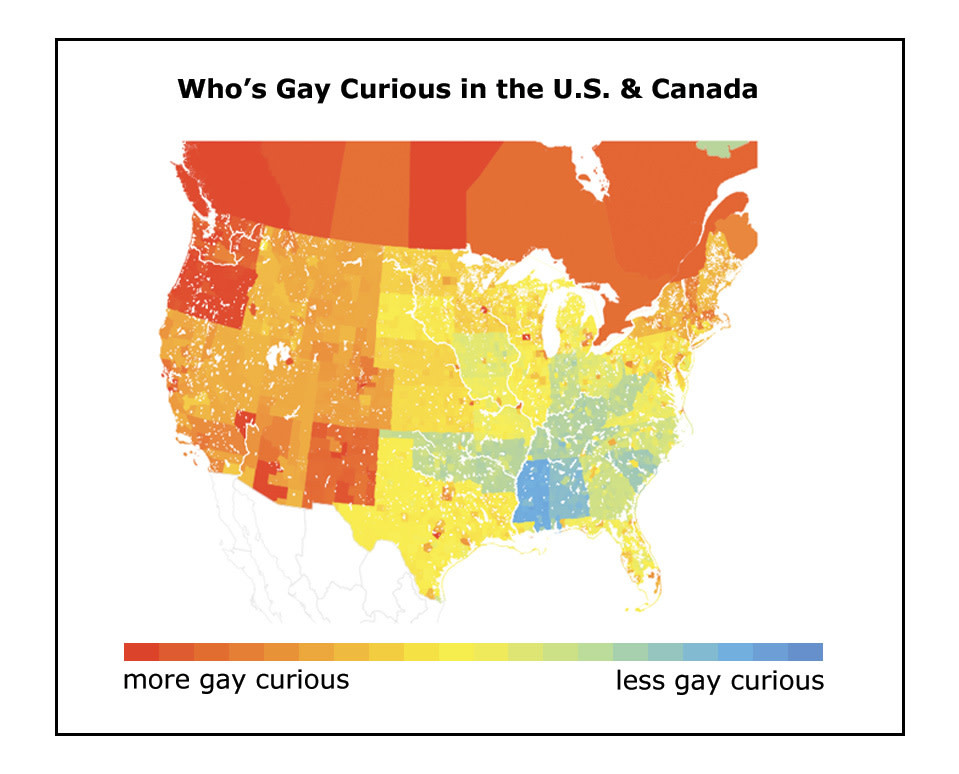 Granted, this is not hard science. At all. OK Cupid editorial director Christian Rudder notes that the user base is younger and, most likely, far more adventurous than any statistically valid slice of the entire population. But the map does work as a snapshot of real human behavior and desire. And observers of our gender politics and romantic leanings say it captures a truth about both Portland (Multnomah County: 53 percent bicurious) and rural Oregon (Josephine County: 31 percent! Grants Pass—who knew?).
In this month of Valentine's Day love and angst, OK Cupid's map and the conversations it sparks suggest that Portland has sidled into a new sexual era. The country as a whole can still squabble over gays in the military. Our gay mayor still carries enough novelty that New York Times columnists solicit his thoughts about homosexuality in public life. But on the ground, we—some of us, at least—have moved on. To judge by OK Cupid's map, the libertarian West is exploring a different kind of frontier.
"The West is definitely more adventurous," Rudder says. And Oregon is leading the wagon train.
"There's a fluidity in Portland that I do think is different," says Kendall Clawson of the Q Center, a N Mississippi Avenue hub for Portland's GLBTQ community. "There's a freedom to explore here, without getting hung up on labels."
Bisexuality, in general, is a culturally and politically elusive phenomenon. If—perish the thought!—something were to happen to Governor John Kitz-haber, Secretary of State Kate Brown would become the nation's first openly bisexual chief exec. But Brown—who declined to comment—captured her tribe's ambiguous status when she once wrote that when she came out, her parents told her, "It would be much easier for us if you were a lesbian." One local activist calls bisexuals "the rare white rhino" of queer politics. Socially, writer Patrick Alan Coleman reported last summer in the Portland Mercury that he "found nary a blog or a support group … for bisexual men and women."
But this quietude may actually be the sound of freedom. After the modern gay-rights movement began with New York's 1969 Stonewall Riots, "sexual minorities" felt compelled to be loud, proud, and definitive. Maybe now, in Portland, not so much.
"There's a fluidity in Portland that I do think is
different. A freedom to explore here, without
getting hung up on labels."
"If you come to a party at my house, most people will have had some experiences with both sexes," says Talia J., a 28-year-old Portlander who has had relationships with both men and women and identifies as queer. "Not all will call themselves bisexual, gay, or queer. What I find remarkable in Portland isn't my queer friends' experiences—it's my 'straight' friends' experiences. Here, you can have an identity, but also have experiences outside that identity." (It may help that Oregon, according to census data, is home to the nation's second-highest percentage of all-female same-sex households, after Vermont. Gary Gates, a researcher at UCLA's Williams Institute on Sexual Orientation Law, says that two-thirds of self-described bisexuals are women.)
This is the limber state of affairs—ahem—captured, albeit crudely, by OK Cupid's map. "We're starting, slowly, to get to a place where people recognize these things aren't set in stone," says Paul C., a 47-year-old Portlander who experimented with men in college, was married twice, to women, for a total of 15 years but decided, after his divorces, to try guys again. "I thought, what the hell? It's Portland."
Paul subsequently decided that his hetero side wins, at least for now. The point is, he felt free to find out. In its typically off-kilter way, our state is nurturing its own parallel romantic reality, where effervescent whims of body and heart trump standard labels. "Portland culture is defined by quirkiness and self-expression," Talia says. "Sometimes that means you decide to learn glassblowing. Sometimes it means you sleep with another girl."
This article appeared in the
February 2011
issue of
Portland Monthly.