Culturephile
High Note
A genre-bending Portland-area mariachi singer becomes a Spanish-language TV sensation.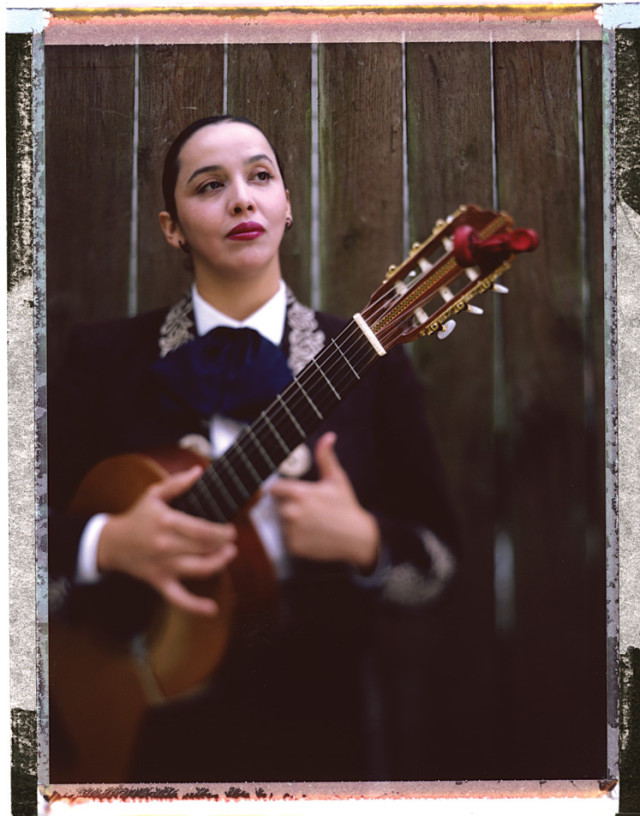 AFTER A 24-HOUR GREYHOUND grind from her home in Vancouver, Washington, Edna Vazquez waited anxiously in a sparse, white-walled greenroom at an LA studio—for 10 hours. Finally, a production assistant with a clipboard led her into the limelight of Tengo Talento, a Spanish-language version of Simon Cowell's international "Got Talent" TV juggernaut.


"When I got onstage, I was shocked," Vazquez recalls of her maiden voyage onto Estrella TV, the ambitious, California-based network aimed at US Hispanic viewers. "They had a live audience, and all these Mexican celebrities. I didn't know it was gonna be like that." Yet when Vazquez strolled onto the stage in her jet-black mariachi finery, the singer's fatigue lifted and the shock quickly faded away. For a transcendent three minutes, her dusky alto lofted over the audience, like a soft shadow overtaking a twilit terrace. "Let the moon rise / Let the sun set / Let night fall to start our love," she sang in Spanish, tears glinting in her eyes.
"Otro! Otro!" chanted the audience, begging for another. "Let's all cry with you here," gushed Talento judge Pepe Garza, the artistic director of popular radio show Que Buena. "This is what it is to be an artist, to communicate emotions," added another juror, veteran actor Héctor Suárez.
Vazquez sold her own TV set to make it to the show's tapings but fell out of the running for the $100,000 prize after three episodes. Still, her appearances transformed her musical career, turning a part-time singer into a minor cult figure and reality TV star, and capturing the attention of artists and audiences far outside mariachi's traditional base.
Vazquez wasn't quite ready for the initial wave of acclaim. "I was invited to tour in Mexico," she says, "but I felt that it was not my time."
Instead, the 33-year-old native of the Mexican state of Jalisco returned home to Vancouver to finish a long stint of community college. Yet thanks to YouTube, her three-minute debut from 2010 lives on. Latina songstress Luz Elena Mendoza, of rising Portland indie folk band Y La Bamba, discovered it recently and eagerly reposted it to friends' Facebook walls. "When I watched her, I was freaking out," Mendoza confides. "I was like, 'This is where I want to go next with my music, to connect stronger with this tradition.'"
"Sometimes, I change the words and sing like to a man—but sometimes I sing to a woman. You know, it's my voice! It's my heart!"
The stage lights are shining again upon Vazquez. Sipping black coffee in the piñata-adorned Mount Tabor home her friend, poet and La Bonita restaurant owner Joaquin Lopez, helped move her into this spring, Vazquez frets about scheduling. She'll return to Spanish-language TV this month, for the season finale of another show she's been taking by storm, Univision's famed Sábado Gigante, said to be the world's longest-running variety show (whose over-the-top style has inspired parodies from Stephen Colbert and Family Guy).
Vazquez also just self-released her first album, Ser Abstracto, in October. She'll be publishing a poem in the upcoming Ellen DeGeneres–sponsored anthology Stars in Our Hearts, and Mendoza and Y La Bamba have invited her to headline Holocene for a Día de los Muertos show on November 1.
"Right now," she says, "there's just a lot on my shoulders."
Vazquez's home region is widely regarded as the birthplace of mariachi music. Her grandfather—an orphan schooled only to the third grade—taught her music, inspiring her with his skills playing classical clarinet and a seemingly bottomless knowledge of every genre of music that played on the radio. He also encouraged her to pick up the guitar.
But as she reached adolescence, Vazquez's close ties with her family frayed over her emerging gay identity. Her mother sent her to the US to live with relatives in Los Angeles. A gang-fired bullet ripping through their house during dinner soon led her new family to follow other relatives to Hillsboro. There Vazquez earned her GED, became a certified caregiver, and started picking away at community college courses, "two each quarter for like 10 years, so I can pay for them without any debt," she explains.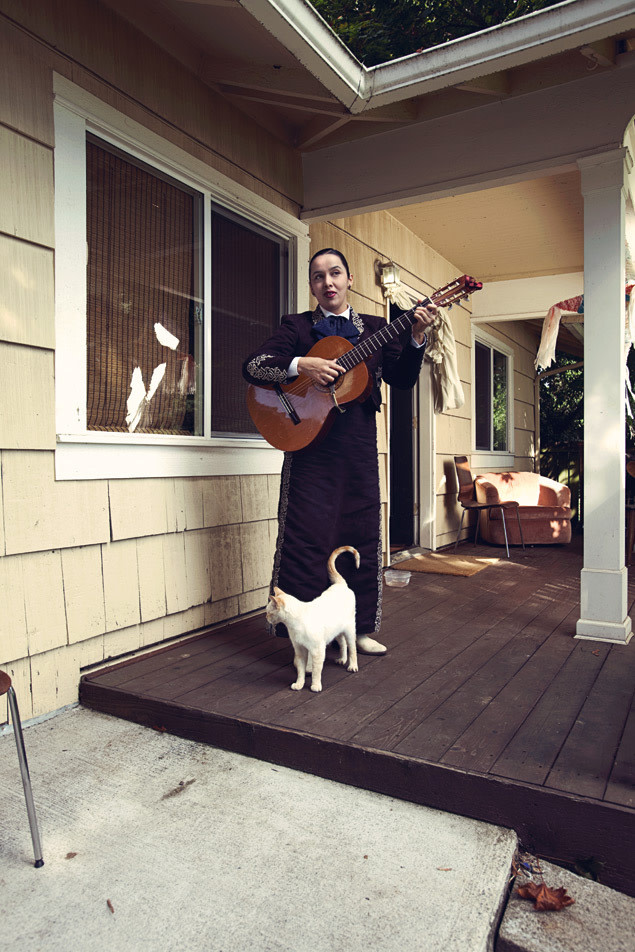 Throughout, Vazquez nurtured a weekend identity as a mariachi, cultivating a local following in a courtly, tradition-bound genre almost entirely dominated by men. "I've had gigs every Saturday, forever," she says, lovingly listing small venues with mostly Spanish-speaking clientele, like Tequila Ole, Andrea's Cha Cha, and Yorgo's.
It's a boast few women can make. Donning a feminized version of the traditional black-studded costume, sans sombrero and with a long column skirt, Vazquez plays her guitarwith a practiced and passionate flair in a range of classic Mexican styles: the polka-like ranchera with its "oompah-pah" rhythm; the thrummingly percussive huastéca; the major, bass-heavy, simple sones, a close cousin to American rock 'n' roll. "A lot of the words are just macho stuff," she says. "In the sones, the lyrics are about the natural resources that we've got, but all are metaphors for women as well."
"Sometimes," she adds, "I change the words and sing like to a man—but sometimes I sing to a woman. You know, it's my voice! It's my heart!"
While she bides her time for Sábado Gigante's finale, Vazquez struggles to reconcile her life as a workaday Latina singer in Oregon with her television fame. She recalls, for example, a local shopkeeper getting less polite after learning that she was Mexican, not "Italian," and an area club manager chiding her when she neglected to masculinize pronouns while performing a love song. Meanwhile, Latinos excitedly pick her out of a crowd, and fondly recall rooting for her on Talento and Sábado. "They come to me and say, 'You were the girl from TV! We love you, we watch you!'"
This month, only one episode and 11 competitors stand between Vazquez and Sábado Gigante's $10,000 grand prize. Win or no, she speculates, now will be her time to tour. As she described her journey to the judges of Talento, "I have come from afar, I suffered, I have struggled, but I've always been standing here to receive the hard knocks of life, tonight I come to impress you…. You will see, because I have talent, great talent."
This article appeared in the
November 2011
issue of
Portland Monthly.