Mudroom
Shoot to Thrill
The most daring ski photos demand careful execution.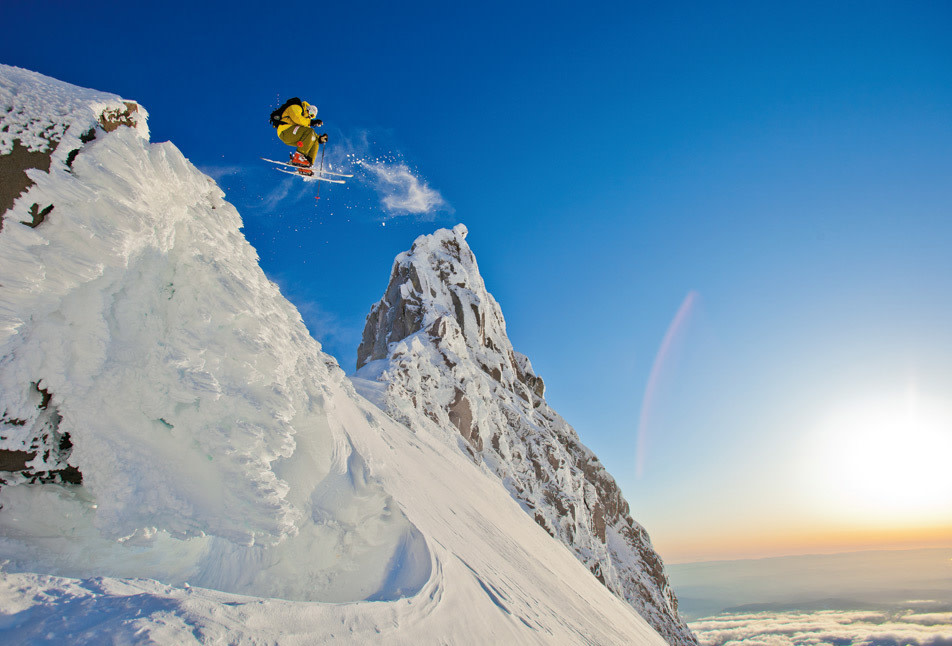 AS SKI SEASON (and ski-area marketing) ramps up, expect Portland snow lovers to lose work time to the alpine equivalent of porn: those fantasias of bursting powder, epic landscapes, and spontaneous daring that quicken pulses and sell lift tickets.
For local skiers and photographers, capturing epic shots requires something more like guerrilla military action than recreation. Consider one episode from the life of Asit Rathod, a 38-year-old Portland skier who often serves as a subject for Mount Hood Meadows' advertising and other ambitious ski shoots.
"It had snowed for three days on Hood," Rathod recalls of a 2009 outing with local photographer Richard Hallman. "We met at Timberline at 4 a.m. to start climbing. We wanted to summit by first light. But when we got above 10,000 feet, we found the snow was extremely unstable, making for super-high avalanche danger."
Instead of proceeding to the peak, Rathod and Hallman started back down. At Illumination Saddle, a finlike outcropping at about 9,300 feet, Rathod spotted a dramatic jump he'd long lusted for. The problem: light.
"We decided to stay until sunset," Rathod says. "We sat around for about seven hours, and then spent 40 minutes in a mad dash to get as many photos as possible." (They captured the image above.)
For photographers, finding a collaborator like Rathod—"when adventure calls, he'll go," says Randy Boverman—is just step one. Boverman arranges for regular private professional weather reports; he also recently suffered significant frostbite to his toes after an expedition with Rathod. For Hallman, achieving the right mix of photogenic conditions is a constant challenge.
"You want to wake up at the tail end of a storm, and get up on the mountain while the clouds are still breaking up," he says. "On true bluebird days, the light gets blown out and the snow just gets annihilated by other skiers. You'll set up the perfect shot, and then someone else blasts through."
Logistical factors range from helicopter swoops to a snowball tossed in a general direction. "The pictures can seem wing-nut-ish," Rathod says, "but a lot of calculation goes into them."
This article appeared in the
November 2011
issue of
Portland Monthly.