Habitat
Life Style
A Portland couple proves that accessibility and high design can coexist.
ON THE INDUSTRIAL EDGE of the Pearl District, Kenton McSween and Marywynn Ryan's condo is the picture of urbane elegance. A crimson chandelier of entwined antlers twirls in the air above the white marble top of a Saarinen tulip table. Antique wood-framed mirrors catch the fading light, as do a pair of cats stretching out on a leather daybed. Given this perfect portrait of a refined city perch, it may come as a surprise that McSween, an architect at Portland-based firm Zimmer Gunsul Frasca, has been confined to a wheelchair for more than a decade. And, with nary a grab bar in sight, that is exactly what McSween intended. "Accessible design should just be how things are put together," he says. "It should be a natural part of the aesthetic—invisible, but attractive."
After being disabled in a bicycle accident 15 years ago, McSween was living in San Francisco with Ryan and becoming increasingly disillusioned with that city's hectic lifestyle and an urban layout that made getting around difficult. On a few trips to Portland, the couple was drawn to the Pearl District's compact street grid, excellent public transit, and the easy mix of residences and businesses. They decided to move north in 2005, bought their condo in early 2006, and put the final touches on the place last year.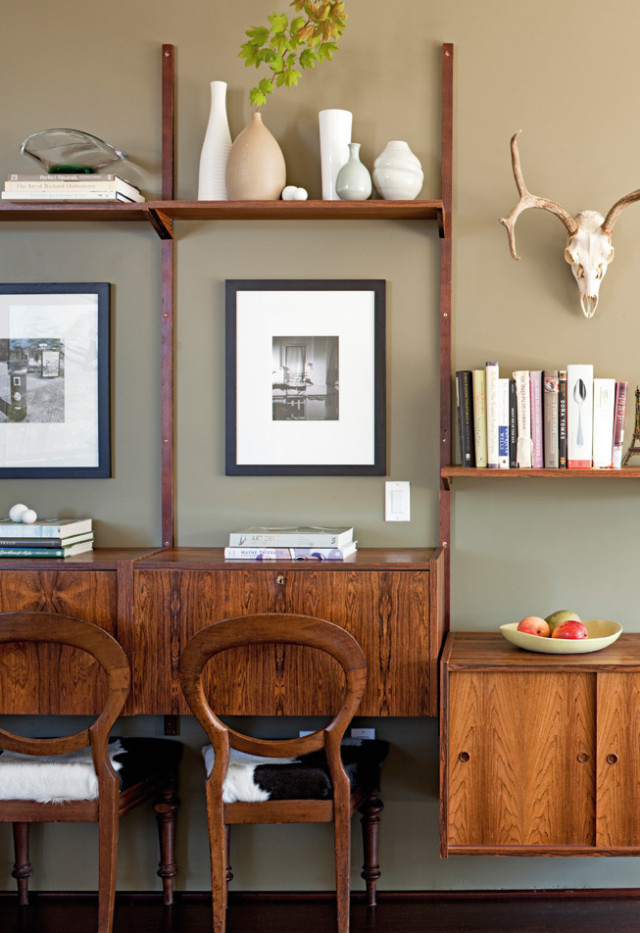 Though all new buildings in Portland have some measure of accessibility built in, McSween and Ryan knew they'd have to remodel no matter what they bought. "Most universal design is still just a series of add-ons," says Ryan, an esthetician who owns the local spa Skin by Marywynn, using the term for flexible spaces designed with users of all ages and ability levels in mind. "People do it with great resistance, using the cheapest stuff possible, and they don't do it respectfully." As a result, grab bars are ugly, "accessible entry" often means the back door of restaurants or businesses, and bathrooms are often too small to accommodate a wheelchair.
"Accessibility can be unattractive," says McSween. "But there are better ways of doing it"—a point he set out to prove in their own condo. Starting with a blank slate of white walls and a basic two-bedroom floor plan, the first thing the couple did was to open up the space with pocket doors. Easier to negotiate in a wheelchair than standard doors, pocket doors also allowed for a more fluid arrangement. With only two people sharing the home, they are rarely closed, making the space seem more expansive than its 1,200 square feet.
Other decisions also blend functionality with aesthetics. A walk-in closet in the bedroom was too narrow for McSween to access, so they turned it into a wall closet with doors that swing open, gaining an additional three feet of width in the bedroom. Wood floors in the dining room and living area were extended into both bedrooms, all floor and door trim was taken out, and all door thresholds were removed, creating a seamless surface for McSween's wheelchair while serving the couple's streamlined style.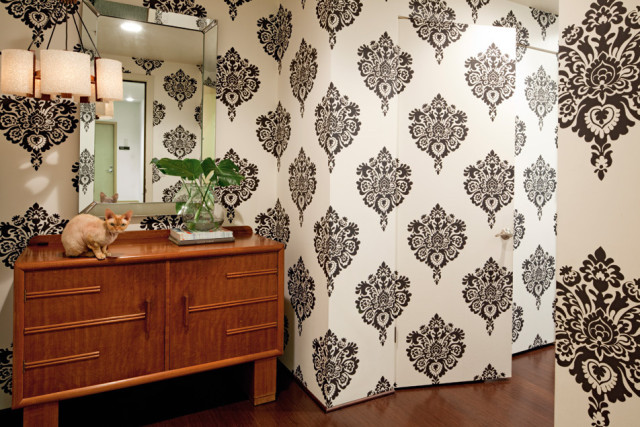 As for the interior design, the couple meticulously layered vintage and new pieces—what McSween describes as "a 1920s Parisian salon with a little art nouveau, a little international feel, a little art deco, and a little midcentury modern." Because it's a fairly small space, McSween and Ryan chose to unify the overall aesthetic through dark Hevea wood floors, rosewood furniture, and varying textures of white, ranging in materials from faux–baby ostrich leather on the kitchen wall to cream microsuede on the couch. Punctuations of blue, green, and orange throughout are a nod to Ryan's love of color, and mirrors amplify light and provide added glamour.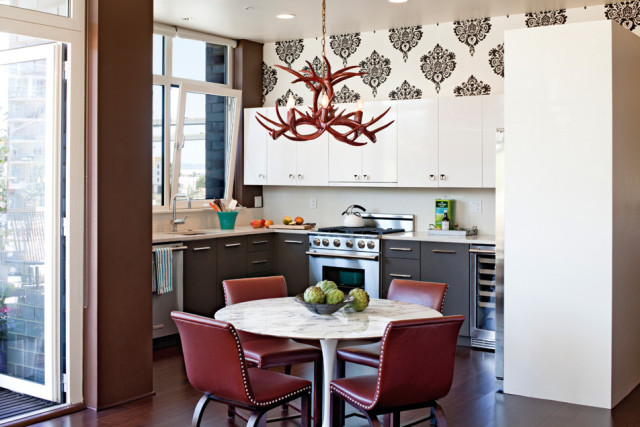 Yet even under this sophisticated surface runs a hidden thread of functionality. The matte charcoal finish on the kitchen cabinets exudes a modern chic feel—but it also easily hides scuffs from McSween's wheelchair. The stunning glass-and-metal coffee table swivels to let him slide in to the couch, and the marble dining table provides a durable and convenient work surface for cooking prep, since the kitchen counters are too high to reach (and would have been costly to lower). Even the luxurious silk curtains that reach from the ceiling to the floor are installed on electric tracks ?McSween can operate with a remote.
"This place doesn't scream that a paraplegic lives here," says Ryan. "It's just smart design that makes sense for everybody."
This article appeared in the
January 2012
issue of
Portland Monthly.