Now Read This
The Descent of Man
by Kevin Desinger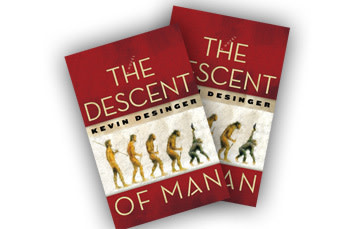 WE'VE ALL had that moment: when the last straw threatens to break the superego's frail spine, and some sort of Cro-Magnon man explodes to the surface. For Jim Sandusky, the protagonist in Portland journalist Kevin Desinger's harrowing first novel, it arrives when he impulsively preempts a pair of thieves in the middle of the night, nabbing their truck and setting in motion an uncontrollable chain of events that alters every aspect of his quiet suburban existence. Besieged from all sides by a suspicious cop, a furious wife, and murderous thieves, Jim reverts to his animal defenses, spending his nights prowling the city streets and sleeping in strangers' cars.
Desinger's tale not only charts the dark turmoil of a suburbanite turned killer; it offers a meditation on the struggle between thought and action. Jim's single autonomous act is followed by hesitation, doubt, regret, and an exhausting string of reactions. Desinger's fumbling hero is swept along by the same pensive indecision that carried Hamlet to his grisly end. But in the end, unlike Hamlet, Jim emerges from the shadows changed. "You weave a patch of bright color into the muted pattern of your life and it's the only thing you look at. Believe me," he marvels, "you can't tear your eyes away." Desinger's own dive into the recesses of the readers' mind shows us not only the terrifying consequences but perhaps also the sobering necessity of indulging our inner darkness.
This article appeared in the
May 2011
issue of
Portland Monthly.