Article
Where Isn't Charles Wilhoite?
The Everywhere Man's public roles, past and present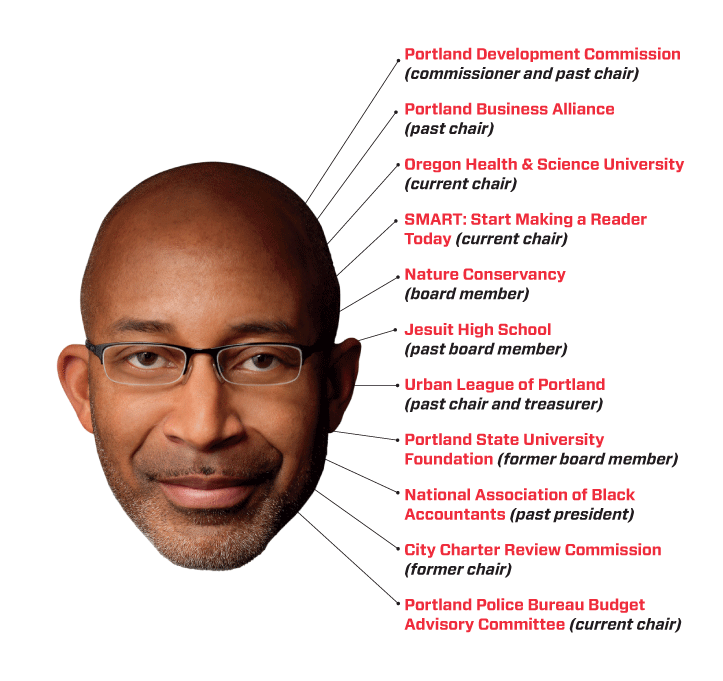 SCROLL THE ROSTERS of Portland's influential boards of directors and high-octane commissions and you'll notice a certain repetition: the name of 47-year-old businessman Charles Wilhoite. This Zelig of Portland affairs seems to be everywhere.
"Right now, I think I'm on six boards," Wilhoite says—acknowledging that he may be forgetting one or two. And the Arizona native, who works by day as managing director at the financial advisory firm Willamette Management Associates, did not go knocking to oversee some of the city's most powerful institutions. Every single one recruited him (as did some anti–Sam Adams partisans during the 2008 election season; Wilhoite passed on a mayoral bid).
What's the secret? Admirers cite his money skills, fundraising connections, and passion for health and education, among other issues. (Some also hint that within this public-spirited persona lurks a wicked sense of humor.) Wilhoite himself acknowledges that being African American makes him attractive to boards looking to diversify in a mayonnaise-flavored city.
Wilhoite, though, seems neither a token nor a résumé-builder, but rather a quiet driver of change. When he served on Jesuit High School's board, for example, he persuaded the elite Catholic high school to expand its outreach to low-income students. "In some instances, you have to roll your sleeves up" as a board member, Wilhoite says. "How do you not get passionately committed to something like that?"
This article appeared in the
January 2012
issue of
Portland Monthly.