NOSH
Best of the City 2012: Food
NOODLE

BOWL
Japanese ramen, once relegated to obscure izakayas on the city's outskirts, is now Stumptown's addiction du jour, with more than a dozen places serving steaming portions of noodles and broth. But one masterpiece rises to the top: Boke Bowl's heaping vessel of luscious noodles in a pork and chicken broth, topped with slow-smoked pulled pork, buttermilk fried chicken, and a slow-poached egg. Resistance is futile: indulge and don't look back. 1028 SE Water Ave; bokebowl.com
SMALL

PLATES
The plates may be small at Aviary, but the flavors are big. French technique spliced with Asian flourishes and globetrotting flavors combine in a nearly pitch-perfect menu of 16 seasonal dishes that pleases all kinds of palates. Standouts include a fried chicken skin salad, smoked artichoke with quinoa crème fraîche, and hoisin-glazed short ribs. 1733 NE Alberta St; aviarypdx.com
SUPPER

CLUB
More than a supper club, chef Courtney Sproule's brainchild is a dream feast, a deliciously blank canvas for culinary imagination. About once a month, Sproule hosts a carefully rehearsed "din din" in a different venue—from concert halls to wineries. The multicourse, farm-sourced menus are always beautiful and unexpected. One night might bring squab and rabbit; the next, oysters and edible flowers. All you need to do is reserve your spot, and be ready for anything. Locations vary; dindinportland.com
IN-

THE

-

KITCHEN

EXPERIENCE
Every meal can be improved by a single ingredient: excellent dinner conversation, especially when it's with the chef. We particularly enjoy the scene that unfolds around Anthony Cafiero's welcoming, modern Mediterranean kitchen, Tabla Bistro, where the counter seats peek in on all the action: cooks searing steaks, poaching fresh fish, folding fresh ravioli, and extracting velvety eggs from a sous vide bath. Even better, there's a bonus for spectators: free tastes of whatever's cooking, like amuse-bouches or crispy black rice. 200 NE 28th Ave; tmbistro.com
CHEESE

PLATE
When a restaurant has a dedicated fromager, ordering the cheese plate is practically a requirement. Such is the case at Bluehour, where resident expert Jesse Seratt wheels a cheese-laden cart over for a tableside consultation the moment you order, ensuring that you get the best mold for your mood. Pick one, three, or five cheeses from the rotating, worldly menu, and pair them with yummy, house-made extras like quince paste, spiced nuts, and seasonal fruit compotes. 250 NW 13th Ave; bluehouronline.com
BANH

MI
Any serious discussion of a great banh mi hinges on the baguette. And the sandwiches at Lela's Bistro feature some of the most authentic buns in town, hand-delivered from owner Laura Le's parents' shop, the venerable Binh Minh Bakery on SE Powell Boulevard. Le does her family—and the buns—proud by stuffing the airy, golden-brown loaves with her own mouthwatering goodies like perfectly singed pork belly, house-made chicken pâté, garlic aioli, Vietnamese cold cuts, pickled carrots, and bushels of fresh cilantro. 1524 NW 23rd Ave; lelasbistro.com
HOT

DOG
Dogs for the gods. That's how we like to think of Olympic Provisions' slender, hand-linked apple wood and hickory–smoked foot-longs, which are topped with a house-made relish and hang out of either side of a classic Franz bun. Worship at the altar yourself Fridays at Olympic Provisions SE, where "Frankfurter Fridays" feature a rotating roster of inspired links, from old-school chili cheese to a decked-out Chicago-style with green tomatoes, sweet pickle relish, and celery salt for $5. 107 SE Washington St and 1632 NW Thurman St.; olympicprovisions.com
DESSERT

CREPES
Chef Jehnee Rains has been honing her silky batter since her days as a pastry chef in Berkeley at Alice Water's Chez Panisse. Taste her sweet success at Suzette's new Southeast spot, where Rains fills her dynamite mix with homemade Nutella, roasted hazelnuts, bittersweet chocolate, and Frangelico liqueur, then laces the whole thing with ebony chocolate sauce. A buckshot of candied hazelnuts and a dollop of fresh cinnamon ice cream on top put the final touches on this perfect 10. 3342 SE Belmont St; suzettepdx.com
SALAD
In a farm-to-fork epicenter like Portland, every salad should be spectacular—period. The real trick is finding one that shines through our sweet, sun-ripened summers and well into the root-vegetable dog days of winter. Hidden on Toro Bravo's encyclopedic tapas menu, the radicchio salad is just such an all-season champion. The chilled glass bowl arrives, brimming with radicchio and a snowdrift of manchego cheese, flanked by wooden salad tongs and two thick olive-anchovy crostini. Even as we move into the cornucopia of summer harvest, a deep hunger for the peppery, violet leaves will keep you coming back for more. 120 NE Russell St; torobravopdx.com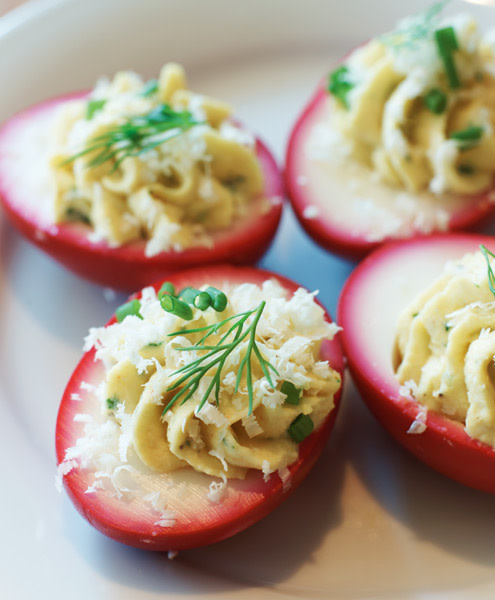 DEVILED

EGGS
This '70s-era cocktail-hour favorite is back in a big way, popping up everywhere from lowbrow sports bars to white tablecloth affairs. Leave it to Grüner's Alpine innovator, Chris Israel, to elevate the often predictable app into a habit-forming art form. Brined for hours in pickled beet juice, these farm-fresh eggs sport a fetching fuchsia hue and a lip-smacking tang. At the center of the pickly goodness, a rich, horseradish-laced yolk is whipped into airy perfection. Better order a dozen: these devilish hors d'oeuvres go fast. 527 SW 12th Ave; grunerpdx.com
PICKLE

PLATE
Part art, part supper, heavy glass jars filled with Evoe owner Kevin Gibson's twisted, brightly stained produce line the communal table at Evoe—evidence that Gibson has been dutifully transforming the choicest of the season into his dynamic pickle plate. A recent visit brought a seven-piece platter loaded with kimchi-spiked turnips, star anise–steeped chard stems, and hard-boiled eggs dyed yellow with a cumin and coriander soak. For maximum pucker, try Gibson's experiments like supertart sour cherries and Guindilla peppers braced with zippy spices. 3731 SE Hawthorne Blvd; pastaworks.com/evoe
VEGAN

DISH
Watch out, Porkopolis: the house of vegan's still got game. Behold Dove Vivi's buttery, quiche-like cornmeal pizza crust—the crunchy anchor of our favorite animal-free treat. Into the crackling crust goes a heap of slow-smoked tomatoes, a healthy hand of fresh-shucked corn and a sapid bite of caramelized onions baked in cayenne-spiked cashew cheese. No bacon needed. 2727 NE Glisan St; dovevivipizza.com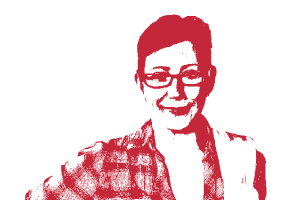 BEST

DESSERT

GODDESS
Kristen Murray
When Kristen Murray settled in Portland in 2008, the dessert scene got a whole lot sweeter. Fresh from her experiences in some of the country's hottest kitchens—San Francisco's Alain Rondelli, New York's Gramercy Tavern and Aquavit, Boston's No. 9 Park, and tutelage under French pastry legend Christine Ferber—Murray immediately wowed local eaters with her imaginative and seductive concoctions at spots like Lucier and Fenouil, and then Paley's Place. Lucky for us, with plans to open her own sugar-centric café in the fall, she's not leaving anytime soon. And how's this for a sweet deal—she cooks, too! Taste Murray's savory dishes this summer at Kir Wine Bar. (See Drinks & Nightlife Readers' Picks)
Kristen's Picks:
FAVORITE

SWEET

TREAT
Cacao It's my chocolate go-to. The drinking chocolate trio with a bonbon is the best treat any time of the day, and John DePaula's milk chocolate bar with sunflower seeds brings me back to my childhood in Southern California. 414 SW 13th Ave; cacaodrinkchocolate.com
FAVORITE

PICNIC

SUPPLIER
Cheese Bar Steve Jones's cheese shop [and deli] is a beautiful bike ride away from my neighborhood. It's such a fantastic reward to belly up there, or take away a little picnic and hike up to Mount Tabor. 6031 SE Belmont St; cheese-bar.com
FAVORITE

BAR
Ambonnay specializes in beautiful, small-house producers [of Champagne/sparkling wine], many of which are hard to find. The owner, David Speer, is terribly knowledgeable and incredibly helpful. 107 SE Washington St; ambonnaybar.com
Readers' Picks
COOKIE
Girl Scout–size are cookies are jammed with artisan ingredients like vanilla-bean buttercream, hazelnut shortbread, and Saigon cinnamon. 2309 NW Kearney St; tartnation.wordpress.com
FRIES
These truffle oil–drizzled, pencil-thin beauties can now be had at three Portland locations (and one in Eugene). Careful: the fry sauce is dangerously addictive. Multiple locations; littlebigburger.com
BURGER
It doesn't get much simpler: Cascade Natural Beef, cooked to order with Tillamook cheddar cheese (or goat, or swiss) and a brioche bun. We order 'em two at a time. Multiple locations; littlebigburger.com
LATE

-

NIGHT

DINING
Gluttonous mac and cheese in a Streets of Fire setting. The bad news: on the morning after, those tinfoil-sculpture doggie bags also remind you what you did last night. 301 SE Morrison St; montageportland.com
PATIO

DINING
The sprawling secret-garden-like setting includes fountains, perennials, and a fire pit, ideal for stretching an afternoon into an evening. 2601 NW Vaughn St; meriwethersnw.com
SPECIAL

-

OCCASION

DINNER

SPOT

TIE

!
Should we toast our good fortunes with Andina's passion fruit–infused "Sexy Woman" or savor successes over plates of moules frites at Paley's? OK, we'll do both. Andina: 1314 NW Glisan St; andinarestaurant.com; Paley's Place: 1204 NW 21st Ave; paleysplace.net
This article appeared in the
May 2012
issue of
Portland Monthly.