Trail City
Southbound
Oregon City/Clackamas/Milwaukie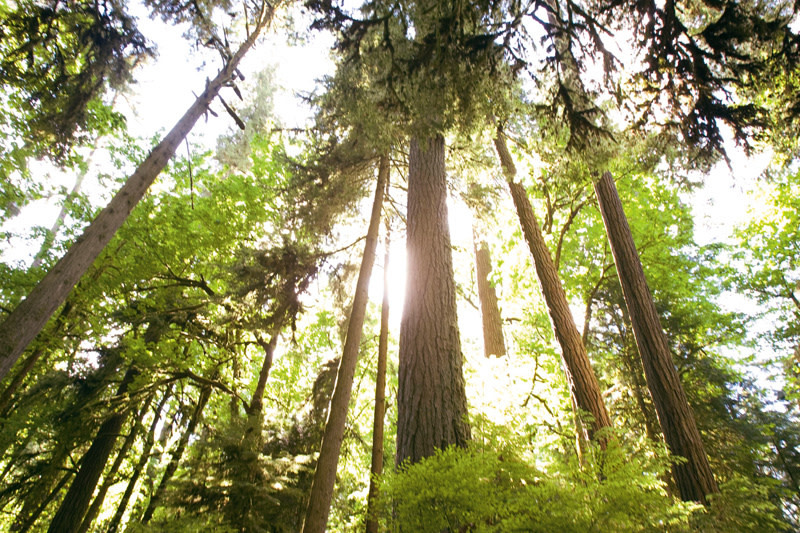 KEY: H – Hike | B – Bike | W – Water Route
Trolley Trail | B
Completed in June, this six-mile multiuse path fulfills a long-held dream of Metro park planners: a near car-free route connecting Milwaukie to Gladstone, just outside of Oregon City. Following the historic right-of-way of the Portland Traction Company, a streetcar line that ceased operation here in 1968, it's a decidedly urban adventure. (SE McLoughlin remains in earshot.) But the trail's northern end provides ready access to Spring Park Natural Area, where a seasonal land bridge connects to Elk Rock Island in the Willamette River. Near the Trolley's five-mile mark, Stringfield Family Park also showcases salmon habitat restoration along Boardman Creek. Access: Jefferson Street Boat Ramp, Milwaukie Riverfront Park
Upper Willamette Narrows | W
Near West Linn's Willamette Park, the Willamette River tapers into a series of water-carved passages between basalt walls and timbered islands owned by Metro and the Nature Conservancy, making for one of the prettiest paddles near Portland. About a mile upstream from the park, you'll spy Little Rock Island, home to one of Oregon's rarest flowers, the white rock larkspur. In the channel between the island and the west bank, the sounds of paddle strokes and calls from cedar waxwings will be your only companions. Turn around after four miles, at the overhead power lines upstream. When water levels are high, the swift, narrow channel through the fractures of Rock Island provides a kick on the paddle back to Willamette Park. Access: Bernert Landing Boat Ramp, 12th and Volpp Streets
Mount Talbert | H
Mount Talbert towers over I-205 and nearby Clackamas Town Center with green ramparts of sky-tickling conifers and shady oaks. Some 75 species of birds amass within this canopied fortress, while deer tracks and raccoon prints reveal a stealthy land-bound populace. Four miles of trails access impressive wildflower displays and a breath-sapping ascent of the 750-foot summit, an especially attractive destination in cooler months when radiant fall foliage appears. Access: From SE Sunnybrook Boulevard, turn south on 97th Avenue and continue till it becomes Mather Road. Look for the park entrance on the left.



Post-trail Watering Hole
Milwaukie Kitchen and Wine Look to the wall-size chalkboard on the left for daily sandwich offerings like ham with white cheddar and a fried egg on a flaky croissant. Order Full Sail and Bridgeport beers by the bottle or, if you need to gas up to hit the Trolley Trail, cups of Ristretto Roasters coffee. 10610 SE Main St, Milwaukie; milwaukiekitchen.com
This article appeared in the
July 2012
issue of
Portland Monthly.