Trail City
The High Road
Portland's Terwilliger Parkway turns 100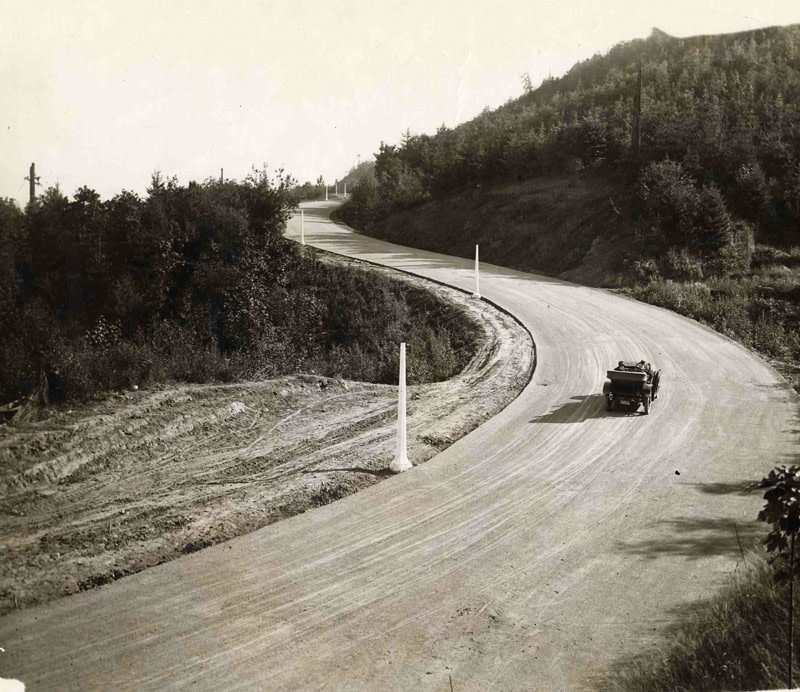 FAMED CITY BEAUTIFUL parks planner and designer John Olmsted's 1903 plan to create a 40-mile loop of parks around the city still guides the modern Intertwine concept. But few Portlanders realize that Olmsted also had cars on his mind, noting that parks should be "approached by boulevards and parkways … located and improved to take advantage of the beautiful natural scenery." However, only one of Olmsted's "pleasure drives" got built: Terwilliger Boulevard.
The heirs of early Portland blacksmith James Terwilliger donated the first 19-acre right-of-way to the city for what Olmsted envisioned as a picturesque "gateway." The now seven-mile roadway, which threads the West Hills beneath OHSU, was opened as a dirt road in 1912 and dedicated two years later with a ceremony featuring a 200-car motorcade. Although occasionally threatened by development, Olmsted's vision won out: Terwilliger's wide, tree-lined path and vistas of Mount Hood are forever protected in the 1983 Terwilliger Parkway Design Guidelines, which stipulated "unobstructed views and preserving the heavily wooded character."
The 30-year-old Friends of Terwilliger have been equally central to the parkway's beautification. Besides restoring watersheds and removing invasive ivy, the group celebrates Terwilliger's centennial this month (July 20–22) with a 5 to 8k run/walk and—in a twist beyond what Olmsted imagined—a Sunday Parkways bike ride. terwilligerfriends.org
This article appeared in the
July 2012
issue of
Portland Monthly.