Prêt-à-Portland
On the Water
Seven local essentials for your late-summer lounging.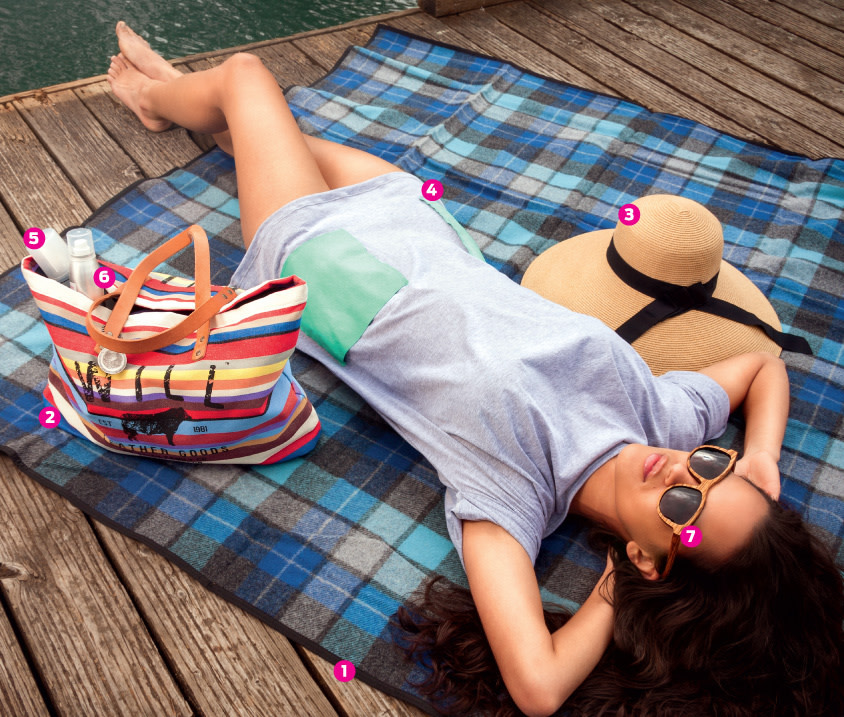 THE TEMPERATURE is climbing. The Prius is packed with a picnic spread and cold drinks. The iPod blasts the Beach Boys' "Surfin' Safari." The river beckons. Your only "deadline" is sunset. This is summer. Finding the right swimming hole is one thing. But taking your day on the water from so-so summer excursion to the highlight of the season requires a little planning and the right packing. Burnish the memory with these seven local good-time boosters.
1.

PENDLETON

ROLL

-UP

BLANKET
The beginning of any good day at the water's edge begins with marking your territory (and then parking your tush). Pendleton's easy-to-carry roll-up blanket features sand-repelling nylon on one side and snuggle-ready wool on the other, opening the door to even more fun once the sun goes down. $118 at pendleton-usa.com
2.

WILL

LEATHER

GOODS

CARRYALL
You could carry a small child (or perhaps just extra water bottles) in this Eugene-made canvas tote, which comes with rip-proof leather handles reinforced with brass rivets. It's also a great conversation starter: founder Bill Adler built the company after a successful 1970s television career acting in hits like Welcome Back, Kotter and Wonder Woman. $95 at Isaac Hers
3.

JOHN

CALLANAN

LOUISVILLE

HAT
SPF 5,000 can't protect delicate skin the same way a good ol' hat will. Keep the UV rays (and wrinkles) at bay with this stylish, wide-brim faux straw hat from Pearl shop Bonnet. $52 at Bonnet Boutique
4.

HOUSELINE

/YO

VINTAGE

TUNIC
Your search for the perfect cover-up ends here, with the new collaboration between Yo Vintage and Portland Garment Factory's HouseLine. The two Portland companies teamed up to create a hand-cut tunic dress with leather patch pockets that folds up small enough to slip into your bag and is cute enough to throw on before you pop into a café for lunch. $118 at Yo Vintage
5.

NATURE

'S

MIST

FACE

OF

THE

WATER
Keep your face from feeling—and looking—like roadside beef jerky with this travel-size water-based facial mist. The Oregon company bottles its "tissue-culture grade" water (a fancy term for lab-tested aqua that's free of chemicals, additives, allergens, and preservatives) right where it bubbles from the ground in a top-secret spot outside Grants Pass. $15 at naturesmist.com
6.

SIDLAB

MAGIC

DRY

SHAMPOO
Sexy beach hair is one thing. Greasy beach hair is quite another. Fortunately, the translucent clay in Portland-based Sidlab's "Magic" shampoo naturally absorbs unwanted oil and sunscreen, returning your 'do to public viewing status. $22 at Blush Beauty Bar
7.

SHWOOD

NESKOWIN

SUNGLASSES
Stylish and sustainable, Shwood handcrafts its stylish Neskowin frames from cherry or zebrawood sourced from authorized and supervised plantations in Africa. Plus, the polarized lenses protect your delicate Oregon eyes from that unfamiliar bright light. $135 at shwoodshop.com
---
This article appeared in the
August 2012
issue of
Portland Monthly.