Beervana
Taste of Beervana
Portland Monthly's selection of can't-miss beer hot spots and why we like 'em. From Saraveza in North Portland to the Horse Brass Pub in Southeast, each location has made it to four-star "special lady" status in our little black book of bars.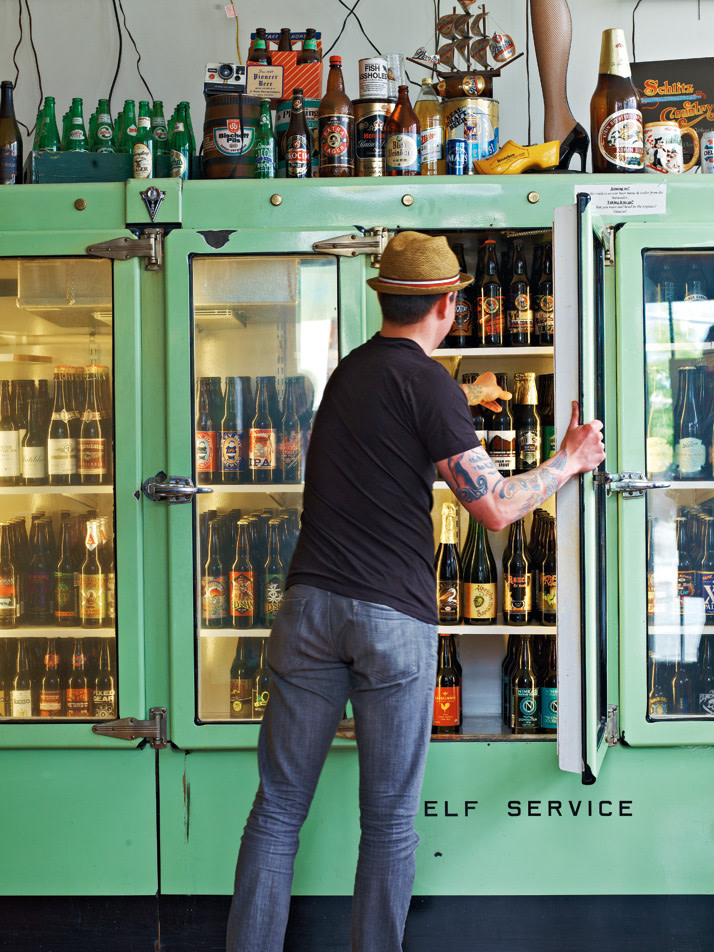 Continental Selection: Saraveza
The décor at this pint-size NoPo pub and bottle shop might scream Wisconsin (Green Bay Packer paraphernalia abounds), but the beer list is an ode to Old World delights. Opened in 2008, this 12-table bar and bottle shop boasts one of the biggest collections of European beers in the city, with some 66 to choose from, including an especially impressive collection of Belgians, like potent Koningshoeven Quadruple and a surprisingly tasty gluten-free variety of Green Quest Tripel. But don't worry, Midwesterners, they've still got Hamm's on tap, just for you. —Kasey Cordell
Also try: Higgins 
Family-owned since 1992, the tiny Tugboat, which produces only a miniscule 120 gallons at a time, resembles your funky uncle's study with a DIY bar in the back. Head brewer Terry Nelson doesn't market his half-dozen beers any further than the Tug's snug walls. But make no mistake—this is one vessel worth signing aboard. Unfiltered and aggressively hoppy, offerings like the brawny doppelbock and the mega-potent Chernobyl Stout (13 percent ABV!) might grow you a third arm. And if you're just getting your sea legs, try the golden ale, whose crisp, unpolished bite will have you charting a speedy return voyage. —John Chandler
Also try: The Mash Tun Brewpub
Best Brewery Tour: Portland Brewbus
Launched in 1996 by beer enthusiast and avid city historian Jim Long, this Tour de Brews loads passengers up to visit as many as four area breweries every Saturday. With stops ranging from full-scale operations like Full Sail Brewery in Hood River to more intimate environs like Hair of the Dog, you'll get sips galore and score yourself a diploma from Long's own "College of Brew Knowledge"—not to mention a designated driver. —Rachel Ritchie
Also try: Widmer Brothers
Upright's only been open since last summer, but brewmaster Alex Ganum is making considerable headway against the hoppy hegemony so prevalent in Portland with his Euro-inspired "farmhouse" ales. They are uniformly hearty, yeasty, and laced with exotic fruit-and-spice flavors. Beer geeks with adventurous palates have been flocking to Upright's tasting room on the weekends bearing growlers, jars, buckets, and anything else that will hold a sample. —JC
Also try: Hair of the Dog's new taproom
Ninety-nine bottles of beer on the wall? Yeah, right. More like 1,000 at this 13-year-old emporium of ale. Inside, neatly marked sections—Oregon, Belgian, Craft Six-Packs, for example—help you zero in on your picks, as does sampling any of the 17 beers on tap in the bottle shop's onsite Bier-cafe. Staffers are helpful when asked, but, thankfully, they won't stalk you as you wander the store, gape-mouthed, checking out labels. Though we just might, if you snatch up the last bottle of that sought-after Pliny the Elder. —KC 
Also try: By the Bottle, Vancouver
This downtown taproom's selection of 20 rotating, largely regional taps changes daily, if not hourly. Bailey's chipper cast of beer nerds make great suggestions, but if you're still torn, try the five-beer sampler tray ($7.50) before settling on a full pint. And there's no chow here, so remember, if a stiff barleywine sets your head spinning, Santería, the taqueria next door, will happily deliver directly to your barstool. —RR
Also try: Green Dragon
Beyond its abundant taps (a whopping 53), it's the Horse Brass's deeper charms that really soak our hops. For starters, we can pair authentic British staples (we're talkin' bangers, pasties, and Scotch eggs) with 7 a.m. World Cup matches or late-night dart competitions. And, sipped amid a smorgasbord of dark wood, stained glass, and Anglophilic décor, any pint we sample here inevitably tastes better. In other words, this place proves that character counts—especially when it comes to beer. —RR
Also try: Henry's 12th Street Tavern
This granddaddy of Oregon brewers hasn't forgotten that a key ingredient for a great brew is making it easy to share with friends. For proof, drop by Bridgeport's expansive Pearl District brewpub any weekday between 4 and 6 p.m., when pints from their collection of hallmark ales go for a mere $3. If the fire sale on beers doesn't rally your crew, then plates of steamed mussels and honkin' pulled-pork sammies for under six bucks will. —RR
Also try: Laurelwood Public House
Organic beer, locally sourced food, and a bar bedecked with bike frames: could there be a more Portland brewpub? We think not. Plus, it's all delicious, whether you're chowing down on the meaty Warrior Wings or the crispy, thin-crust Margherita pizza, or sipping a pint of smooth, balanced Velvet ESB. Fair warning: Hopworks packs 'em in every night, so if you're looking to cede from the tide of devoted HUB-heads, stake out "the nook." The tiny, shiplike alcove, complete with a port window, has room for eight close pals—and, of course, a pitcher or two of Secession Black IPA. —KC
Also try: Lucky Labrador Public House
Best-Kept Secret: Pilsner Room at the Harborside
Just about every Portlander knows about the Pilsner Room's sublime riverside views. But even longtime patrons of this elegant waterfront outpost might be surprised to learn that celebrated Full Sail brewmaster John Harris uses the shoebox-size brewery here as a laboratory for his exclusive creations. The taps change weekly, but you'll always find eight of Harris's "pilot" beers behind the bar. This summer's variations include a luxuriously honeyed Vesuvius Belgian Ale and a rejuvenating Spotless IPA, either of which is perfectly suited for an afternoon's idyll by the Willamette. —JC
Also try: Apex  
Best Homebrew Supply Shop: F.H. Steinbart
When you're ready to graduate from mere beer fan to malt-crazed mad scientist, make Steinbart's your first stop. The oldest homebrew shop in the country, this Southeast Portland supplier offers everything a budding brewer could desire: hops, yeast, bottles, grain mills, brewing pots. The staff, who carry 100 years of combined experience with them, is more than able to trouble-shoot that finicky milk stout recipe of yours, too. And once you've nailed it, we're betting you're going to want one of Steinbart's custom-made kegerators to store your results. Just remember to invite us to the release party. —KC
Also try: Let's Brew
Best Irish, Scottish, & English Selection: Highland StillHouse
Already known for its exceptional whiskey selection, the Highland Stillhouse is no slouch when it comes to Scotland's other national beverage (ale) either, with 60 varieties here hailing from those windswept moors. Six of the Stillhouse's 14 taps are dedicated to Irish, English, or Scottish brews, from the standard Guinness to micros like Belhaven Twisted Thistle IPA. Surrounded by the dimly lit pub's green walls and creaky wood booths, you'll almost forget that you're not in Scotland. That is, until you head out to the sprawling deck, where you can watch the river tumble down Willamette Falls. —KC
Also try: Moon & Sixpence
Want more food news, plus editor's picks in every neighborhood, advanced search options, and all of our best-of lists? Download our Gastronaut app in iTunes or Google Play!