Article
Election Elixir
Portland Monthly is throwing an election party.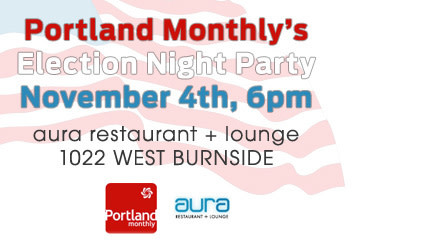 From The Back Row blog:
There are plenty of places to get your balloty booze on, but if you're lacking any ideas save for buying a six-pack and spending the evening with CNN and their hypnotizing electoral map might we offer up our own little election shin-dig? We're calling it the Election Night Elixir Party and it's going down at the Aura Restaurant and Lounge at 1022 West Burnside. Things get cranking at 6 and there's no cover charge save for a suggested donation to a charitable organization. Watch live results on the big screen and compete in the political figure costume contest hosted by Poison Waters.
I'm going to predict that if a couple comes dressed as Bill O'Reilly and a loofah, they'll win this thing hands down.
And oh yeah, vote.
Read more from The Back Row blog.