HIGH SPIRITS
H5O Bistro & Bar
Checkout Time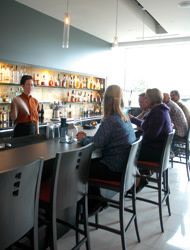 The website for Hotel 50, which recently opened in the former Four Points by Sheraton Downtown on SW Morrison Street near the Willamette River, asserts that it's "ideally located in downtown Portland." That may be true, but apparently the front door is a well-guarded secret. After a full lap around the building, I still can't find the entrance. Finally I stumble upon a slow elevator in the parking garage, which dumps me in the tidy lobby. About 10 feet north of the front desk, I discover what I'm looking for: the hotel's narrow, oddly furnished drinking nook named H50. The bar and tables are made of welded metal, and there's a swanky, bachelor-pad-worthy fire pit with a gas flame that dances on a bed of colorful broken glass. The whimsical seating arrangements include a table shaped like a human head and a pair of green futons that resemble mod fainting couches.
Fortunately, a few creative cocktails take our minds off the bewildering, industrial décor. The Peppery Pear is an assertive blend of pear vodka, pear brandy, and black peppercorn that leaves the palate tingling with spice and honeyed fruit flavors. Fortified with a dazzling house-infused peach-vanilla bourbon, the Fall in Manhattan borders on sublime: As sweet and syrupy as a liqueur and chased by the bourbon's smoky burn, this concoction should be savored. As should, for the moment, H50's lack of buzz, which means there's virtually no waiting for your food or drink to arrive. At the very least you won't have to check in just to check it out.
Want more food news, plus editor's picks in every neighborhood, advanced search options, and all of our best-of lists? Download our Gastronaut app in iTunes or Google Play!