POUR
Can It
Craft brewers across the country are ditching the bottle. Will Oregon follow suit?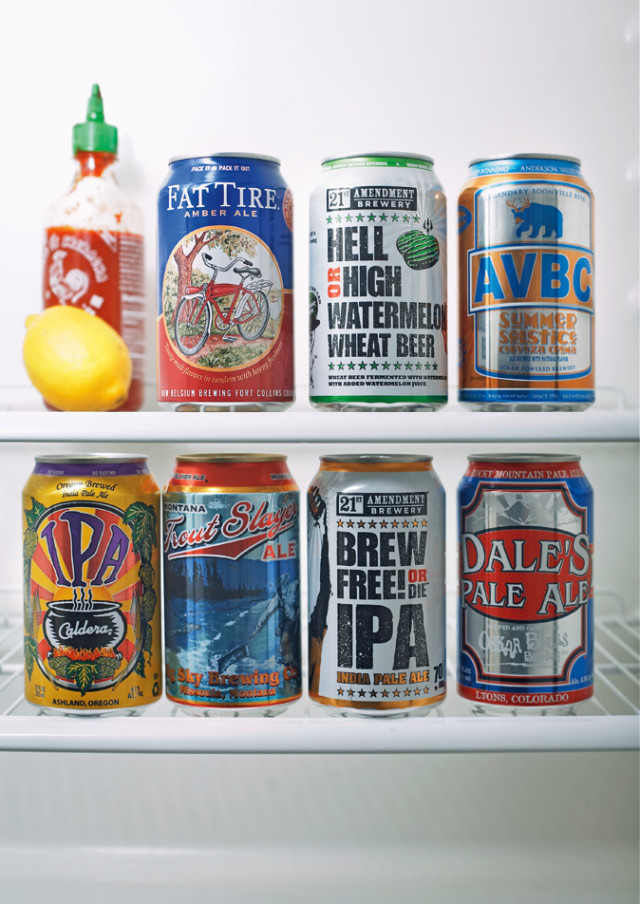 Once merely the vessel of choice for mega-breweries like Coors and Anheuser-Busch, the lowly beer can is now commanding respect from an unlikely contingent: microbrewers. In the past eight years, some 40 craft brewers in the United States have begun swaddling their suds in aluminum, and this July, San Francisco's 21st Amendment Brewery released two new canned beers—Hell or High Watermelon Wheat Beer and Brew Free or Die IPA—in Oregon.
You can thank Colorado's Oskar Blues Brewery for sparking this surprising trend—in 2002, it became the first microbrewery in the country to embrace the can. Marty Jones, a co-founder of Oskar Blues, whose canned pale ale has won accolades from the likes of Food & Wine and the New York Times, explains that "craft beer has always been about bucking the mainstream—so why not put a big, juicy, hoppy pale ale in the most maligned package ever?"
Beyond shock value, substantial advantages to cans abound: they extend a beer's shelf life by shielding it from light and oxygen; they're twice as likely to be recycled than glass; they weigh 35 percent less than bottles, which shrinks the carbon footprint associated with shipping; and when stuffed into a backpack or canoe, they won't shatter.
So why aren't more Oregon brewers on board? "I would love to try canning," says Jamie Emmerson, Executive Brewmaster at Hood River's Full Sail Brewing. "But we grew with the bottling system; it would be quite expensive to switch now." Until more brewers get hip to the can, you'll find these three in our fridge:
Caldera Brewing Co, Ashland, Oregon
IPA
After selling its first keg in Ashland in 1997, Caldera became Oregon's first and only brewery to can its own craft beers in 2005. Fresh whole-flower hops help create a briskly refreshing IPA with a blend of spicy, fruity, and earthy flavors that echo the exuberant illustration adorning the can. $9.99 for a six-pack
Anderson Valley Brewing Co, Boonville, California
Summer Solstice Cerveza Crema
One sip will assure you that there's still time to kick back in the hammock and make the summer last with this frothy gem in hand. Light and velvety, it combines the silky, nostalgic sweetness of a cream soda with a malty, light-bodied ale. $8.99 for a six-pack
Oskar Blues, Lyons, Colorado
Dale's Pale Ale
A beefy strong pale ale with assertively woodsy hops and a sweet caramelly finish that helped to eradicate the stigma attached to canned beers. As Marty Jones says, "When it's poured out of a can, it's like hearing Eddie Vedder's voice come out of Clay Aiken's mouth." $8.99 for a six-pack
All beers available at Belmont Station, 4500 SE Stark St; 503-232-8538; belmont-station.com
Want more food news, plus editor's picks in every neighborhood, advanced search options, and all of our best-of lists? Download our Gastronaut app in iTunes or Google Play!