New Menus
Tales of Tapas
Kenny & Zuke's gets continental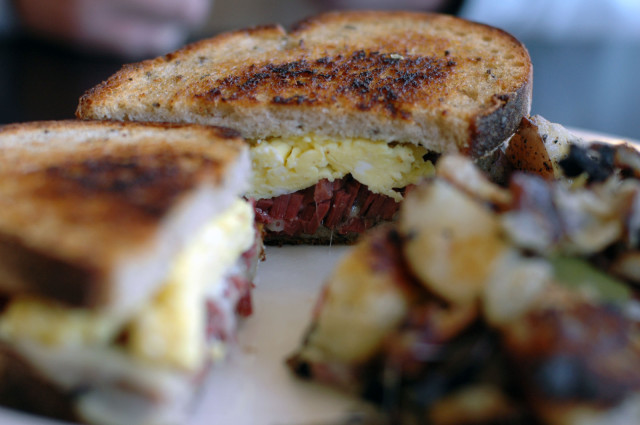 When you walk into Kenny & Zuke's Delicatessen (1038 SW Stark St), you feel like it is the quintessential Jewish deli. They have sweet mouth-watering Jewish pastries, bagel and lox, challah French toast, and in-house hand-sliced pastrami.
This restaurant was featured in our 2009 Top Burgers package, B is for Bacon…and Breakfast guide to Portland's best breakfast, and The Art of Eating Cheaply.
Then, I find out they're having a tapas family style dinner on March 28th. They'll be cooking up Spanish inspired juicy garlic prawns and albondigas, a classic Mexican meatball soup. Chow down on tortilla de patatas, which is the ideal combo of egg and fried potatoes. My mouth literally hit the floor, and I immediately thought, "Um, hello, Barcelona just called, and they want to tell you that this menu is not kosher."
And while I want to fight this non-kosher menu tooth and nail, I can't. Kenny & Zuke's food has never fed me wrong, and I know the tapas dinner will be delicious. With a plentiful supply of fresh sangria, how could it not be?
Tapas Dinner Sunday, March 28th, seating at 5:00 and 7:30.
Make reservations by calling 503-222-3354 or email
$36.50 per person including sangria
$29.50 without sangria
$19.50 children under 12
Want more food news, plus editor's picks in every neighborhood, advanced search options, and all of our best-of lists? Download our Gastronaut app in iTunes or Google Play!