Wine Country Weekends
For the Active Traveler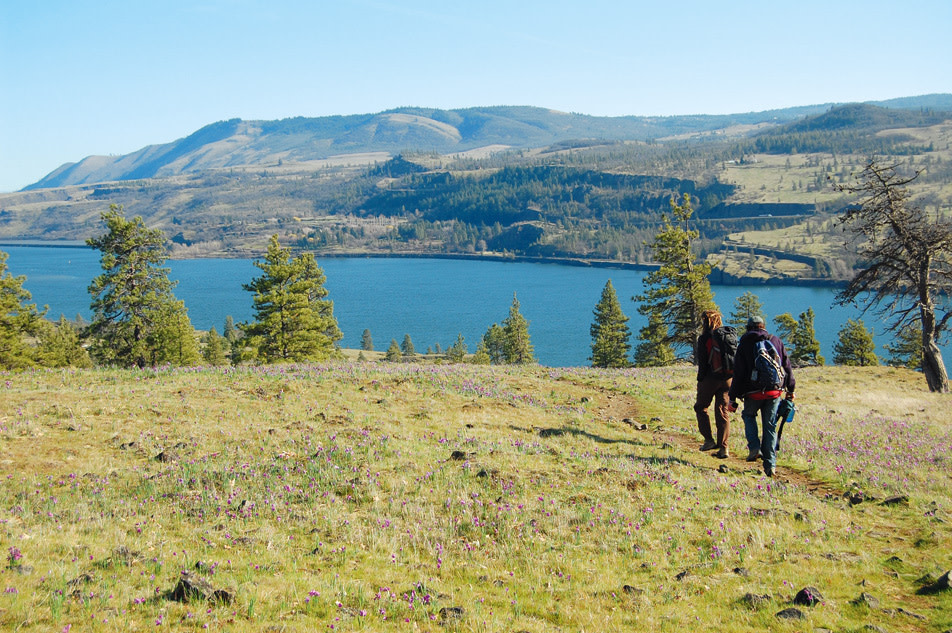 Great wine regions can be found across the world, but none quite like the Columbia River Gorge. Where else can you pair a delicate viognier or an earthy zinfandel with some of globe's best windsurfing, hiking, river rafting, and biking? If your every weekend—even one spent tasting wines—needs action, head east, not south.
FRIDAY
Eat
Fill your picnic basket in Hood River with bread from Knead (102 Fifth St) and cheeses and snacks from South Bank Kitchen (404 Oak St; 541-386-9876). Our favorites? Emmi's cave-aged gruyère and inspired sides such as beet salad dressed with mandarin oranges, fennel, and chevre.
Taste
You can't taste this region's wines without crossing the Columbia into Washington for Rhône-style pours at Syncline Winery. James and Poppie Mantone have one acre of vineyards on their property and 24 in eastern Washington's Horse Heaven Hill and Columbia River Gorge AVAs; they produce 5,000 cases a year of mostly Rhône varietals, such as mourvèdre, roussanne, and viognier. Thur–Sun 11–6; 111 Balch Rd, Lyle; 509-365-4361; synclinewine.com
Do
Not far from Syncline, the moderate one-and-a-quarter-mile hike to the top of Catherine Creek brings you to a superlative picnic spot. (Keep an eye out for poison oak.) The views of the Gorge, Oregon's lush northern edge, and Mound Hood's majestic peak are jaw-dropping. www.fs.fed.us
Eat
Have dinner at Nora's Table in Hood River. The eclectic, highly localized menu offers dozens of small plates as well as entrées (like Goan seafood curry with rockfish, prawns, scallops, and mussels) all dreamed up by Nathan Morgan, former chef of Portland's popular Indian restaurant Vindalho. Tue–Sat; 110 Fifth St, Hood River; 541-387-4000; norastable.com
Check In
The stylishly updated Celilo Inn sits on a bluff above The Dalles with commanding views of one of the planet's most dramatic meetings of man and nature: the Gorge and the gargantuan Dalles Dam. Ask about the Spirit of Adventure package, which includes a one-night stay and a white-water rafting trip down the Deschutes or White Salmon river. 3550 E Second St, The Dalles; 541-769-0001; celiloinn.com
SATURDAY
Do
Ready for an adrenaline rush? Raft down an eight-mile stretch of the White Salmon River with Zoller's Outdoor Odysseys. In the fall, the White Salmon is Class III—which means it moves fast but "there's no huge, wipe-me-out waves," says owner Mark Zoller. As you careen down the picturesque canyon, you'll pass a 14-foot waterfall, western red cedars growing straight out of lava walls, and plenty of wildlife. 1248 Hwy 141, White Salmon, Wash; 800-366-2004; zooraft.com; $55–65 per person
Taste
Wy'East Vineyards is named after the Multnomah Indians' word for Mount Hood, which dominates the skyline. Here, Christie Reed will lead you through a tasting that begins with pinot gris and ends with the Cloud Cap Select, a port-style dessert wine. Winemaker Peter Rosback also produces a stunning cabernet sauvignon. 3189 Hwy 35, Hood River; 541-386-1277; wyeastvineyards.com; $5 tasting fee
Try local vintages from 35 Columbia Gorge wineries side by side at the Gorge White House. The fruit stand out back sells local Anjou and Bosc pears, cheeses, and pear wine. Fri-Mon 10-6; 2265 Hwy 35, Hood River; 541-386-2828; thegorgewhitehouse.com; $1 tastes; $6 glasses
Eat
At Hood River's Celilo Restaurant and Bar, chef Ben Stenn relies on a network of farmers, foragers, and fishermen for dishes such as seared sea scallops over spinach cream purée and seared salmon served on a bed of winter greens with fresh thyme and a brandied huckleberry glaze. 16 Oak St, Hood River; 541-386-5710; celilorestaurant.com
SUNDAY
Do
Rent a hybrid at Discover Bikes and take a spin down the Mosier Twin Tunnels Trail, a now-car-free nine-mile segment of the original Columbia Gorge Highway with unmarred vistas of the Gorge. 210 State St, Hood River; 541-386-4820; $25 for the day; visit oregonstateparks.org for more info
Taste
Take a deep sip of a full-bodied zinfandel made from the pre-Prohibition-era vineyard at the Pines 1852. Owner Lonnie Wright (or his charming daughter, Sierra) will tell you how he came to buy a vineyard first planted in the 1890s by an Italian stonemason. Wed-Sun; 202 State St, Hood River; 541-993-8301; thepinesvineyard.com
Want more food news, plus editor's picks in every neighborhood, advanced search options, and all of our best-of lists? Download our Gastronaut app in iTunes or Google Play!