Web Exclusive
Wine Tasting Day Trips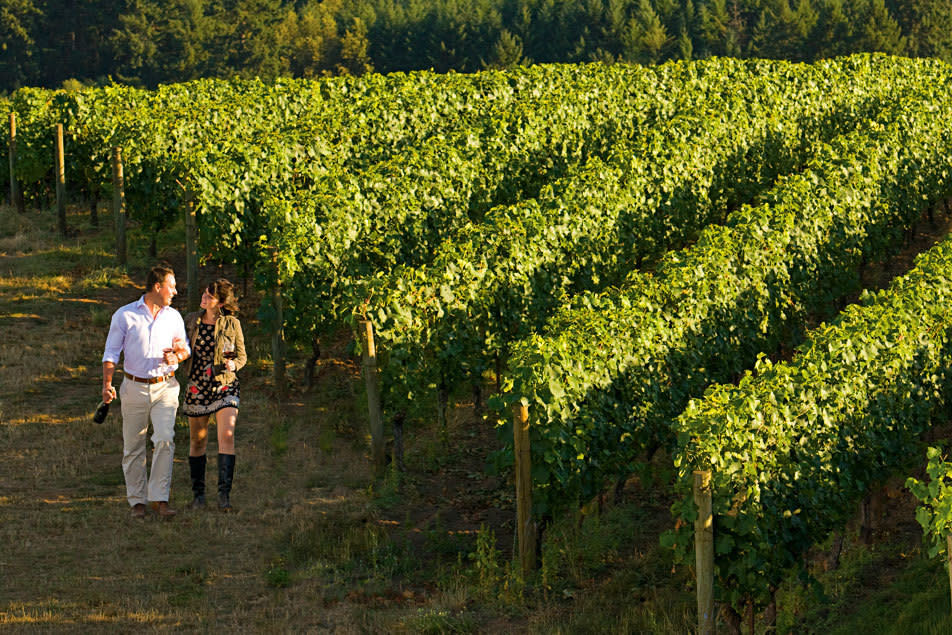 Newcomer Day Trip: Hawks View Cellar
When former Ten 01 sommelier Erica Landon became hospitality and sales director at Hawks View Cellars last year, she put the young winery on the map. Hawks View, which made its first vintage in 2007, is already producing some of the finest pinot noir and pinot gris in the Willamette Valley. (Last year, our wine critic, Conde Cox, deemed its 2007 pinot noir the third-best wine in the entire state, and in August Wine & Spirits gave its 2008 pinot gris a 92). Winemaker Ryan Harms, who was previously at Rex Hill, also buys fruit from top-end vineyards for single-vineyard wines such as the 2008 syrah.
Located in the Chehalem Mountain AVA—an easy, 25-mile drive from Portland—the vineyard benefits from a volcanic soil that's topped with a layer of loess (a mixture of volcanic and marine sediment). The tasting room is by appointment only, which gives Landon and general manager A.J. Kemp ample time to tell you about the wine, the soil, and anything else you might be curious to learn. "We can geek out as much or as little as you like," says Kemp, who emphasizes the customized nature of the experience. Landon will prepare a generous cheese plate, and you can spend a leisurely few hours touring the vineyard (originally planted in 1991 by the Benzinger family) and the cellar. You're welcome to play the baby piano or linger on the garden terrace, too, drinking down your bottle of pinot gris as you enjoy unobstructed views of five Cascade peaks. 20210 SW Conzelman Rd, Sherwood; 503-625-1591; $15 tasting fee
Active Traveler Day Trip: Take a Spin
?Biking is one of the best ways to explore the pastoral back roads of wine country. Here are two of our favorite itineraries—one self-guided and the other with a Portland-based outfitter.  
• The new, 132-mile Willamette Valley Scenic Bikeway starts in Champoeg State Park and winds along the Willamette River—past hop fields, hazelnut orchards, and wildlife refuges—all the way to Eugene. The wondrous wineries of the Eola-Amity Hills are just a short detour off the route, at mile 26. And, if you decide to bike the whole thing, there are plenty of bed-and-breakfasts along the way—in Independence, Salem, and Albany. 
• If you're just looking for an afternoon getaway, Pedal Bike Tours will ferry you from Portland to the Willamette Valley for a 12-mile loop down hilly backcountry roads—from Dundee to the Ribbon Ridge AVA. After the ride, you'll be rewarded with tastings at three well-known Dundee Hills vineyards: Erath, the Four Graces, and Lange. 503-877-2453; $89 per person, including bike rental
Foodie Day Trip: Farm Tour
Clare Carver and Brian Marcy are known for their extraordinary farm dinners—where every item on the 16-foot-long wooden table at their Gaston farmhouse is nurtured, slaughtered, and produced on-site. (Marcy makes a staggeringly good smoked pork belly.) But in the fall, the couple doggedly focuses on the harvest. Farming in the spirit of guru Joel Salatin, they raise pigs, heritage-breed chickens (for eggs and meat), goats (for milk), and Dexter cows—they even have a mobile "chicken motel" (inspired by Salatin's Eggmobile) that allows their red rangers to move to fresh grass (and cow patties) each day. You can't buy their beef, pork, or chicken on the farm, but you can add your name to the waitlist for their sold-out meat CSA shares. Meanwhile, do a tasting with Marcy, who has years of experience as a winemaker in Napa. His silky pinots and lush syrahs are already earning high marks from critics; two new pinots will be out in the fall. Expect Marcy's freshly baked bread, myriad cheeses, and smoked pork belly for tasting snacks. Call ahead or e-mail clare@bigtablefarm.com for a tasting and a tour of the farm. 26851 NW Williams Canyon Rd; 503-662-3129; bigtablefarm.com; no tasting fee (only a high expectation you'll buy some vino). The farm will be open to the public on Thanksgiving Weekend, the biggest tasting weekend of the year.
Value Hunter Day Trip
If you have only one day in wine country, make a beeline to the agricultural town of Carlton, home to 20 tasting rooms. Here's a selection to get you started. Tyrus Evans serves Ken Wright's superb warm-weather pinots plus cheese and salami plates ($5) in Carlton's high-ceilinged 1920s train station. Daily 11-5; 120 N Pine St; 503-852-7010; kenwrightcellars.com; $15 for six pours
In the town's 1915 creamery, Scott Paul offers New World and Old World pinot side by side, courtesy of Paul's rotating selection of imported French Burgundies. Fri-Sun 1-5 & by appt; 128 S Pine St; 503-852-7300; scottpaul.com; $10 tasting fee
At the Carlton Winemakers Studio, a cooperative space where new winemakers pool resources and share costs, you can sample wines from the likes of Andrew Rich, Retour, and co-owner Eric Hamacher. Considering that several renowned area winemakers—including Lynn Penner Ash, Scott Paul, and Tony Soter—got their start here, you could be tasting the valley's next big-name vintner. Daily 11-5; 801 N Scott St; 503-852-6100; winemakersstudio.com; $9 for a flight of whites, $10 for a flight of reds
Want more food news, plus editor's picks in every neighborhood, advanced search options, and all of our best-of lists? Download our Gastronaut app in iTunes or Google Play!