Best Restaurants 2011
Best Restaurants 2011: The Comforts
Everyone's got a go-to comfort food that they simply must have. Check out our favorites and add them to your list.
Risotto Night
Bar Mingo is as upbeat as a Labrador retriever, with a happy soundtrack, low-slung couches, and flowered pillows. But the kitchen cooks up plenty of surprise: scholarly, to-the-letter takes on old-school Italian from Genoa's former pasta god, Jerry Huisinga. On any night you'll find Portland's best collection of handcrafted noodles, but on Wednesday nights, Huisinga pulls out an even greater trick: a truly authentic risotto—three batches a night, each nearly an hour in the making, and sent to tables only when ready. In most restaurant risottos, the rice is parboiled early in the day and finished to order, so flavors never really harmonize. But Huisinga's versions, creamy and swollen, hold a savory intensity that's earned only when built from scratch and served within minutes of the last stir. Flavors vary weekly, from chanterelle to pork-and-beef ragù, but the unfortunate lack of sign-up sheets or reservations doesn't change. So slip in, place an order, and wait for a fresh batch. 811 NW 21st Ave; barmingonw.com —KB
Soup in the Back Bar
Higgins may be known as Portland's farm-to-table pioneer, but the kitchen has blazed another path traveled mostly by regulars: the best soup selection in the city. Skip the white-tablecloth dining room and settle in at the homey back bar, where the kitchen ladles out twooptions daily. The repertoire runs from a powerhouse mushroom barley to a fall-fresh tomato and a split pea so creamy it should require an immediate cholesterol check. But you can rest easy—cream doesn't even appear in many of the silky broths at Higgins, as many are vegan-friendly. Soup ingredients, as with other options on the menu, are sourced from local farmers and ranchers. 1239 SW Broadway; higginsportland.com
—KC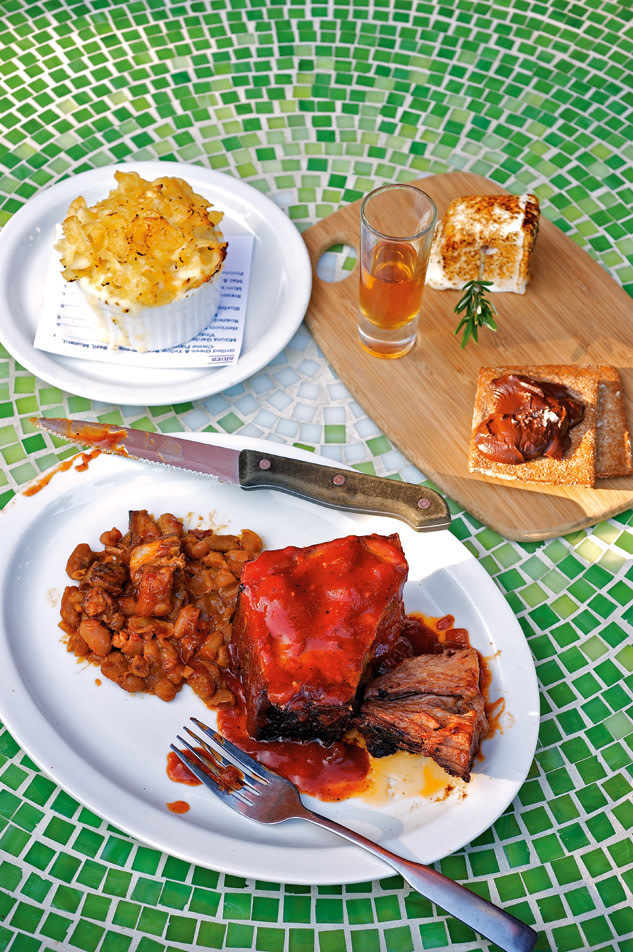 American Splendor
In 2009, Portland's first indie steak house put Bush-era price tags and cigar-chomping atmosphere out to pasture and wrangled a formula fit for the times: farm-connected ingredients, cocktails with He-Man ice cubes, and an inclusive vibe. Most everyone flocks here for affordable steaks fashioned from unsung cuts, but the menu hides one of the best all-American triple-plays in the city. First, land the 12-hour smoked Wagyu beef brisket, a bestial block of tender meat teed up with a shriek of vinegar-punched barbecue sauce and an exquisite top char forged from chiles, brown sugar, and slow heat. Add a side of mac and cheese, bubbling under a golden dome of crushed potato chips with just enough salty crispness to humiliate the usual breadcrumbs. Finish with s'mores, as Portland food fanatics would have them: homemade grahams, torched fresh marshmallows, bittersweet chocolate, and a healthy slug of whiskey to wash them down. 3155 E Burnside St; laurelhurstmarket.com—KB
DIY

Dessert

NE Alberta Street's quirky house of crêpes transforms in the winter: the big garage door seals shut, the patio furniture fades away, and the century-old carriage house turns into a toasty, eccentric escape. On Fridays, the movie projector spools up, flashing black-and-white movies against Suzette's brightly colored walls and hodgepodge of typewriters, ancient telephones, and Christmas lights. But one thing is constant: dessert chef Jehnee Rains, who earned her pastry stripes at Berkeley's esteemed Chez Panisse, still folds up Portland's best sweet crêpes with artful flare. And you get to pick the fillings. Included in the winter lineup: cider-poached apples, marsala-soaked figs, and a scratch nutella from roasted hazelnuts. Even on a chilly night, a scoop of Rains's honey ice cream is a must. Place your order, head inside, grab a hot cocoa with fresh-made marshmallows, and wait for your luscious origami to arrive. 2921 NE Alberta St; suzettepdx.com —BT
Pollos a la Brasa
Inka, not Inca, is the traditional Quechua spelling of the word for the 15th-century empire that stretched along South America's western shore. And despite the strip-mall location, tradition lives on at this tiny Gresham eatery, where Claudia Fernandez roasts up to 40 chickens in her massive, wood-fired oven every day. Served with three increasingly spicy Peruvian sauces—aji verde (dotted with ear-warming jalapeños, this is the mildest option), aji amarilla (a spicy mayonnaise sauce made with fruity-hot yellow amarilla chiles), and aji panca (a deliciously taste bud–burning sauce made with Peruvian habaneros; tender tongues need not apply). This is rotisserie chicken at its finest: juicy, tender, and infused with the smoky goodness that comes only from two hours in the oven. After you finish picking the last morsels from the bone of your quarter or half a chicken, you'll be wishing you knew the Quechua phrase for "more, please." 48 NE Division St, Gresham
Want more food news, plus editor's picks in every neighborhood, advanced search options, and all of our best-of lists? Download our Gastronaut app in iTunes or Google Play!