Best Restaurants 2011
Best Restaurants 2011: Maximal Meat
Get the knife and fork ready for our list of restaurants that cater to the carnivore crowd. Vegetarians need no apply.
Animal House
Missouri native Adam Sappington is evangelical in matters of meat and a master of American vernacular cooking—somewhere between a nose-to-tail preacher and a Southern granny. Shimmy up to the chef's counter, ask for the unofficial "Animal Tour," and watch the procession of proteins pile up. First: a salad of some sort resting under what matters—a haystack of buttermilk-soaked fried pigs' ears. Next: the scrapple-stuffed pig's face, a mash-up loaf of pork parts bound with cornmeal, wrapped in pig skin, sliced, fried in bacon fat, served with a biscuit, and anointed with a sunny-side-up egg. (The dish earned Sappington first prize at New York's Meatopia, a battle of the country's beast-loving chefs.) Finally, you'll enjoy Sappington's idea of dessert: Portland's best fried chicken, skillet-crusted in house-rendered beef tallow. Instead of ice cream, a glob of creamy mashed potato does the trick. 7937 SE Stark St; thecountrycat.net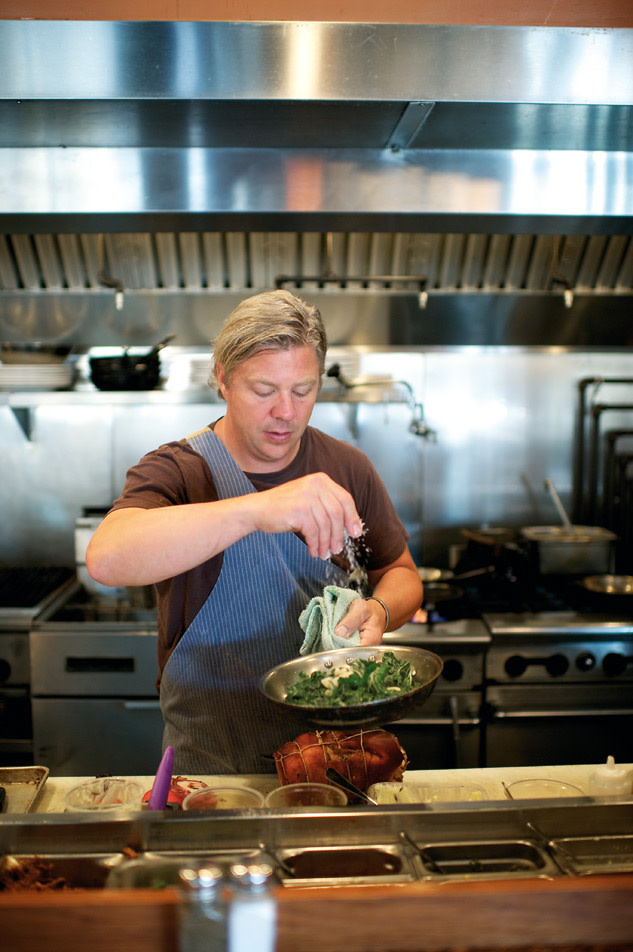 Upmarket Caveman Steak
If meaty exuberance doesn't seem synonymous with Cathy Whims, best take a closer look at Nostrana's menu. True, the restaurant is Whims's love letter to religiously seasonal and devoutly regional Italian fare and perfect pasta, but even the most red-blooded of meat fanatics will satisfy their steak tooth with the bistecca alla Fiorentina. This 2.2-pound, wrist-thick rib steak, seasoned simply with salt and pepper, cooked over an oak fire, drizzled with rosemary and garlic-infused olive oil, and served with lemon wedges, will satisfy your inner upmarket caveman with bites of grass-fed, grain-finished greatness. The mandatory preamble is the insalata Nostrana—a radicchio and rosemary crouton salad with a Caesar-style dressing. It's arguably the most memorable in Portland, and will perfectly whet your appetite for the city's greatest steak. 1401 SE Morrison St; nostrana.com
Porky Extravagance
There's nowhere better to reward winter bravery than chef Cliff Allen's trailer-park pork palace on the corner of SW Ninth Avenue and Alder Street. You don't even have to flip back your parka hood to bark the two most important words: porchetta sandwich. Gorgeous, herb-seasoned, slow-roasted pork is blanketed in crispy cracklings and brightened by seasonal veggies like simple greens tarted up with lemon vinaigrette. The wider menu is ever-changing but always superb, studded with surprises such as egg salad bound by pork fat aioli, or pork cutlets pounded thin, breaded, panfried, then served with pickled cabbage slaw on a locally baked ciabatta bun. The people's pig, indeed. SW Ninth Avenue & Alder Street; thepeoplespig.com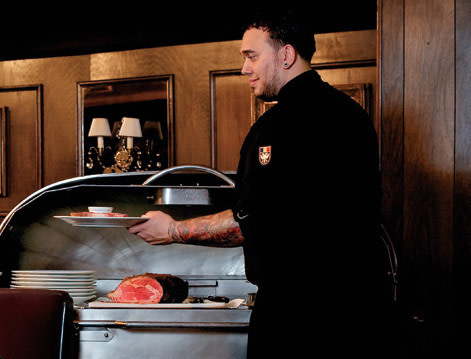 Beef Meets Goodfellas
Step into Clyde's time machine, an antique steak house with a funeral-parlor ambience of dark wood, red velvet, and creepy chandeliers. The mood is a scene in Goodfellas, but directed by the darkly funny quirk-master Tim Burton. On weekends, feel the beating drum, the bask in the wafting saxophone riffs, and savor the eclectic crowd—everyone from real estate power brokers to working stiffs who fill booths and bar stools for live rhythm and blues, the perfect soundtrack for Clyde's namesake dish. A fellow pushing a steel cart wields a metal sword to sever a thick, medium-rare slab of prime rib, baptized in a vat of jus and piled on a plate over mashed potatoes. You'll find yourself asking "Am I in Portland?" The answer comes from Clyde himself: "We source all of our beef locally," he says, a reminder that we never left home. 5474 NE Sandy Blvd; clydesprimerib.com
Charcuterie Fantasy
Where other chefs stop, Gregory Denton pushes beyond. A deft technician with a penchant for hedonism, he builds the Noah's ark of charcuterie boards: a plank of wood parading the animal kingdom, with dips into the ocean and flights into the sky, all best shared with friends along with something bold from the impressive wine list. Recent boards turned up lamb chorizo draped in a quail egg, rillettes of duck and goat bolstered by fruity mostarda and marmalade, and a deeply pleasurable tuna blood sausage. Save the salt-cured foie gras with fleur de sel for last, and don't underestimate accoutrements like house-pickled beets, horseradish cream, and Riesling mustard. Denton works so hard it's doubtful he sleeps—and when he does, he must be dreaming of meat. 1139 NW 11th Ave; metrovinopdx.com
Want more food news, plus editor's picks in every neighborhood, advanced search options, and all of our best-of lists? Download our Gastronaut app in iTunes or Google Play!