Best Restaurants 2011
Best Restaurants 2011: Meat-Free Magnificence
You don't need meat to make a meal. We've harvested five finds for the vegetarian set.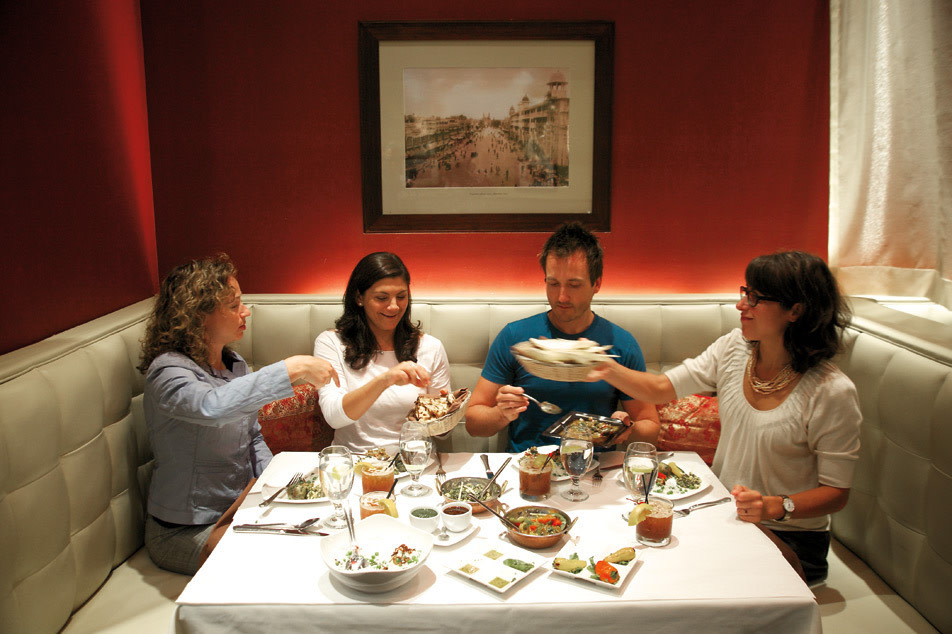 The Holiday Tasting Menu
From the Indian equivalent of wood fire—a charcoal-fueled tandoor oven—comes Portland's best Indian food. But the real find at East India Co is the seasonally rotating, four-course tasting menu showcasing the flavors of Indian holidays, from the bright colors of Holi in the spring to traditional street foods on Mother's Day. Chef Pradeep Chandrana's exploration of northern and western Indian styles uncovers a wealth of meatless wonders, from tandoor-singed mushrooms paired with spicy tamarind-date chutney to a vegetable vindaloo boasting the kind of over-the-top spice not often found in vegetarian food. Arrive early in the evening, snag one of the dramatically plush booths, and lean onto embroidered pillows while you dig into adventurous appetizers, pyramids of delicate rice, and copper dishes hiding vibrant sauces. 821 SW 11th Ave; eastindiacopdx.com
Art & Romance
With its exposed Edison bulbs and gleaming copper-and-steel kitchen, this little Alberta Street spot is that rare place in Portland: all the intimacy and design savvy of our best locavore restaurants without a spec of meat. In short: vegetarian, not hippie. Two four-course, mix-and-match menus appear nightly, but you can also pick off à la carte choices tailored for a vegetarian, vegan, or gluten-free meal. Whatever your dietary path, you'll be charmed by chef Aaron Woo's whimsical approach: edible foraged flowers, swirls of colored sauces, artfully cut veggies, and unexpected mash-ups of sweet and savory and fresh ideas, from tempura-fried oranges to grilled peaches over savory stew. Spring for the wine pairings and turn each course into a vino adventure for less than you'd pay for a bottle. 3033 NE Alberta St; naturalselectionpdx.com
Vegetarian Swank
Genoa
Given its long history of ritualistic prix fixe evenings of lush northern Italian cuisine, Genoa's new vegetarian tasting menu is a revelatory reinvention of a Portland classic. One of two nightly menus, this collaboration between traditionalist David Anderson and farmers market–driven modernist Daniel Mondok (formerly of Sel Gris) yields a five-course, monthly changing vegetable-worshipping feast (with fish options) that is downright playful—not to mention visually stunning. Recent menus have included risotto with goat cheese–stuffed squash blossoms, gazpacho with fennel fronds and chickweed, and fresh ravioli stuffed with sweet corn and pecorino. This is not your parents' Genoa. Come as you are, in jeans or party threads. Three-course, $45 menu also available Tue–Thu. 2832 SE Belmont St
Power "Raw Foods" Lunch
Banish any potential for a post-lunch slump with the ultimate midday energizer: a raw, vegan meal so virtuous it's practically like going to the gym. Blossoming Lotus is Portland's raw-food headquarters, with a rabid following among yoga stretchers for a menu that freely shakes up organic vegetables, grains, and "live" foods with roaming Asian, Latin, and farm-to-table flavors. Try the crispy Thai BBQ salad, an overflowing plate of lettuce and vegetables topped with curried cashews, raisins, toasted coconut, and Thai-spiced barbecue soy curls, or tuck into the live pesto and portobello "pizza" piled with microgreens on a tomato and walnut crisp. Your 2 p.m. meeting will thank you. 1713 NE 15th Ave; blpdx.com
Vegan Heaven, With Beer
Tony Soprano might fidget here, but chef Aaron Adams handcrafts grandmother-worthy Italian dishes, substituting the likes of homemade cashew cream cheese for Jersey-style ricotta. Come with friends, plunk down $23 a head, and let Adams send out the best vegan deal in town—a seasonally tweaked, family-style feast of fresh antipasti, gnocchi, and ravioli paired with outstanding wood-fired pizza and, to finish, homemade coconut ice cream with house toppings, from the kitchen's "Oreo" cookie crumbles to nut brittle. Forget the wine and grab some bottles next door at the Beer Mongers, a bottle shop with hard-to-find microbrews—the perfect place to wait out Portobello's inevitable crowds. 1125 SE Division St; portobellopdx.com
Want more food news, plus editor's picks in every neighborhood, advanced search options, and all of our best-of lists? Download our Gastronaut app in iTunes or Google Play!