BREAKING FOOD NEWS
Naomi Pomeroy to Relocate and Update Beast
Portland's pork princess plans to roll out a new look, new location, and new ideas by September.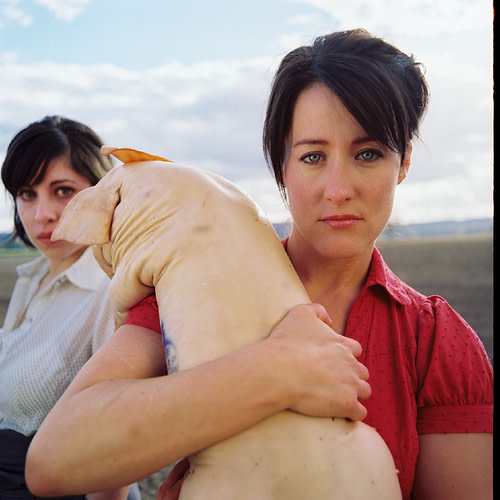 Six years ago, Naomi Pomeroy opened one of Portland's great food experiments, a supper club with reservations, six-course feasts, and major girl power. Now, with a pile of national media clips and two food-TV-star turns under her bistro apron, she's ready to take the next step. Pomeroy tells Eat Beat that she will not renew the lease on her two-table house of cool at NE 30th Avenue and Killingsworth Street. The lease expires in August. Her plan is to take Beast to a bigger location. The signature communal dinners will stay, but Beast will unleash a bar with a playful menu and seasonal cocktails that break with Portland's manly bourbon and bitter-centric drinks. "I want people to come when they want," she says. "Right now, it's just one option—come for the night and six courses. I'm lightening things for us. This town is so dude food."
Pomeroy is scouring downtown and surrounding neighborhoods. Basically, she says, "I'm looking for a landlord excited to have me, what I can bring to a neighborhood." Meanwhile, her longtime culinary sidekick, Mika Paredes, has signed on for the ride.
However it shakes out is bound to be interesting. Pomeroy has great style—no one sets a more beautiful table. Ideas right now to complement the multi-course dinners are in the blue sky phase. "If we go downtown, I'd do lunch. Maybe tapas, Barcelona-style, plates ready to grab; or just a fixed menu. I've toyed with idea to do a walk-by sandwich window, a brick-and-motor food cart. I'm super excited about the ideas."
Pomeroy plans to celebrate one of Portland's most personal spaces with special feasts from now through August, from beer dinners to vegetarian throw-downs. Watch the web site for details: beastpdx.com
Beast
5425 NE 30th Ave
503-841-6968
Dinner Wed–Sat
Want more food news, plus editor's picks in every neighborhood, advanced search options, and all of our best-of lists? Download our Gastronaut app in iTunes or Google Play!