Scene & Heard
Munch Monster
WHERE: The Goldsmith Building, Old Town | WHEN: Snack Time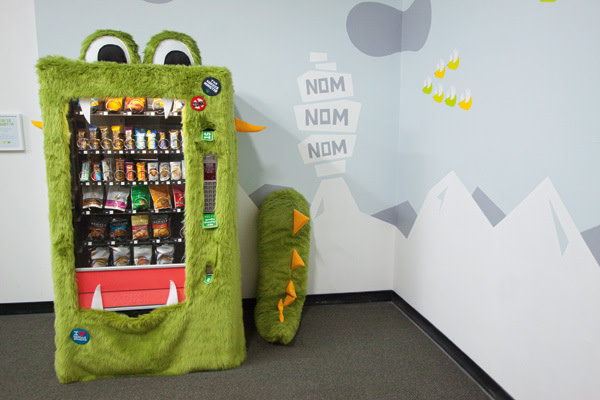 THE BEAST LURKS in a fairly unassuming office lobby in this renovated hive of creative industry. Next to a whimsically painted flock of flying pears, the creature stands approximately six feet tall, most of its rectangular hide (and its vaguely Stegosaurus-like tail) covered in deep green fuzz. Between the jagged jaws that frame the glass front, beneath crazed, googly eyes: snacks.
The Goodie Monster is a vending machine with more personality than most, or maybe any. Feed it your dollars, and the goliath dispenses relatively healthy goodies—Popchips, Luna Bars, dried fruit, Pirate's Booty, and Sahale Nut Mixes. The usual vending-machine whir, in this context, sounds strangely biological.
"When I worked at Weiden & Kennedy I always had a bowl of fruit on my desk," says Mark Jacobs, the 33-year-old father of the Goodie Monster and a strategist at Studio Jelly, a communications firm tucked in the building. "Some people would give me money to help keep my bowl full. That got me to thinking, 'Why isn't there a healthy snack option? How can I make this more sustainable?'"
Jacobs applied a little money and a lot of sweat equity to a used vending machine and 12 yards of green fabric. With construction help from a colleague, the Goodie Monster was born, unveiled to a crowd of Jacobs's coworkers and friends. At the moment, this is the only shag-carpet green giant that exists, but Jacobs hopes to expand. Phase Two calls for four more, with an even bigger invasion to follow. "I daydream of him in schools, day cares, and museums," Jacobs says. "This could work anywhere. Everyone loves good food and monsters."
Want more food news, plus editor's picks in every neighborhood, advanced search options, and all of our best-of lists? Download our Gastronaut app in iTunes or Google Play!