Mudroom
Salt & Straw Teams Up with 5 Portland Restaurants on Unique Flavors
The ice cream collaborations feature flavors ranging from boysenberries to yuzu marmalade.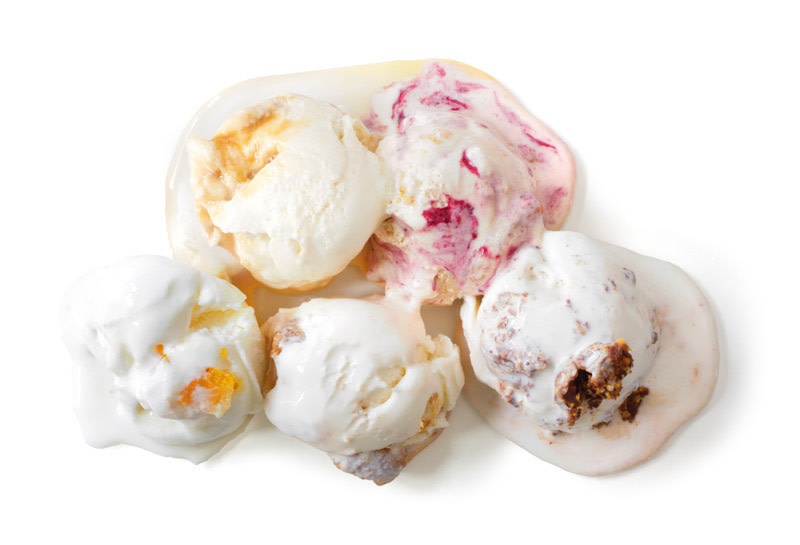 COUSINS KIM AND TYLER MALEK have been serving up their mouthwatering, butterfat-rich ice cream from Salt & Straw's popular NE Alberta Street counter since May 2011—often with a savory twist. With a new shop on NW 23rd Avenue, they're taking their unconventional glacé experiments to the next level, fusing their scoop savvy with the bold personalities of some of the city's most talented chefs to create a "dream flavor" one month at a time.
June
Southeast Asia meets homespun Northwest goodness
COLLABORATORS Aviary's Jasper Shen, Kat Whitehead, and Sarah Pliner
INGREDIENTS
Toasted Coconut Staple in Chinese desserts and candies
Sesame Toffee A nod to Chinese "tea cake"
Boysenberries Fruits of our Northwest bounty
July
French indulgence with a touch of Zen
COLLABORATORS Beast's Naomi Pomeroy and Mika Paredes
INGREDIENTS
Feuilletine Waffle-cone flakes covered in chocolate
Smoked Salt Japanese cherrywood-smoked salt from crystalline paradise the Meadow
August
Daring sweet and salty tango
COLLABORATOR Boke Bowl's Patrick Fleming
INGREDIENTS
Kaffir Lime Leaf Tart leaf found in Indonesian curries
Lemongrass Citrusy seasoning
Fish Sauce Yes. The pungent go-to condiment in Thai and Vietnamese cuisine
September
Rich offal sinfulness topped with playful innocence
COLLABORATORS Ox's Greg Denton and Gabrielle Quiñonez
INGREDIENTS
Foie Gras Marshmallow Buttery duck liver
Veal Chocolate Sauce Hershey's from another dimension
Hazelnut Graham Cracker Childhood treat crumbled generously on top
October
Japanese culture "sustainably repurposed" for Portland
COLLABORATOR Bamboo Sushi's Brian Landry
INGREDIENTS
Sake Fermented rice wine
"Yuzu" Marmalade House-made to simulate the aromatic, tart, grapefruit-like fruit ubiquitous in East Asia
Want more food news, plus editor's picks in every neighborhood, advanced search options, and all of our best-of lists? Download our Gastronaut app in iTunes or Google Play!