Style Spotlight
The History of Coral Vintage
A spotlight on the movie plot like history of Portland's Coral Vintage.
The history of Coral Vintage sounds like a movie plot.
Three years ago Christine Power was surfing the Internet one night when she stumbled upon a vague Craigslist ad. It advertised a massive lot of vintage clothing spanning from the 1930s to the 70s with no price mentioned and only detailed that any potential buyers had to take all of it, or none of it. Her gut feeling said that lot of clothes was meant to be hers.
The next day she and her husband, Justin, trekked out to Rainier and after getting lost numerous times found themselves at an estate that bred monkeys, cats and sloths. Feeling as if they might be victims of an elaborate prank, they sat with an unfriendly no-nonsense woman who clearly didn't enjoy the process of selling things online. While a tiny monkey repeatedly climbed frantically from one of her shoulders to the other the woman told the Powers that she was the niece of a man who had been "part of Hollywood." The details were vague, no name was ever given, nor was it offered. But whoever he was, he had spent decades of his life collecting a jaw dropping collection of women's vintage.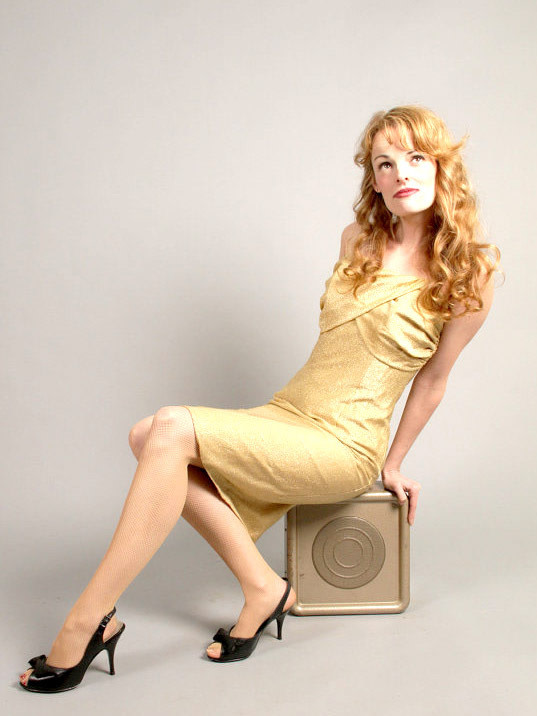 She then took the couple out to a three car garage where the clothing had been for an unspecified amount of time, though she had mentioned at one point the uncle had died a decade before. Inside were racks and racks (and racks) stuffed with one pristine vintage piece after the next, boxes of perfect heels from the 50s, piece after piece of vintage eyewear, hats galore, and even dozens of wedding gowns. Justin began calculating the amount of inventory while Christine started unzipping dresses looking for quality and labels. As she did, she saw Chanel, Lilli Ann and tags showing some of these dresses as far back as the 30s had never even been worn.
As they looked through the racks upon racks and pile after pile they discovered wedding gowns, 40s silk kimonos, smart 50s suits, hundreds of little black cocktail dresses spanning nearly five decades and oh-so-many accessories. Justin's math left them with a rough estimate of at least 6,000 pieces of pristine vintage and Christine knew it had to be hers. She and Justin had become parents at the ripe age of twenty and for the last decade plus she'd devoted her time to being a mother and after walking through the garage knew it was time for her to do something for herself.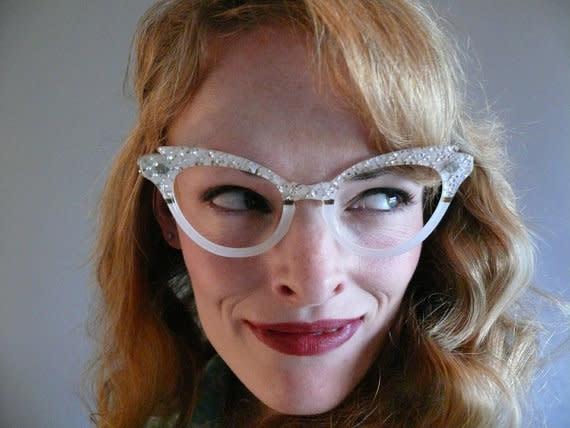 The not-so-friendly host asked them to make an offer, which after some brief conferencing, they did. It was immediately rejected. After some intense haggling, they reached a price to which the niece told them they had exactly 24 hours to return with the cash and the U-Haul or she would give it to another buyer. Being a young family with three children and a mortgage didn't exactly leave them in a position to have thousands of liquid cash on hand, let alone the time to rent a U-Haul. Their home's basement apartment was currently rented out to a college student, so they had to add finding a warehouse space to the list.
With some tricky maneuvering they managed to find the space, get the U-Haul, half of the amount in cash and the other half in a check (confident she would take the half in cash as a good faith they were trying to get it all together) and make it back in 24 hours. The niece instantly refused to accept the check and sent them away giving them an additional 24 hours to come back cash in hand. Add another day of stress, U-Haul rental and driving to and from North Portland to Rainier and finally the lot belonged to them.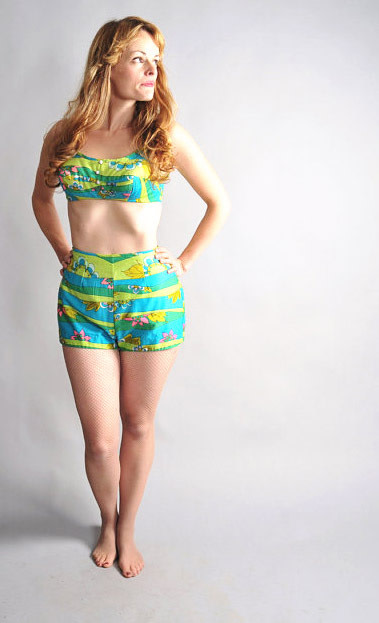 Cut to the present (and three years later) and Coral Vintage sells some of the most well kept and pristine vintage I've ever seen. Many pieces show no signs of wear and in my grand imagination I believe the mysterious uncle was a costumer for MGM and saved every woman's ensemble from each film he did creating his legacy that somehow didn't get passed on in full. Whether that's the truth might never be revealed, but I do know the afternoon I spent in the basement apartment of Power's house (where the collection now resides) pawing through racks and racks was one of the most fun fashion moments in my career.
If you are in love with vintage, stories, Hollywood or just pretty dresses look into Coral Vintage. Her Etsy shop is constantly updating and unlike a lot of traditional vintage pieces, she has waist sizes that run from a modern day 2-14. But for every item you see online, there are hundreds (even thousands) more where that came from. Watch it like a hawk or make a private appointment with a couple girlfriends to go see the collection and all the items not online yet.
It's the chance to take home your own little bit of a Hollywood history mystery.
Visit Coral Vintage online or email owner Christine Power to make a private appointment through their Facebook Page.