Trail of the Month
Trout Lake Ice Cave
Activity: Spelunking | Distance: Less than a mile | Rating: Easy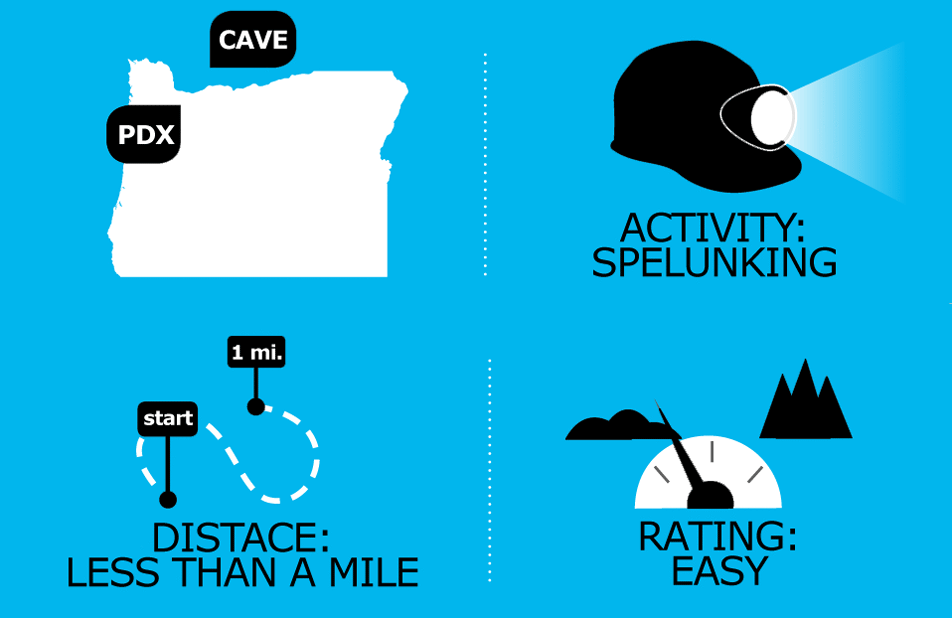 WHY

IT'S

GREAT
Known as a lava tube glaciere—a cave that traps cold air and forms ice—the Trout Lake Ice Cave is nature's version of Superman's Fortress of Solitude. Accessed by a wooden stairway, the cave stretches some 650 feet and contains four chambers piled with otherworldly icy pillars and columns. The frozen formations are so prodigious that early-20th-century barges would ferry chipped ice taken from deep within the cavern to Hood River and The Dalles. Even if you'd rather not spelunk into the icy abyss, there are typically plenty of crystallized stalagmites to inspect just inside the cave. More adventurous souls can click on their headlamps and explore the eastern portion, called the Crack Room. This low-slung, off-kilter recess retains the heavy, cold air that seeps into the cave each winter, resulting in ice masses that can endure long into summer.
DON'T

FORGET
Nearby, off of Forest Service Road 24, another short, well-signed trail leads to Natural Bridges, a pair of basalt land bridges lying over a canyon that were formed by a partially collapsed lava tube.
POST

-

HIKE

WATERING

HOLE
The Station Café Thru-hikers plying the Pacific Crest Trail routinely seek a dose of comfort inside this friendly eatery tacked onto the Trout Lake Chevron. Griddle-cooked burgers are the mainstay, but the daily specials like pot roast and crispy fried chicken and biscuits provide extra fortification for weary bodies. 2374 Hwy 141, Trout Lake, Wash.; 509-395-2211
TRAILHEAD

DIRECTIONS
From Vancouver, head east 64 miles on Highway 14 to Underwood, and turn north on Highway 141 Alternative. Drive 20 miles to Trout Lake. Continue 4 miles past the Mt Adams Ranger Station to the end of Highway 141, which becomes Forest Service Road 24. Head west on FS 24 and look for the Ice Cave sign, and turn left to park at the cave's entrance. Note: FS 24 can remain snowpacked until summer, but the cave can still be accessed by parking at Atkisson Sno-Park and hiking about one mile down FS 24 road. Northwest Forest Pass required. $5, available Mt Adams Ranger Station in Trout Lake;509-395-3400
This article appeared in the
May 2011
issue of
Portland Monthly.