things to do
Wooden Shoe Tulip Festival
admire fields of flowers, buy bouquets and order bulbs at Wooden Shoe Tulip Farm this April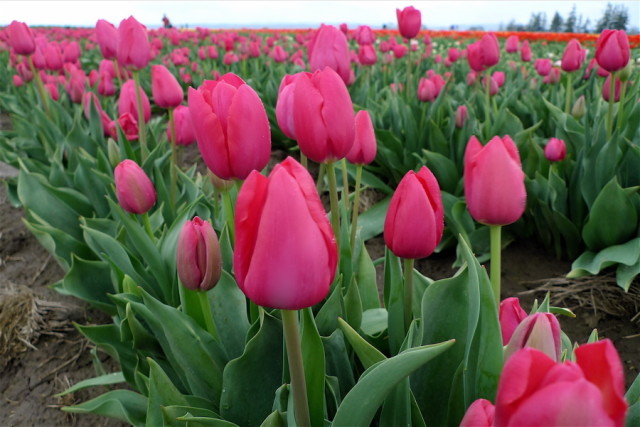 In the Pacific Northwest, late March is when the earliest tulip blossoms begin to color up and crack open. Flower development is a little slow this year thanks to recent cold temperatures, but the Wooden Shoe Tulip Festival is rarin' to go! They have the games and pony rides for kids ready, German sausage and Mexican food booths cookin' and flowers cut for bouquets!.
But the main draw is the immense fields of brightly-colored tulips. There's just something about the old-fashioned jolliness of it – so different from the rarefied pleasures of city gardens. As with other rural flower festivals in the Willamette Valley, it's many things: agricultural display, unrepentant glorification of color and floral finery, and even a return to childhood, when perhaps we weren't so jaded that we couldn't be dazzled by fields and fields of jewel-like flowers.
Of course, for anyone who scrutinizes color, Tulip Fest is a great opportunity to concentrate on picking out those tulips we can use in particular schemes. The tulips are mostly labeled, both in the fields and in the small square display beds. You can also find an array of daffodil cultivars to compare. It's great to see what the blossoms and even foliage look like in damp Oregon spring weather versus on the glossy pages of a catalog. Sometimes, they look better – more subtle and attractive in person than in the pages of a catalog. (By the way, click here to have a catalog mailed to you, or to read the digital version here.
If you're wondering whether there will be anything to see in the fields yet, check out Wooden Shoe's field report before you go. There, you can determine how far along the fields are and what you're likely to see. They say they're at least a week behind normal bloom time, which isn't surprising, given how cool it's been this spring. (My photos here were taken on March 28 of 2010, which was ahead of this year by several weeks.) So mark your calendar, but maybe give it a week or two – unless you are the type who is as excited by the anticipation as by the event itself. The fields probably won't be showing those brights bands of full-on, knock-your-socks-off color until the second week of April, weather permitting.
DETAILS:
WHAT: 27th Annual Wooden Shoe Tulip Festival
WHEN: Fri March 30 to Mon April 30 / hours: daily 9 am to 6 pm – gift shop open same hours during Fest
WHERE: 33814 S. Meridian Rd., Woodburn, OR 97071 – directions here (it's about 45 minutes from Portland, 30 minutes from Salem)
COST: Parking – cars $5 weekdays, $10 weekends (unlimited passengers); bikes and motorcycles are always $2 each; and buses are $20 always.