Mudroom
Marrow Minded
When cocktails meet carnivores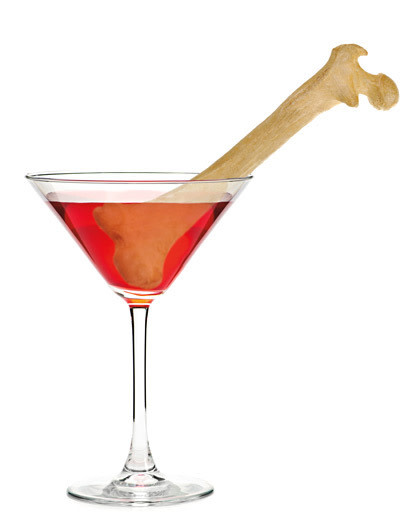 IN RECENT MONTHS, a new hedonistic practice called "bone luge" leapt from insidery blogs to evening-news novelty stories. Bone luge? A drinker orders a crosscut, roasted marrow bone, eats the marrow, then drinks top-shelf booze through the bone. True to our leaders' desire to make Portland an innovation hotbed, this contribution to the high life was invented right here.
It happened at the end of a long night in 2010. Metrovino bartender Jacob Grier found himself at the meat-centric E Burnside Street restaurant Laurelhurst Market, along with Ron Dollete, a noted LA cocktail blogger, and Paul Willenberg, a local drinks enthusiast. It was Portland Cocktail Week, which probably explains why the trio decided to shoot fine tequila through a cow femur. (The name "bone luge" references "ice luging," a method for shooting vodka or other spirits.)
Many great ideas have, of course, died at that stage. But within a year, Grier persuaded Metrovino to add bone luge to its menu, and Willenberg built a website at boneluge.com. Grier's other gig, as a traveling liquor sales rep, spread the gospel. Soon, restaurants in New York, LA, Denver, New Orleans, and Oklahoma City dabbled. The New York blog Gothamist anointed bone luge as "the new drinking fad food writers love to hate."
This reporter luged with Contrabandista Valdespino, an amontillado sherry Grier recommends as a "pairing." The marrow didn't overwhelm the burnt caramel flavor of the sherry, and together, they were surprisingly delicious. However, the future of this trend could be medically challenged. When asked about the risks of excessive bone luging, Grier replied, "Gout."
Want more food news, plus editor's picks in every neighborhood, advanced search options, and all of our best-of lists? Download our Gastronaut app in iTunes or Google Play!