phile under: art + music fest
AC/VC at AudioCinema
It's Art/Music Festival Weekend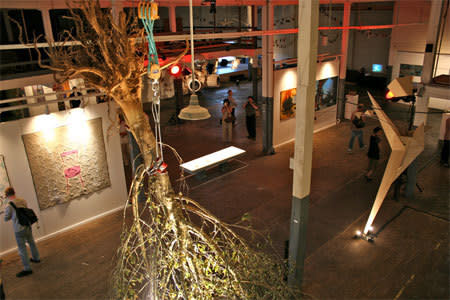 If you cross the Hawthorne Bridge, you'll have seen the handpainted sign that sprouts from the roof of AudioCinema. Among the polish of surrounding billboards and signage, this sign sports a single, rollered word. It has at times read "XOXO," "Breathe," "Tree." Something is going on down there, you may have thought to yourself. And you'd be right. That something is a 10,000 square foot space devoted to studios, rehearsal and recording space space; a space that has hosted PICA's TBA Works after parties and annually, a visual arts/music blowout.
Doubling down on an already packed art weekend, Saturday night is AudioCinema's (226 E Madison) annual art and music extravaganza, AC/VC (AudioCinema Visual Collective).
This year, the fourth for the event, AC/VC features 20 visual artists and 16 live bands, primarily those who work in the studios in the building. The event runs from 6 PM to 2 AM (all-ages until 11 PM).
Visual artists include: Candace Gossen (paintings), Dustin Zemel (video), Evertt Beidler (sculpture), Ilan Laks (paintings, photos), Cat Coats (paintings), Marian Slakie (paintings), Jacob Perkins (video), Mike Albano (paintings), Heidi Wirz (paintings), Jennifer Sims (fashion), George Perrou (paintings), Michelle Thompson (photography) – Musical artists include: Strangeletter (Lush electronic/ live rock), Casper Maccabee (storytelling rock ensemble), Jacob Perkins (singer/songwriter), Search Party (pop trio), Defeating the Purpose (experimental), Hotter than a Crotch (party band), Drunken Prayer (troubadour, gypsy, blues), Noise (Ambient, electronic soundscapes), Battle Axe Massacre (Metal), Doonevetter (Bluegrass), The WokenBokes (Rock-n-Roll), Julius (Singer/songwriter).