phile under: art
Manor of Art Opening at Milepost 5
10 Days, 100+ Artists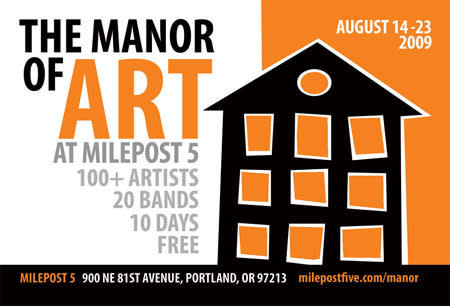 A Chris Haberman painting is an exuberant cacophony of figure, word, cityscape. It's as if he took it ALL in, remixed, edited, and began to paint. His style rooted in comix and graffiti, Haberman is a populist artist who is both prolific in his own practice and incredibly active as curator and event impresario, lately as Portland City Art.
Does Chris Haberman sleep? Lately, probably not.
Haberman put together the roster of the 100+ artists who are making art in and of the rooms at the Manor of Art at The Studios building at Milepost 5 (900 NE 81st). And you can expect the results to be like a Haberman painting: busy, a little chaotic, and with far more going on than can be taken in at a glance. Opening tonight, August 14, this weeklong art show fills a building that's in transition from retirement home to artist live-work studios. On opening and closing weekends, bands play Friday from 6-9 PM and Saturday from 3-9 PM, and on Wednesday and Thursday evenings next week there will be performance.
Does this remind you of the Modern Zoo in 2003? The former Columbia Sportswear HQ in North Portland that Brian Suereth and Gavin Shettler transformed into a jumble of artists, projects, performances that shared little more than that they happened in the same massive space at the same time?
The problem at hand is how to navigate the jumble: three floors of rooms of art. Here's hoping that there is some kind of road map as to who's where. The full list of artists is below, but I understand it's not complete. On the list, there are a few surprises, a few not-to-be-missed, and some artists who simply can be counted upon to deliver.
In particular, I'll be looking for rooms from Cris Moss, Liz Haley, Kelly Rauer, Laura Fritz, Brennan Conaway, Tiffany Lee Brown, and Justin Gorman. And I think it's safe to say there will be something for everybody.
Matthew Haggett has been tweeting as @Room_119, cleverly doing four-tweet twitterviews with some of the artists, many of whom have been working on their rooms for weeks. And Richard Schemmerer is coordinating one of the public spaces with artist-created altars.
Artists include:
Adam Bailey, Adam Charles Ross, Alicia Rose, Amy Jorgensen, Amy Ruppel, Andrea Nelson, Anna Solcaniova King, Anni Tracy, Angela Gay, Appendix, Ben Pink, Brennan Conaway, Urban Eden (Bret Hostetler and Andrew Wenna), Brin Levinson, Brooke Weston, Chris Haberman, Cris Moss, David Stein, Derek Ecklund, Derek Olsen, Eatcho, Erin Nations, Ezra Johnson-Greenough, Gabe Flores (w Jerry Gilmer), James Wood, Gabriel Decker, Gabriel Liston, Gary Wiseman, Heather Hawkins, Heidi Elise-Wirz, Jennifer Doheny, Joe Shea, Joel Barber, Jason Brown, Jason Graham, Jeff Fontaine, Jennifer Mercede, Jeremy Schultz, John Graeter, John Meyers, John Wray, Jonathon Hill-Jacquard, Jonathan Stanish, Karah Bruce-Larkin, Hypnokomix/Kate Fenker, Keith Rosson, Kelly Rauer, Moto Galore/Kenneth Wright, Klutch, Luke Heinrich, Maggie Casey, Marian Spadone, Mart Schaefer, Matthew Haggett, Matt Schlosky, Meredith Andrews, Michael Fields, Michael Costello, Michael T. Hensley, Misty Ray, Molly Cliff-Hilts, Nathan Bennett, Nicole Linde, Hypnokomix/Jason Squamata, Rachel J. Siegel, Rebecca Shapiro, Richard Schemmerer, Rob Pellicer, Roscoe Hall II, Roxanne Jackson, Sarah Kamsler, Scott C. Johnson, Sean Joseph Patrick Carney, Steven Plount, Tender Loving Empire, Tamara English, Taylor Cass, Tiffany Lee Brown, Tomita Designs, Travis Taylor, Troy Briggs, Tyler Corbett, and apparently that's not all.
Gallery hours will be
1-10 PM Saturday, August 15
1-5 PM Sunday, August 16
1-7 PM Monday-Thursday, August 17-20
1-10 PM Friday and Saturday, August 21-22
And there will be gallery tours each day at 2 PM. There will be an artists' round table discussion Sunday, August 15 at 3 PM.
Bands include:
August 14, 6-9 PM The Prids, Worlds Greatest Ghosts, Magic Johnson, Boy Eats Drum Machine
August 15, 3-9 PM Atole, Jeffrey Jerusalem, Church, Quiet Countries, Rollerball, Holliday Junction
August 21, 6-9 PM Climber, Boy In Static, Chores, Bryan Free and The Doxyhounds
August 22, 3-9 PM Blue Skies For Black Hearts, Dirty Mittens, Jared Mees and The Grown Children, Southern Belle, Charmparticles, Tango Alpha Tango