phile under: hot art
When I Say Hot, I Mean Molten
Portland Iron Pour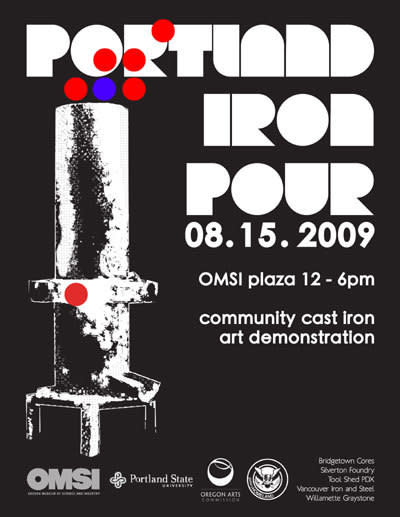 Artist Ben Stagl is going to make art of molten iron at OMSI tomorrow from 12-6 with a little help from his friends and visiting artist and veteran iron caster Dan Matheson. Stagl has been talking for years now about cast iron in contemporary art. He's visited pours in other cities and in the UK attended an international conference. He came back determined to have a pour in Portland, and with galleryHOMELAND's Caitlin Moore is making it happen.
The pour, as Stagl tells it, is a community event…no artist working alone in his studio here. And he's inviting the greater Portland community to join in, not only as spectators around the cupolette (furnace), but as fellow artists. On the day of the pour there will be blank molds or scratch plates that will be cast for spectators to personalize and take home with them.
Kudos to Stagl for having the tenacity to pull together the resources to make this happen. HE'S BUILDING A FURNACE WHICH MELTS METAL, for crying out loud. I'll be there.