STAGE
The Shows to Know
27 reasons to stand and applaud the upcoming fall arts season
THEATER
No Exit
No Exit, the existential drama that gave audiences Jean-Paul Sartre's most famous line, "Hell is other people," follows three unrepentant sinners—a cheating wife, a master manipulator, and a sniveling coward—who seem destined to torment each other for eternity. This is the fifth time Jerry Mouawad has directed the play in 11 years, and his unique adaptation includes a specially constructed 17-foot-by-17-foot stage that shifts with each actor's movements, strengthening the illusion that the characters are adrift in the black void of an unstable universe. Mouawad infuses humor into this austere drama for an experience he describes as a mix between watching the theater and the circus. While the question of whether Sartre's characters are in eternal damnation or in purgatory remains, Mouawad's spirited rendition of No Exit is sure to hypnotize audiences as they travel the highway to hell.—Laura Klairmont
Ben Franklin: Unplugged
Josh Kornbluth is Ben Franklin. Or, at least, he thinks he's Benjamin Franklin. Kornbluth's one-man show takes his resemblance to the turkey-loving founding father and turns it into a moving, often charming, monologue about the fiery dynamics that form the heart of the father-son relationship.
All My Sons
War profiteering, family, and the American Dream are examined in Arthur Miller's World War II–era classic. Miller probes deeply into the ethical quandaries surrounding man's politically motivated killing of man, a bloody topic that, sadly, remains as relevant as ever.
The Trojan Women
Set in the bloody Bronze Age, Euripides' play—still sharp 2,000 years after it was penned—explores the heartbreaking toll that war takes on the children and wives left behind by soldiers. Told in traditional Greek style, The Trojan Women is directed by Elizabeth Huffman and stars venerable local actress Vana O'Brien.
El Dia De Los Muertos Festival
The Day of the Dead celebration began in Mexico as a way to fête life in the face of often tough times, a sentiment that seems especially noteworthy now. Portland's longest- running such festival raises spirits literally and figuratively with a colorful and unabashedly boisterous fortnight of dance, music, and theater. 
POP

MUSIC
Musicfest Northwest
Call it a festival if you insist, but really, MusicFest Northwest is a deafening, overstimulating game of musical hopscotch. Now in its ninth year, MFNW places 180 bands into 18 venues scattered across the city and dares you to see them all. Faced with a roster of acts that includes Bad Brains, Explosions in the Sky, and Girl Talk, you might end up spinning between the choices. Luckily, whether checking out recently reunited emo godfathers Sunny Day Real Estate or local folk upstarts Blind Pilot, it's hard to go wrong. The weekend culminates with the Glacial Pace Recordings Showcase, where, after showing off new bands like Mimicking Birds and Morning Teleportation, label chief Isaac Brook will take the stage with his own band—a little group called Modest Mouse.—Victoria Nguyen
The Killers
Love them or hate them—it's hard to deny that this glitzy band of Vegas kids knows its way around a sticky pop tune. In the arena setting, front man Brandon Flowers's over-the-top wardrobe and outsize ego seem right at home, and a song like "All These Things That I've Done" sounds like the most powerful song ever written.
Ian Anderson
The man who made the flute cool (at least between 1971 and '72), Jethro Tull's Ian Anderson gives the band's massive catalog a classical makeover with Ian Anderson Plays the Orchestral Jethro Tull. When he gets to "Locomotive Breath," feel free to bust out a little air-flauting.
Grizzly Bear
After four albums of precious, delicate, and stirringly beautiful rock, Brooklyn's Grizzly Bear has finally hit the big time. Appearances on the Late Show with David Letterman, headlining gigs at festivals, a spot on the Billboard charts, and a national tour have left mouths agape and maybe even a few eyes damp with tears.
Monsters of Folk
A supergroup consisting of critically fawned-over musicians' musicians, the Monsters are Jim James from My Morning Jacket, Conor Oberst of Bright Eyes fame, Portland's own M. Ward, and multi-instrumentalist Mike Mogis. It's like an alt-rock reimagining of the Traveling Wilburys, with, no doubt, a lot more screaming female fans.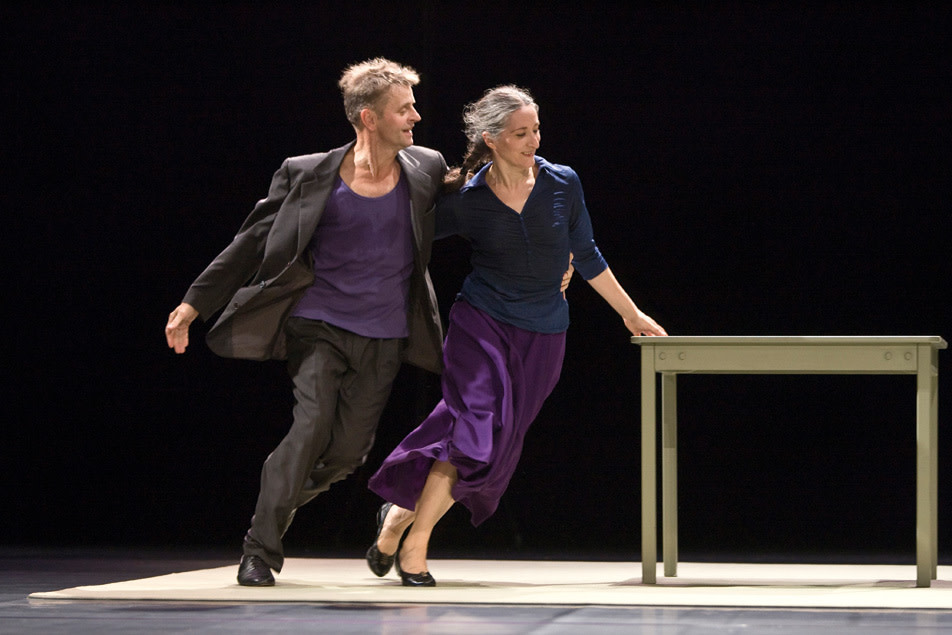 DANCE
Three Solos and a Duet
Dancers' names rarely transcend the insular world of their chosen medium—unless you're Mikhail Baryshnikov. The Russian dancer has become an ambassador of sorts, reaching beyond the confines of his own expertise to become a pop-culture icon. Whether it's his photography, his brief stint as Alexandr Petrovsky on Sex in the City, or his work as the founder and director of the Baryshnikov Arts Center, his name is familiar to young and old alike, even if they know nothing about dance.
Which makes Three Solos and a Duet, a pointedly mature and captivating piece of ballet featuring Baryshnikov and the highly acclaimed Ana Laguna, something of a can't-miss event. At 61, he continues to awe crowds with his mind-boggling physicality. No doubt, that's part of the reason why the New York Times described the collection of vignettes as "hardly portraits of a diminished star … rather, they are portraits of the dancer as a mature artist, one with remarkable physical clarity." —Keri Miller
Bandage a Knife
Linda Austin's influences range from Deborah Hay to Charlie Chaplin. Now you can add noir lighting and outrageous imagery of the gangster flick Branded to Kill to the mix. Austin teams up with video artist Seth Nehil to create what should be the fall's must-see indie dance performance.
Emerald Retrospective
This performance commemorates the first 20 years of Oregon Ballet Theatre, Portland's most-celebrated dance troupe. First up is George Balanchine's masterpiece Emeralds, followed by a mash-up of works created by OBT during its first two decades.
TBA
Over its seven years of existence, the Portland Institute for Contemporary Art's Time-Based Art Festival, or TBA, has honed a streak of rebellious creativity. It's not enough to think outside of the box, after all—the box must be torn asunder, tossed in the air, and maybe even set on fire. Pushing boundaries is good, but demolishing those boundaries? Even better.
Which makes the subversively potent play Small Metal Objects a perfect example of what it means to experience TBA in 2009. On the surface it's modern theater, a kind of Guy Ritchie–esque caper full of wisecracking hoods and foul-mouthed dupes involved in a shady deal gone wrong. Except in this case, the actors, members of Australia's Back to Back Theatre, all have developmental or intellectual disabilities, which gives a solid tweaking to the old tropes of good and bad, normal and abnormal.
Then there's the presentation. The audience is assembled on a small riser overlooking a public area (Pioneer Square is the group's dream venue) and given headphones. In this slightly sensory-deprived state, we watch as Small Metal Objects uses Portland's living room as a bustling backdrop, clueless pedestrians mingling with the play's principals, who slowly emerge from the crowd as the plot unfolds. And if one of the square's more colorful "characters" decides to throw himself into the action? Well, then, the proverbial box is destroyed—just another day at TBA.—Bart Blasengame
Armed with a seemingly infinite collection of boleros, Hoghe and his dancers throw their bodies into various interpretations of this classic slow-tempo Latin musical form in a celebration of physical virtuosity. Even as Hoghe morphs his body until he resembles a dwarf or a hunchback, his movements remain beautiful.
In this visceral dance/music/video performance, the line between chaos and composure is blurred, and the dancers seem to battle against their very own bodies for control. Arms and legs pop and flay in a combination of contemporary and hip-hop dance styles, all backed by a wall of images and pulsing electronic music.
Friedlander has performed with everyone from Courtney Love to John Zorn, but here the cellist takes the stage alone as photos of long-ago vacations taken by his father, Lee Friedlander, are displayed in the background. The music and images combine for a story of adventure, bonding, and family tension.
Dancers Meg Stuart and Philipp Gehmacher turn the thrill and promise of young love into movement in Maybe Forever. As singer-songwriter Niko Hafkenscheid strums his guitar, the pair act out a relationship on the verge, tiptoeing the delicate line between happiness and heartbreak. 
CLASSICAL

AND

OPERA
Orphée
With a libretto taken from Jean Cocteau's 59-year-old retelling of the Orpheus myth, Philip Glass's chamber opera is an unsettling addition to a season with the theme of "Love & Marriage." Spirited baritone Philip Cutlip makes his Portland Opera debut as the famous and misunderstood Parisian poet. Ridiculed by his peers, the self-absorbed Orphée plunges into creative crisis and becomes obsessed with death, incarnated as the seductive Princessa (sung by soprano Lisa Saffer), who orders the death of Orphée's wife, Eurydice. Glass composed the opera, a tribute to the passion and loyalty of married love, shortly after the passing of his own wife. The piece is performed entirely in French, and its expressive score and threats of motorcycle-riding agents of death make Orphée a bold leap into contemporary opera.—Addoley Dzegede
Cirque de la Symphonie
Veteran contortionists, aerialists, jugglers, and strongmen pair the magic of the circus with the music of the Oregon Symphony. This mesmerizing marriage is fueled by classical masterpieces conducted by Gregory Vajda, ranging from Georges Bizet's Les Toréadors to pops performances that Jedi-loving fans will certainly recognize.
Thomas Hampson
One of the world's top baritones and a protégé of Leonard Bernstein, Hampson headlines Friends of Chamber Music's Vocal Arts Series. The recital features Hampson's "Song of America" project, honoring the 250th anniversary of America's first published song.
Haochen Zhang
The gold medalist at this year's Van Cliburn International Piano Competition was also the youngest contestant. The fleet-fingered 19-year-old kicks off Portland Piano International's season with a concert that features works from Beethoven, Brahms, Ravel, and Liszt. 
FINE

ART
Raphael's The Woman with the Veil
When promoting the Portland Art Museum, executive director Brian Ferriso is a soft violin in the wake of his trumpeting predecessor, John Buchanan. But after a year of negotiations and a little luck, even Ferriso might want to sound the brass a tad over the arrival of Raphael's painting The Woman with the Veil. It's more than just important, says Ferriso: "It's really important." Among Raphael's most famous pieces, the painting has rarely left Italy since it was created in 1516; it's considered to be one of the great works of the Renaissance. The woman in question is rumored to have been Raphael's lover, the daughter of a local baker, and is also the subject of his provocative nude Portrait of a Young Woman. "It is a great artistic treasure," Ferriso says, "one that should be appreciated by humanity." —Kim Winternheimer
The Language of the Nude: Four Centuries of Drawing the Human Body
These 60 rarely seen master drawings of the unadorned human figure are original and unique expressions of how the human body has been drawn over time. Included in the collection are pieces by Michelangelo, Jacques-Louis David, and Albrecht Dürer.
Hayley Barker
Barker uses the idea of monsters to explore the concept of otherness in her exhibition Chimeras. Her style merges the control of representational drawing with a craftsmanship of risk that allows for spatters and drips. The brightly colored, cartoonish ink-and-gouache compositions in the series are simultaneously repulsive and alluring.
October Country is an investigation of this multidisciplinary artist's life and family. Using photography, film, and written narratives, Mosher considers the nature of human interaction and experience, and the measures we take to find our individual place within contemporary society.
M.K. Guth
Guth's hair-braiding project, Ties of Protection and Safe Keeping, wowed Portland—and New York, when it was shown in the 2008 Whitney Biennial. Her latest installation, Terrain Change, tells the story of a mermaid whose home lake dries up. In it, Guth explores what happens when the elements that define you suddenly disappear.
Donal Mosher
October Country is an investigation of this multidisciplinary artist's life and family. Using photography, film, and written narratives, Mosher considers the nature of human interaction and experience, and the measures we take to find our individual place within contemporary society.