phile under: contemporary dance
Independent Shorts x 3
new work from choreographers Keely McIntyre, Katrina O'Brien and Lucy Yim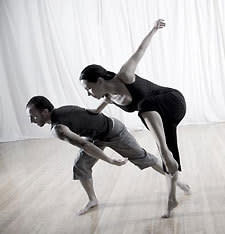 Tell me you are making dance that considers randomness, predetermination and boundaries of self, and I'm there. Independent Shorts: 3 new dance works beginning tonight at Conduit (918 SW Yamhill, Ste. 401) features work choreographed by Portland dance artists Keely McIntyre, Katrina O'Brien and Lucy Yim. These younger dancers are great movers who are developing clear points of view. Let's see what they've been up to.
From the press release:
Drift (McIntyre, in duet with Noel Plemmons) considers the themes of randomness, predetermination and the boundaries of 'self', and features an original music score by Jay Clarke.
Rent to Own, choreographed by KO&Coo's Paige McKinney and Katrina O'Brien, takes you on a journey of ownership by relinquishing, shifting and defining it at every turn through a series of five movement vignettes.
Out of Joy, a piece inspired by Electrelane's music, emerges from Yim's collaboration with dancers Sara Naegelin, Jin Camou, Lena Sradnick and local musicians.
The show runs tonight, August 27 through August 29 at 8 PM. Tickets $12-$15 sliding scale.