phile under: dance
Fall.ART.Live
OBT's free outdoor festival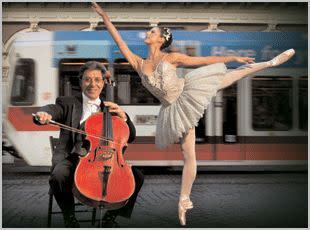 Today is Fall.ART.Live outside the Oregon Ballet Theatre's southeast studio (818 SE Sixth at Belmont). It's a free outdoor festival running from 11 AM to 6 PM with both workshops and performances, so bring your dancin' shoes.
See the full schedule on the Fall.ART.Live website with performances by Northwest Dance Project, Linda Austin Dance, Portland Opera, Metro Dance, Polaris, Bouand, Josie Moseley, and of course OBT. I'm for sure going to see Linda Austin at 1:30 and stick around for Northwest Dance Project at 2:45.
And all these companies will be on hand: Bouand Dance, Creative Advocacy Network, Do Jump, Fuse Theatre Ensemble, Hand2Mouth Theatre, Jayanthi Raman, Josie Moseley, Linda Austin Dance, Livewire! Radio, Metro Dancers, Miracle Theatre Group, Mississippi Studios, Northwest Dance Project, Oregon Children's Theatre, Oregon Cultural Trust, Oregon Symphony, PICA, Polaris Dance Theatre, Portland Actors Conservatory, The Portland Ballet, Portland Baroque Orchestra, Portland Center Stage, Portland Opera, Trueheart Productions, White Bird.
Although I really missed OBT doing their annual ballet in the park residency in the South Park Blocks this summer, I have to applaud this free dim sum tray of dance with a little theater on the side that OBT's offering up. This kind of ecumenical spirit in trying times lifts all boats. Bravo. (And I'm really glad it's not going to be 106 degrees today…perfect for an outdoor fest.)