phile under: design
Design à Trois
AIGA three night design fest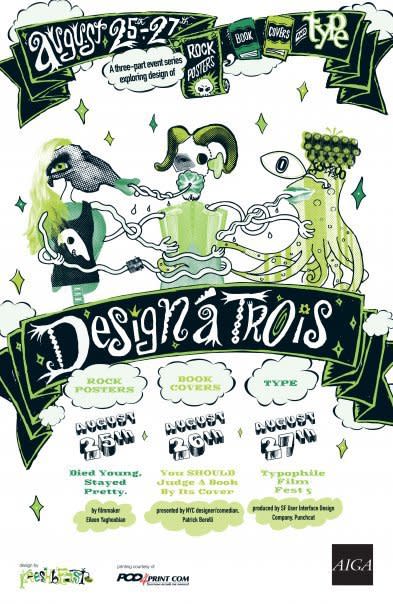 It's time for Design à Trois, three nights of design-loving programming from the Portland AIGA.
First up, tonight at Cinema 21 (616 NW 21st), see acclaimed rock poster design documentary, Died Young, Stayed Pretty by filmmaker, Eileen Yaghoobian who will be at the screening. After the screening Yaghoobian and a panel of local rock poster designers Art Chantry, Dan Stiles, Guy Burwell, Mike King and Lloyd Winter will field questions from the audience with moderator, Tim DuRoche.
Wednesday at 7 PM at the Art Institute of Portland (1122 NW Davis) NYC designer/comedian, Patrick Borelli does You SHOULD Judge a Book by Its Cover covering (ha ha) "50+ of the weirdest book cover designs."
And (!!!!!) on Thursday also at the Art Institute at 7 PM, Portland gets to premiere Punchcut's newest installment of the Typophile Film Fest (see trailer above), a collection of typographic film shorts.
For more info on each day of DaT, check details from AIGA:
Day 1: Died Young, Stayed Pretty
Day 2: You SHOULD Judge A Book By Its Cover
Day 3: Typophile Film Fest