phile under: art + institutions
Portland Art Museum Launches Multimedia
PAM posts videos of Artist Talks, lectures, and more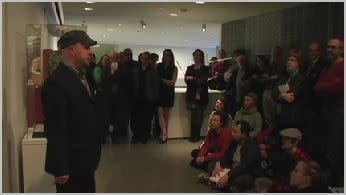 This is good good good. The Portland Art Museum has launched a multimedia section on its website collecting video of artist talks (highlights), lectures, and more. I think all the time about ways that our experiences with art and the conversations surrounding it can move back and forth between the real and online worlds.
I also think a lot about documentation and its value, and this week am thinking that when there is too much going on to see it all, good documentation means I can still experience in some way a program that I missed. I can have my cake and eat it too!
Artist Talks are excerpts from this fantastic series featuring Portland artists like TJ Norris, Pat Boas, and Michael Knutson talking about work in the museum. You could view Boas's video before you see her upcoming exhibition, Record Record at Marylhurst's Art Gym. Or check out what Norris thinks about Duchamp's "Boite-en-Valise" and one of Sol Lewitt's Open Cubes after you see the two shows he's curated that are currently on view, Grid and SQFT (in the window of Blackfish Gallery).
Lectures and other talks now has the Adam Gopnik lecture "Museum, Children, and Meaning." And this hour-long video captures one aspect of what's so great about this: I wasn't able to attend that lecture, but sat in on a great small-group discussion with Gopnik on the same topic the next day. Now I can go back and hear the lecture as well.
And finally, Conversations about Works of Art features short videos of "curators, educators and others" talking about work in the museum's permanent collection that "amazes, puzzles, and challenges them."
What's more, the video isn't a one-way transmission, because the museum has opened up them up to your comments.
Kudos to Christina Olsen, the museum's Director of Education and Public Programs, for making this happen via a Kress Foundation grant and a visit from Smarthistory, a project designed to use informal conversation and multimedia to teach art history. The Portland Art Museum is, in fact, Smarthistory's first museum partner. Beyond "teaching" per se, this effort is a great leap forward in creating new ways for us to engage works in the museum.
We have this technology to make this possible. It's not rocket science. And Smarthistory shows it won't break the bank. Here's hoping the museum continues to grow this offering.