phile under: art + dance
Oregon Painting Society + Woolly Mammoth Comes To Dinner
at The WORKS tonight!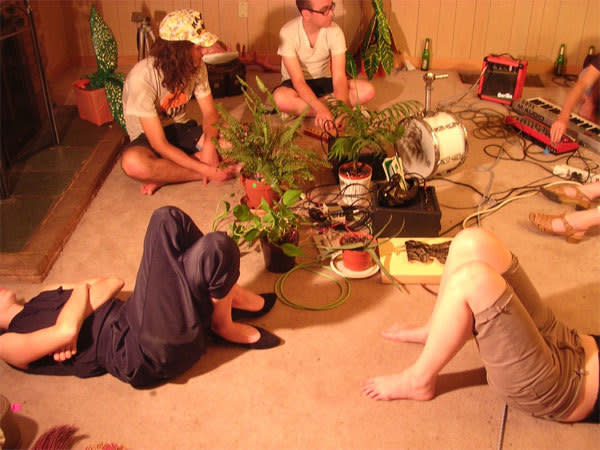 This post—with its wall-to-wall effusiveness about this show tonight—annoyingly disappeared. So maybe we'll go with just the facts and hope the computer doesn't again eat my homework.
Arts/music collective Oregon Painting Society performs with dance group Woolly Mammoth Comes to Dinner and Dragging an Ox Through Water tonight at 10:30 PM at The WORKS for PICA's TBA:09 Festival.
Both OPS and Woolly deserve more attention than I have time to give them here. Suffice it to say I like what Oregon Painting Society is doing: group practice, object making, sound, handmade instruments, environments, ritual, music that makes me want more, plus Temporary Autonomous Zone(!). And I could watch Woolly dance all day/night: witty, thoughtful, unexpected, beautiful, and fun as hell. And like two great tastes that taste great together, they make for one eagerly anticipated show.
Roll Call: Team OPS is Matt Carlson, Barbara Kinzle, Birch Cooper, Liam Drain, Brenna Murphy. Team WMCTD is Katie Arrants, Rikki Rothenberg, Kathleen Keogh
And DAOTW is Brian Mumford.
Listen the interview Eva Lake did this with OPS and WMCTD on her Art Focus show on KBOO. Here's a Q & A of sorts I did from long ago with Woolly. And on both websites there are enough videos to keep you busy until 10:30 PM.
See you tonight.