phile under: TBA
Let's Do This: PICA's TBA:09 Festival
10 day art+performance festival begins Thursday
Working out my schedule for PICA's TBA* Festival is always a challenge. I feel like I'm coordinating a military campaign. Ten days of time-based visual art, of contemporary dance and experimental theater, not to mention salons, lectures, chats, and late-night fun at the WORKS. Too much to see, talk about, to do…it's bound to be overload in a very good way.
Portland-based artist Linda Hutchins is clearly a lot more organized than I am. Here's her TBA schedule: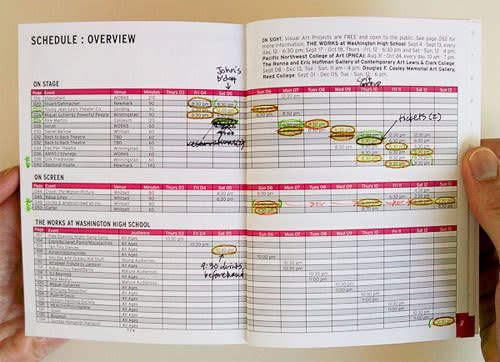 The primary conflict I found was being able to see Younger (Ethan Rose, Laura Gibson, and Ryan Jeffery) at PDX Contemporary Art at the same time (Sunday, Sept. 6 at 6:30 PM) as Linda Austin dances in Brody Condon's piece at the Cooley Gallery at Reed College. Hutchins' solution? As Condon is a 15 minute piece, hit that first and then run to PDX Contemporary…Younger is 210 minutes.
The result of weeks of studying, dogearing, scribbling in my TBA schedule, a summary of my game plan looks more like this: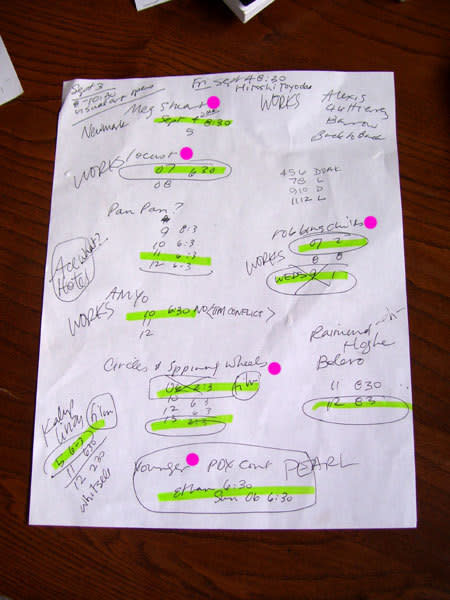 And this is the cleaned up analog version which has now been input in digital form to my Google calendar (making it sound more organized than it is). My hot pinks are must see's: Meg Stuart & Philipp Gehmacher, locust, robbinschilds (I hear they're building a geodesic dome!!!), and the Melody Owen-curated video evening Circles & Spinning Wheels, plus Younger, Stephen Slappe's "We are Legion" and Fawn Krieger's "National Park" at Washington High and Brian Lund at PNCA's Feldman Gallery. Finally, you'll kick yourself if you don't see Oregon Painting Society with Woolly Mammoth Comes to Dinner at the WORKS.
Russ Gage, QDoc film festival producer and TBA box office manager, is looking forward to Miguel Gutierrez and the Powerful People which I'm seeing Friday evening.
Artist and PNCA Feldman Gallery curator Mack McFarland can't wait to see The Shipment.
What are you going to see?
See you Thursday night at the WORKS at the former Washington High School in SE at 8 PM for the opening of the visual art works ON SIGHT and then at 10:30, Gang Gang Dance!
I'm tweeting the Festival at @lisaradon if you're into that kind of thing.
*NOTE: We've been chanting "TBA" along with the rest of the initiates, but just quickly, for those who don't know, every year the Portland Institute for Contemporary Art (PICA) produces a Time-Based Art Festival. Time-based art to distinguish from static art-on-the-wall includes contemporary dance, experimental theater, film, and visual art. It happens at theaters and venues all over town for just 10 short days.