phile under: TBA
TBA Opening Night
Washington High School was lit up last night as if it were prom for the kick-off of PICA's Time-Based Art Festival (TBA:09).
PJ Harvey (I thought he was kidding about his name) altered the facade of the high school with projected video that both played off the architecture, running static in just one of the windows or creating starry skies between the illuminated columns. A delightful surprise. Typically Harvey does this kind of video work for clients like Nike and the Trailblazers. Here he was able to play.
Inside we got our first taste of the visual art component of TBA:09, No Such Place, curated by Kristan Kennedy, which I'm happy to see foregrounded as festival opener this year. It's the strongest visual art showing the festival has ever seen. Classrooms on two floors of the building have become theaters for the video works and galleries for installations. And there was art in the halls as well. Blair Saxon Hill and Teryl Saxon Hill used found items to create a great, Joseph Cornell-like installation in one glass-front cabinet while elsewhere, there were anonymous interventions like the open lockers stuffed with file folders and a cloud made of cards from the library card catalog in the Lounge.
The halls and rooms were pulsing with people—families, seniors, scads of young people, arts heavy hitters, festival artists, and lots of familiar faces—moving in and out of the galleries, chatting in groups in the halls.
Among the works I am longing to return to see more of even now are Johanna Ketola's "The Walls of My Hall," a multi-channel video installation spilling through three smallish rooms which features figures isolated against a black ground. One dances, many are still, standing, seated, prone. Melancholy and beautiful, I'll be revisiting this soon.
Another is robbinschilds + A.L. Steiner's "C.L.U.E." A stack of televisions is situated in a carpeted geodesic dome with one side removed. Some show a solid bright color, others natural environments like a stone face, and on others two dancers in bright monochrome dance by the side of a freeway, in the middle of a desert, in a pool. It was my favorite piece in the show.
Ethan Rose's "Movements" stopped visitors in their tracks as they listened to the dozens of music box works affixed to the white walls intermittently and delicately sounding. There was a mixture of wonder, of puzzling out what they were hearing, and a good dose of "how did he do that?" We found Rose in a hallway on another floor taking it all in.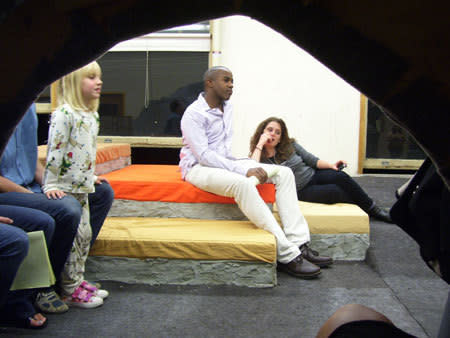 Kids stacked foam "rocks" into cairns in Fawn Krieger's "National Park" while the "bear" looked on and Krieger lounged on and took snapshots while chatting with PNCA's Arnold Kemp. I just wanted to curl up in the cave and sing, "They paved paradise and put up a parking lot." After watching Krieger's process via her journal, I was shocked to see how much of this felt and foam environment had been paved with concrete or tarred. And perhaps this is just the right reaction to a piece that calls into question how we might just love natural spaces to death simply by visiting them or making them visitable.
Elsewhere, kids of all ages played with Jesse Hayward's "Forever Now and Then Again," movable boxes of many sizes that were precariously stacked on and between two shoulder-high boxes when I visited. It's easy to forget that each box is six paintings screwed together. Unfortunately, a lot of the boxes were out of reach for the shorter participants, but here too, it will be fun to see the room change as time goes on.
In the only Oakland moment (Gertrude Stein infamously said about Oakland "There isnt' any there there) Peter Coffin's untitled piece in an unlabeled room featured a lonely and very sweet attendant who waits until you ask "What's this about?" (Not "Can I have a circle?" or "Can you draw a circle around my friend?") He fishes chalk out of his pocket, draws a chalk circle around you on the floor, says, "It's about you." Cringe. It may be more interesting later in the exhibition when the ten or so circles already on the floor multiply as a record of just how many visitors a.) find the piece and b.) care to play the game.
If there were production bumps along the way, they were forgiven. The sound for robbinschilds + A.L. Steiner's "C.L.U.E." was not working, but I agreed with artist/poet/educator Bethany Ides who said that she liked it plenty without the sound. Being herded out of the building at 9:30 although gallery hours were supposed to be 8-10 was awkward. We stood outside for maybe an hour before we were able to make our way slowly back in to be carded (ha ha). But not before a nameless band did a one minute show on the field outside. Gang Gang Dance prima donna'd by not showing up for a sound check until 9:40 for a 10 show and then they didn't take the stage until well after 11. We didn't care, and neither did the shining faces tilted toward the stage in the sweet old high school auditorium.
A few tips. The entrance faces West. So stairs on SE Stark are the way in. Oh and bring a sandwich. There's a cool vending machine stocked with Fuban snacks, but the only food we found (in spite of plenty of liquid sustenance) was outside…a vegan taco cart.