phile under: TBA dance review
Review: Meg Stuart/Philipp Gehmacher Maybe Forever
It just feels like forever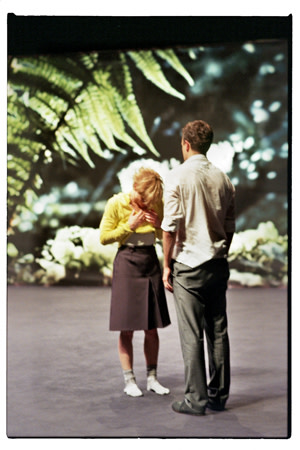 She is alternately turned in on herself—her shoulders thrust forward, arms awkwardly crossing and wrapping—and reaching, often skyward.
He awkwardly moves as if compelled by forces outside of himself. He is jerked, he fumbles, he winces, he too reaches but as if he can't fully extend.
Meg Stuart and Philipp Gehmacher begin in semi-darkness on the ground. The gulls begin to cry over the wrecked bodies washed up on the stage as they roll toward and over each other and away again.
Lights reveal the backdrop: an oversized photo of fern, clover, and two dandelions that the wind is blowing to pieces. There is a low three-tiered platform stage right and an amp, mic, and guitar stage left. From here, Niko Hafkenscheid will sing the beautiful, melancholy songs like the "Maybe Forever" of the title which from moment one is ironic as its clear we're seeing a slow unraveling.
Expressions flit across the dancers' faces and they briefly move through familiar poses (like lying on their sides facing one another) as if to tell us we are watching the abridged version of every reaction to every moment that ever made these two happy and un-. And then there are waiting stillnesses.
When Maybe Forever is good, it is very good. The two slip again and again through embraces that are accidental, almost inadvertent, and fleeting. These sequences are thrilling for their glancing blows at intimacy. A moment when he slumps across her as she's rigidly seated, is tragic. Another when lying on a too-narrow platform, they roll over and over as if trying to find a comfortable spot until she's rolled off the "bed" altogether is funny/familiar until it is terribly sad.
She approaches a microphone and begins "Remember when I sent you that postcard and said, 'I wish you were here?' I take it back." She punctuates a string of statements that she takes back with arm movements that have her tied up in knots.
He brings a microphone onto the stage but does not use it.
When finally at the end, he does, he struggles with the words. And when he speaks it's too late. Not just for the imagined relationship (she is gone), but for all of us—the piece is too long perhaps by a third. When she approaches the mic for a second pretty standard-fare spoken word piece, or when Hafkenscheid picks up the guitar for yet another lovely song, the audience begins to shift in their seats.