phile under: TBA art
Review: Brody Condon's Without Sun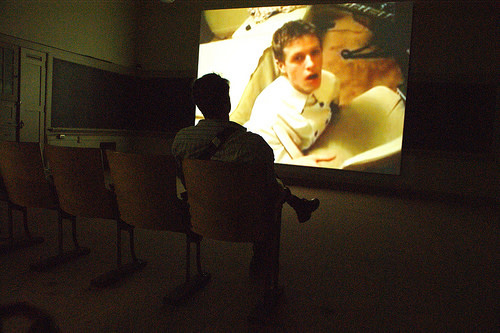 "This is going to be the best video ever," says one of the "actors" in Brody Condon's video Without Sun, now on view at the WORKS at Washington High School for PICA's TBA:09 Festival. "I wish it would stop 'cause I want to just watch it."
The "it" he is referring to is his experience having taken an unnamed psychedelic drug and turned on the video camera. Brody Condon has edited together footage found on the Internet of "individuals on a psychedelic substance." They roll on the ground or kneel flopped over a sofa or face the camera and fidget. They moan, they laugh, they talk in circles. Whatever else is going on, they are clearly experiencing a disconnection between mind and body.
In Sunday's live performance of Without Sun at the Cooley Gallery at Reed College, Condon made the inspired choice of a further disconnection: actor Russell Edge performed the voice and dancer Linda Austin performed the movement from the video. The only prop was a white cube. There was no soundtrack. Edge stands behind Austin, his face is expressive as he yells, mutters, queries incoherently, and laughs maniacally. As she wove her arms and body through the movements Austin held her face expressionless: when Edge laughed, Austin's body convulsed but her face remained placid. Both Edge and Austin were perfect choices here, Austin because she was able to keep "dance" out of this and matter-of-factly execute the movements, and Edge because he was able to capture this range of roles pretty brilliantly.
These layered disconnections between body and voice and even emotion and expression further exaggerate the user-initiated disconnect via psychedelics. At the same time, bringing an audience into the room with these stand-ins for the "actors" plays up the void between those who recorded and uploaded the original footage and the audiences they might have imagined for that footage of their highly personal experiences.
While viewing the video feels like partnering with the "actors" in their own self-initiated exploitation, viewing the performance made space for me to appreciate the pacing, humor, and sly juxtapositions of Condon's editing.
Naming the piece for Chris Marker's Sans Soleil, Condon is suggesting that his piece deals with travel, memory, perception. He presumably refers in a facile way to "trip," but more interestingly to the desire to turn on the video in the first place to record the experience—to provide an objective, external version of events that the "actor" can compare with his or her interior version or memory. "I just want to watch it." Consider the gaps between any subjective version of events and the events themselves made acute under these circumstances.
Best line of the piece: "'Cause my hair is cold so some are going to be like that."
See Without Sun at the WORKS at Washington High School, SE 12th and Stark.