phile under: art review
Review: Bobbi Woods at Fourteen30
The folded fold: Does Louise Lawler Make Marilyn Monroe Cry, Andy Warhol? Ask Bobbi Woods. This Los Angeles artist falls in a long line of artists employing the strategy of folding the found back on itself. Her "Does Brian Kennon Make You Cry?" exemplifies this, appropriating a Lawler appropriation of a Warhol while making reference in the title to another LA artist she's worked with employing a similar strategy.
But for the most part, Woods appropriations are handled in a less pleated fashion: pop images radically edited as in her current show at Fourteen30 Contemporary (1430 SE 3rd). Works from Woods' "As Long As" series feature an isolated image on a white ground: photograph of a mouth, a foot in a shiny platform shoe, a chrome chair frame. If one were to see only a reproduction of the works, one might wonder if each image were cut from a magazine or poster and affixed to white paper. Seeing the works up close one realizes that the image has been masked, the whole piece sprayed in white enamel, and the mask removed.
Floating world
Woods' decontextualized (unlike collage which recontextualizes) images float literally as well as figuratively, but they never fall far from the tree of sensuous commercial image from which they were plucked. It's partly because of the power of the image Woods chooses to isolate and partly because beneath the paint the rest of the piece is still there, and so there is an invitation to fill in blanks, to consider the rest of the story of the image, to see what isn't there. Thus Woods' not only appropriates the images made by the creators of her found commercial images, but appropriates as well their tried-n-true strategy of obscuring for purposes of titillation or at the very least, generating further interest. That she goes back to the newly-liberated 70s to find her images can be no accident.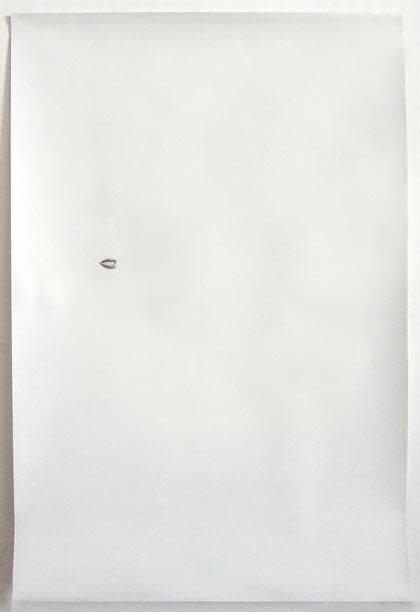 Is it wrong that I love big, shiny trapezoids?
Ironically, it was not found image but a massive glossy black trapezoid that seduced me. Woods applies the powerful, graphic form to obscure image in her "Nothing/if it feels good" series Woods in producing multiple edits of the same film poster for the 70s erotic film Emmanuel, the tagline for which is "Nothing is wrong if it feels good." In the first two pieces, the word "Nothing" hovers above a sliver view of a man's head in silhouette…below is the familiar ratings letter X. In the last of the three, the trapezoid is flipped and words "if it feels good" are seen above a woman's ecstatic face in profile. Taken together, the three pieces tell all (and I think it's odd that they'd be sold individuall), but in case you didn't get what's going on Woods provides a framed Emmanuel poster, sans trapezoid and thus showing the two women and a man, on the opposite wall.
That the black form suggests the the bar across the face of girls wearing fashion "Don't"s, call girl ads in family newspapers, and redacted portions of government texts released under the Freedom of Information Act, demonstrates the multiplicity of possible relationships in our visual culture between what is seen and what is obscured. But that black trapezoid is also a powerful shape, a kind of symbol for the power inherent in the creation of one's own remixed experience of visual noise to which we're daily subjected.
Back to Marilyn. Woods plays on slippery ground with the images that serve as foundation for her work. The standard issue post-feminist reclamation of image of the objectified female for both purposes of critique and empowerment is a well-worn if dubious path. But by employing an exaggerated version of framing/editing tools common to pop image makers (Photoshop, anyone?), Woods seems to be able have it both ways: creating powerful image with a little hide-and-seek while questioning both intent and means of her source images.
In an editing of another kind, the subject of the male gaze happens to be male. "Strip Search" is an editing down of what purports to be a vintage Bureau of Prisons training video on visual searches in a way that highlights or again isolates its erotic overtones. And if, in fact the "training video" source is vintage erotica rather than training vid, Woods again executes a neat double fold.
REVISED: Replaced actual title of "Brian Kennon" Marilyn Monroe piece with whatever wack title I accidentally gave it in first edit. : )