phile under: TBA dance review
Review: Miguel Guitierrez and the Powerful People Last Meadow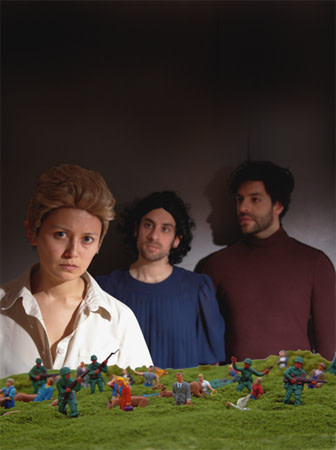 This is The One.
I'll say up front that I'm not going to give you a play-by-play because You Must See Last Meadow by Miguel Guitierrez and the Powerful People (Michelle Boule and Tarek Halaby) at PICA's TBA:09 Festival, and I don't want to spoil its smart unfolding, full of surprises. Guitierrez and Co. quite simply kicked my *ss while keeping me delightfully on my toes.
Like bread dough kneaded back in on itself again and again, repeated sequences of dialogue and motion fold and refold as inaudible dialogue slowly resolves or in repetition becomes absurd and enigmatic pantomimed motions reveal themselves (e.g. a clapping motion revealed to be the simulation of knocking on a door). Cumulatively the sequences address alienation, gender, difficult relationships (familial and otherwise), honor…themes that are as fresh (like a wound) in 2009 as they were in the 1950s when the James Dean films from which they're drawn (East of Eden and Rebel Without at Cause) were made.
Pearls on a string, the segments add up to both a heartbreaking/pessimistic view of the human condition and defiance in the face of same via an over-the-top, sweaty, non-stop dance-dance extravaganza that would kill lesser dancers. And these are rare, rare birds, extraordinary dancers who just so happen to also be captivating actors.
To illustrate the slow-reveal that occurs throughout, witness Michelle Boule instructing the others on a series of isolated, mundane movements they execute in unison. "Left thumb opens." "Closes." Slowly we understand that we are watching (in triplicate) a woman sitting up in bed, reacting to something we can't see. "Face down." "Cry." They begin a fake cry. We laugh. The cry continues and becomes more real. We stop.
They return to this instructional device for the sensational climax with Boule exhorting the others to perform movements with names like "tits toss," "tickle forearm," "arbitrary gestures," "explosion," "Richard Nixon the Magician," and "drama." She berates them, she chides them, and they Work It. The names are as inventive as the movement here and throughout, witty and honest, and never predictable. From violent simulated sex to a face-framing hand gesture, movement is borrowed from the everyday but is bent into new forms and deployed in configurations that feel subversively new.
For all of its razor sharp, compelling execution, the piece is constructed to call into question our expectations of a theater experience. By toying with linearity and conventions like exits/entrances (there are no wings) and even costumes, by pretending to reveal process in rehearsal-like do-overs, Guitierrez never lets us become so absorbed in the performance that we forget that we're watching a performance. Until he does and we're all carried away. Without revealing too much about too much, I can say that at one point, the house lights go up, the trio stretch, leave the stage, drink water, make small talk as if the performance were over. It's not. And when it's not it is. You'll see.
Kudos to Neal Medlyn for a score that is right on, from noise elements to dance track. I don't know who to credit for this, but the stripped down unison performance of Madonna's "Physical Attraction" slayed.
If you're looking for a package wrapped up for you tidily, this isn't going to be it. But if you want an exhilarating, shiny, brilliant Rubik's cube with a big sweaty bow on top, you are going to love this show like you've never loved before.
In the one section of dialogue that does not seem to be drawn from Dean films, Guitierrez says, "America is a disaster. No holds barred. …No excuse. My dreams when I sleep are nothing. … So I dream when I am awake…that what I do is celebrated, that my performances get me sex…." No doubt, based on last night's performance, not a problem.
See Last Meadow at the Winningstad Theater at PCPA tonight and tomorrow night at 6:30 PM or Monday, September 7 at 8:30. Then we'll talk about it.