phile under: gallery hopping
Get Schooled
PNCA at First Thursday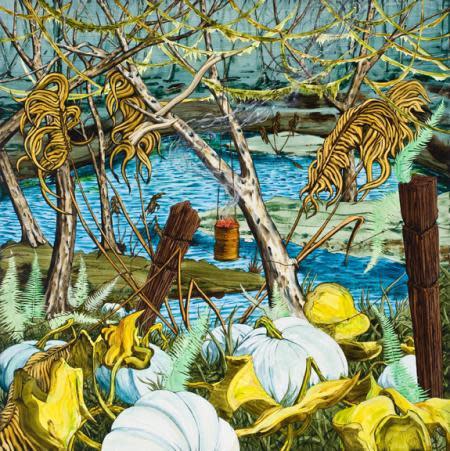 Even though the PNCA exhibit at the Portland Art Museum has closed (moment of silence), we still have the luck in October to see some great work from the college, as galleries across the city have teamed up to honor the college's centennial by showing work from its current students and its notable alumni. Then again, you probably would have figured this out by the second gallery you went to.
Going out during the year, it's striking how often the galleries across Portland are dominated by those with PNCA roots, be they faculty or student, the rest of the time. As great as it is that these galleries all worked together this month to show local talent, what's even better is the commitment they show it for the other eleven months.
Anyway, here are a few shows to watch for.
You have to go across the river to see newly-minted PADA member Fourteen30's one-time-only First Thursday event in support of the show from PNCA faculty member Nan Curtis, and recent PNCA MFA Nicolaii Dornstauder. It looks to me that the show won't be a collaboration exactly, but it will feature both artists dealing with themes about survival, with Dornstauder working with leather, wood, and cardboard addressing the outdoors, and Curtis using her multimedia dexterity to focus on domesticity.
Back on the west side, Laura Russo will have a triptych of PNCA history featuring 19 different artists, moving throughout the college's last century of output from early figures such as Louis Bunce and Manuel Izquierdo to living artists such as Lucinda Parker and Jay Backstrand.
Still hanging around is Hayley Barker's Chimeras at Charles Hartman, using images of monsters to deal with our conception of the "Other."
The Elizabeth Leach Gallery gets post-apocalyptic with vibrant large-scale acrylic paintings from PNCA faculty member Ryan Pierce. Another entry in the post-apocalyptic zeitgeist (The Road, The World Without Us, uh… Zombieland), Pierce uses the narrative structure of Holocaust novel The Painted Bird and takes a hopeful stance, as former industrial centers return to nature.
Finally, as a little intrigue, Indigo @ twelve's (you know, that giant/garish condominium tower that popped up across the street from Powell's that looks like something from the South Waterfront that got dropped off at the wrong address) PNCA Hybrid Gallery has a student exhibition named "Possible Progress in Body Relations." After a call to PNCA, we're still not sure exactly what it's about, but it should be a fun surprise.
UPDATE: There's a one-two PNCA punch just next door to Elizabeth Leach. PDX Contemporary's PDX Across The Hall exhibition space and Pulliam Gallery partner to show work by Patrick Abbey, Derek Franklin, Anna Gray+Ryan Wilson Paulsen, Molly Vidor, Linda Hutchins, Paul Overbay, Yoshihiro Kitai, G. Lewis Clevenger, Kay French, Thomas Conway, Milton Wilson, George Johanson, and Raul Mendez. — L.