phile under: art
Review: Micah Malone's Sell Out at Worksound
Large enough to feel architectural, the centerpiece of Micah Malone's "Sell Out" at Worksound is a a flat-sided oval sculpture with an overhanging lip, tiled in wrinkled mylar.
I have to say it instantly called to mind the shape and scale of San Francisco's public toilets, although Malone says that he means it as a generalized modern architectural form.
In the larger room there are photos of the surface of sculpture. In one grouping reds and blues create a kaleidoscopic effect in crinkled mylar extending to the edges of the image. In another set of two, if eyes are to be believed, the result is what looks like an impressionist picture of a studio with smokey colors and smudgy, painterly feel of reflection in smooth mylar.
There are three dispensers containing silver-painted forms that repeat the shape of the large sculpture, but here look more like pills cascading down plastic tubes that extend to the ceiling. And the words "Sell Out" are spelled out in light rope.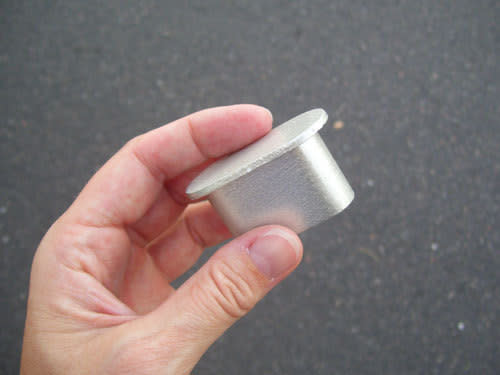 The artist intends that the viewer take one of these little replicas of his larger sculpture as if it were a souvenir snow globe. And this is the crux of the show. I, of course, am always curious how a viewer learns how the artist intends for him or her to interact with the piece. Malone says that he left clues: the crumpled mylar pile on the floor a reference to Felix Gonzalez Torres candy pour giveaways. But if Gonzalez Torres' pours began with the question of whether or not the visitor should take a candy (and then whether he should save it as artifact or consume it—was that artist's intent?), they reached far deeper into the idea of what appeared to be a disappearing resource (candy) as a stand-in for our limited days, specifically under the shadow of AIDS which took both Gonzalez Torres' lover and the artist himself.
Under Malone's "Sell Out" banner, we're clearly meant to consider the object in a more constrained sphere. This isn't life and death, it's just art and commerce (or the opposite thereof). Really this is a commentary on a prevalent M.O.: the artist makes installation or performance accompanied by related smaller, portable, and ultimately saleable pieces. The piece of scale makes the reputation. And the smaller pieces make a living for both gallerist and artist. Malone's installation confounds commerce with a giveaway while seeming to embrace the notion, marquee-style, of making money making art.